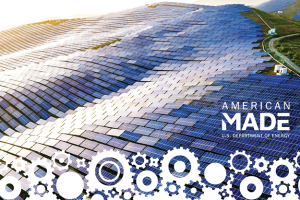 We're supporting competitors in the American-Made Solar Prize Round 6, a competition designed to energize U.S. solar innovation through a series of contests that accelerate the entrepreneurial process from years to months.
With the recent launch of Round 6, the competition is now seeking innovators, entrepreneurs, and those with an idea to revolutionize the solar industry. That could be you!
If you have an innovative solar solution, we invite you to compete in the Ready! contest, where you can win $50K by identifying an impactful idea or solution addressing a critical need in the solar industry. Participants compete for progressively larger prizes, including an optional justice, equity, diversity, and inclusion–focused prize that rewards efforts to lower barriers to solar adoption in underserved communities.
Watch the recent webinar, with information on the Ready! contest from expert panelists Rebecca Bennett, National Renewable Energy Laboratory (NREL); Elise Strobach, AeroShield—Round 4 Solar Prize Winner; and Tricia Compas-Markman, VentureWell:

Office Hours
Meet with VentureWell's Tricia Compas-Markman for one-on-one support as you prepare for the Ready! contest. Save your spot now to get tips for applying and learn what will make your submission stand out.