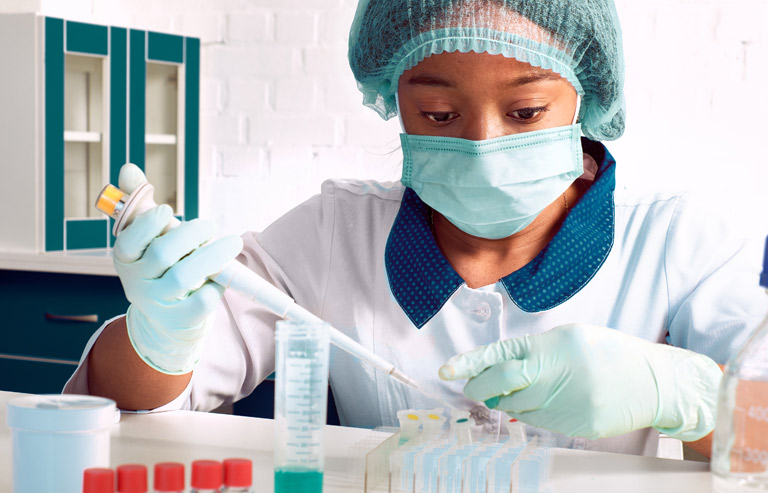 The COVID-19 pandemic has caused dramatic upheaval, devastation, and uncertainty across the world. Within the United States, the virus has reached all 50 states, and the World Health Organization has tracked over 4.3 million confirmed cases, as of July 30, 2020. From the early days of the outbreak, it was clear that one of the key factors in appropriately addressing and mitigating the pandemic in the US was the ability to deploy comprehensive diagnostics tools at scale. Across the country, testing options need to be more quickly developed and distributed, more easily accessible, and must return results more rapidly to healthcare professionals and patients.
The National Institutes of Health (NIH) launched the Rapid Acceleration of Diagnostics (RADx®) initiative with $1.5B in federal stimulus funding to speed innovation in the development, commercialization, and implementation of technologies for SARS-CoV-2 (the virus that causes COVID-19) testing. Accurate, fast, easy-to-use, and widely accessible testing is required before the nation can safely return to normal life. The RADx initiative is a national call for scientists and organizations to bring their innovative ideas for new COVID-19 testing approaches and strategies—with the goal of making millions of tests per week available to Americans, particularly those most vulnerable to and/or disproportionately impacted by COVID-19. We're proud to be partnering with the RADx program to identify, develop, and launch crucial COVID-19 testing solutions.
expanding where and how we test for COVID-19
RADx Tech, one of four RADx programmatic components, seeks to innovate rapid diagnostics capabilities for home-based care, hospital care, laboratory testing, and general point-of-care testing, with the intention of deploying millions of tests per week by fall of 2020. Using a judging model like the approach in the reality TV series Shark Tank, RADx Tech has streamlined the proposal, validation, and funding process, enabling rapid advancement of novel technologies that can increase testing capacity in the US.
VentureWell is supporting the NIH and RADx partners in several ways, including recruiting and managing a diverse pool of technical, clinical, and business consultants and service providers who are assisting in the assessment, review, project management, and acceleration of selected RADx projects.
Over 650 applications have been submitted to date. NIH has selected and VentureWell has administered over 100 of the best concepts to enter an intense one-week technology evaluation process. VentureWell has supported hundreds of experts from government, academia, and industry, by evaluating applications, providing core technical and clinical resources and guiding project teams. Thirty-one of these projects made the cut and moved to Phase 1, a rigorous four to six-week period of initial technology validation. Seven tests were recently announced by the NIH to receive $248.7M of investment for scale up manufacturing and delivery to the marketplace through RADx. More than 20 companies remain actively engaged in meeting Phase 1 milestones and will be considered for Phase 2 awards in the coming weeks.
We are proud to be supporting innovators designing and launching technologies to increase testing capacity in the US and help control the COVID-19 pandemic. To learn more about the RADx program and apply for grant funding, visit the NIH website here.