We awarded 19 student teams over $185k in our spring 2017 cycle of the E-Team Student Grant Program. The three-stage program is a competitive national program that provides funding, hands-on workshops, peer networking opportunities, and expert coaching for student teams working to commercialize their high-impact science and technology inventions.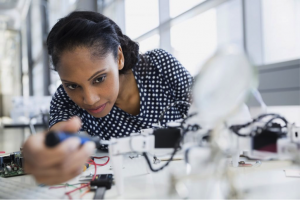 This round of E-Teams are in the beginning and middle stages of the program. Thirteen teams are beginning Stage 1 and will receive $5,000 to help develop their product and they will attend a three-day workshop in Cambridge, Massachusetts in April. Six teams are advancing from Stage 1 to Stage 2 and will receive $20,000 to help further develop their product, as well as attend a workshop in Boston, MA in April.
The 19 new grantees include:
SpotDrop (California Polytechnic State University-San Luis Obispo) – Commercial farmers face increasing pressure to grow more crops with fewer resources. SpotDrop developed a pressure compensating, adjustable emitter that can be installed onto existing drip irrigation systems, increasing water efficiency as well as eliminating the need to purchase new, expensive systems.
Global Water Labs (University of California, Berkeley) – Global Water Labs is developing a scalable and affordable fluoride removal method to prevent diseases caused by contaminated water.
Kaleyedos (Johns Hopkins University) – Kaleyedos invented a device to streamline the infant retinal imaging process and provide a low-cost, deskilled telemedicine screening solution for retinopathy of prematurity (ROP).
about e-team student grant program
The E-Team Student Grant Program targets students with an idea or invention that could potentially solve a real world, social need. Over the past 20 years, more than 665 grants have been given through VentureWell in order to help teams move ideas out of the lab and into the market. Learn more about our E-Team Program here.
View this spring's Stage 1 and Stage 2 E-Teams!