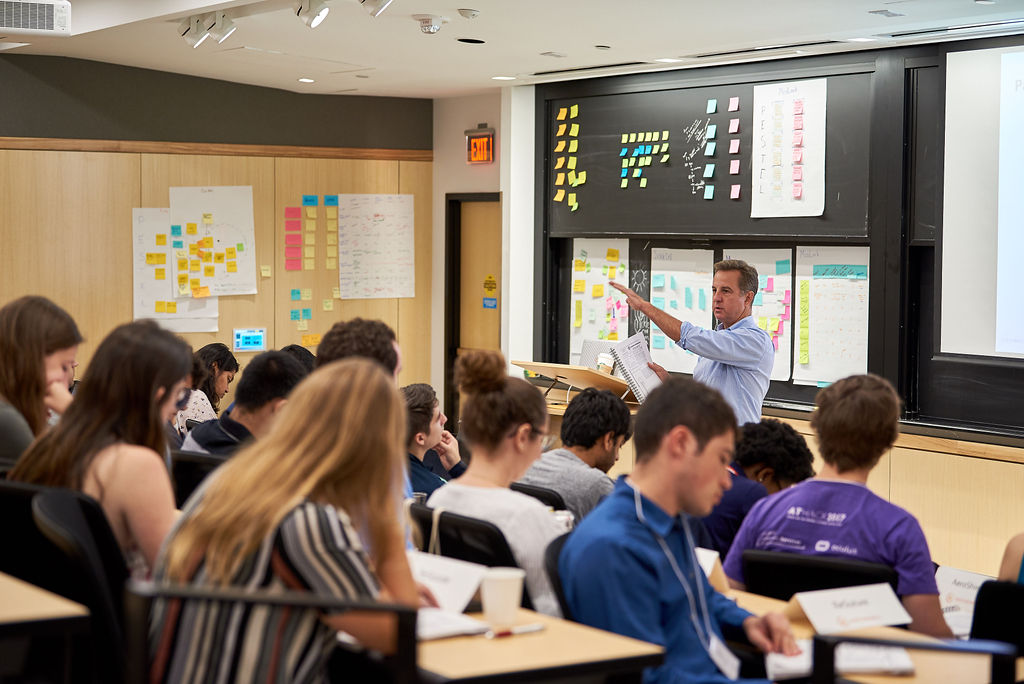 Our newest faculty grantees will develop programs and courses integrating environmentally responsible practices and methodology into their I & E curriculum.
We're excited to announce the newest faculty grantees that have been accepted into the Summer 2019 Faculty Grants Program. 
We awarded $239,000 total to faculty from nine universities to support the creation or improvement of courses and programs that incorporate sustainability frameworks and principles, and encourage the creation of novel sustainable designs and green technologies. This exceptional group of grantees was selected through a competitive national review process; winning proposals were chosen based on the potential for their course or program to have a significant and lasting impact on their entrepreneurial ecosystem, and to support promising student teams in their pursuit of commercialization beyond the classroom. Each funded program or course is specifically focused on promoting sustainability, environmental responsibility, and social impact in entrepreneurship education.
In addition to grant funding, grantees will also receive hands-on training at our first ever Green Launchpad workshop. This interactive workshop, happening October 16-17 in Boston, will provide the knowledge and skills needed to integrate sustainable invention and innovation curriculum and practices into both existing core courses and sustainability-specific ones. Learn more about the workshop on our website.
Meet our newest grantees:
Implementing Sustainable Design for Biomaterials into a Sophomore Materials Science Laboratory Course
Nancy Ruzycki, University of Florida
A redesign of a sophomore biomaterials laboratory course that integrates sustainable design principles as well as innovation and entrepreneurship concepts into curriculum. Students will better understand the role of environmental responsibility in product design as well as gain experience in entrepreneurship by pitching their products to local entrepreneurship mentors.
Waste=Food:  Innovation for the Circular Economy in Rural Communities
Taryn Mead, Western State Colorado University
A new experiential course that allows upper-division and graduate students to develop new business opportunities for the circular economy in rural Gunnison Valley and Colorado more broadly. Multidisciplinary student teams will identify existing waste streams that can be developed into viable ventures while learning about environmentally responsible design principles and core entrepreneurship concepts, preparing the teams to apply to the VentureWell E-Team grant program.   
Introduction to Circular Entrepreneurship
Heidrun Mumper-Drumm, ArtCenter College of Design
A new course that combines principles of environmental responsibility and entrepreneurship concepts that is a complement to a new materials science minor. Co-taught by an entrepreneurship faculty member and a sustainable design faculty member, the course focuses on team-based invention using new plant-based materials and upcycling while teaching students to think about sustainability before or while they develop their invention and startup.
UWM Sustainability Challenge Program
Ilya Avdeev, University of Wisconsin-Milwaukee
A new program to boost entrepreneurial activity among students who are studying or exposed to environmental responsibility and prepare them to participate in the VentureWell E-Team grant program.The program will bring together diverse university resources to help  accelerate the creation and launch of student teams working to solve environmental challenges through innovation and entrepreneurship. 
Engineering for Social Innovation Capstone Experience
Dan Riffell, University of Colorado at Boulder
A new capstone course that provides an opportunity for students to explore innovation and entrepreneurship by progressing a design problem focused on social impact from ideation to manufacturing in a competitive environment. Students will pursue opportunities in design that address issues in low-income countries, underserved populations, and the environment.
Distributed Renewable Energy Access Technologies Innovation Course
Andre Taylor, New York University
A new course that provides upper-level undergraduate and first-year graduate engineering students the opportunity to develop green energy innovations based on user needs in developing countries, and centered around 'energy access'. Students will have access to a variety of resources including open-ended group projects, mentorship, and an interdisciplinary lecture series by industry experts, preparing them to develop green energy innovations based on user energy needs in developing countries. 
Sustainable Design Experiential Program
Terik Tidwell, Johnson C Smith University
A new program that will teach students to develop sustainable solutions through an immersive learn-by-doing experience that align with Charlotte, North Carolina's long-term vision for a more circular economy. Interdisciplinary teams will gain an understanding of the opportunities within the city's circular economy, increase their business acumen, and learn how to solve the sustainability-related challenges of the community through innovation and entrepreneurship.
Materials recycling – promoting sustainability and a circular economy
Ranji Vaidyanathan, Oklahoma State University-Main Campus
A new graduate course that teaches STEM students to understand issues with developing sustainable materials in their respective fields, and prepares them to create new businesses by recycling materials. Students will form interdisciplinary teams to evaluate a business idea, generate prototypes and business plans, present at business plan competitions, and prepare to apply for the VentureWell E-Team grant program and I-Corps Program.
Earth System Science Entrepreneurship and Innovation
Carlie Pietsch, San Jose State University
A new program to develop students' knowledge of earth system science: the ever-changing connections between Earth's systems of water, life, atmosphere, and rock. Using a systems thinking approach, students will participate in a year-long design challenge to develop innovations in measuring, monitoring, and modifying the Earth system, particularly in response to human interference. Students will have access to materials, mentors, and hands-on lessons throughout their participation in the program.
Our Faculty Grants Program offers university faculty up to $30K in funding to pioneer new ways to challenge students to develop inventive, STEM-based ideas and gain the entrepreneurial skills they need to bring them to market. In addition to funding, grantees receive training, coaching, and peer networking opportunities to support their work. VentureWell is proud to support initiatives that promote cross-disciplinary collaboration between faculty and advisors, and consciously include groups traditionally underrepresented in invention, innovation, and entrepreneurship, including women and minorities. To date, VentureWell has funded over 803 new courses or programs through faculty grants, with approximately 75% continuing their course or program beyond the grant period and institutionalizing this experiential learning opportunity. Learn more about our Faculty Grants Program.