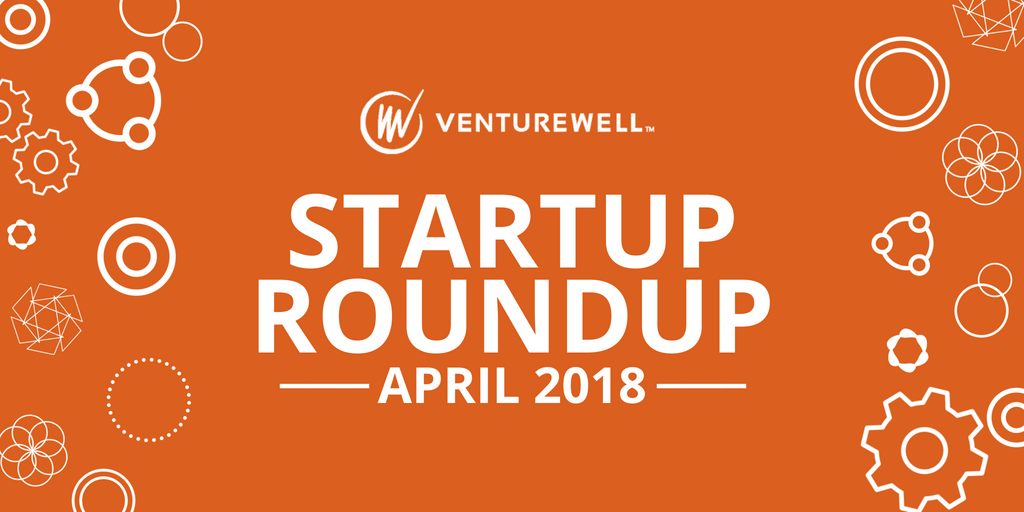 Read the VentureWell Startup Roundup! Each month, we'll share announcements, accomplishments, and other good news from teams in our community.  
April Highlights:
Competitions
AMProtection Wins NAI 2018 Student Innovation Showcase
E-Team grantee and ASPIRE participant AMProtection (pictured right) took home the first-place prize at the National Academy of Inventors 2018 Annual Conference.
Co-Founder and CTO of Hazel Technologies Named 2018 Legacy Prize Winner
The Legacy Prize is awarded to a select group of students who show great promise, creativity, and dedication in their fields, in the spirit of Ben Franklin's original Legacy Prize. This year's nominee is Adam Preslar, CTO and co-founder at Hazel Technologies, an E-Team grantee and ASPIRE participant.
Infinite Cooling from MIT wins 2018 Rice Business Plan Competition
The Cleantech UP 2017 Winner Infinite Cooling emerged as the top startup company in the 2018 Rice Business Plan Competition.
Partnerships & Sales
RightHand Robotics with Vecna Robotics Partners
Former I-Corps team RightHand Robotics, a leader in robotic picking solutions, and Vecna Robotics, a leader in next-generation mobile robotics, announced a collaboration that will improve the performance of e-commerce order fulfillment.
Zenus Partners with Expo Logic to Roll Out Facial Recognition Event Check-in Services
2015 I-Corps alum Zenus, an award-winning biometrics company, has partnered with Expo Logic, a global event technology company, to create facial recognition event check-in services. Watch a video of facial recognition check-in in action.
Tortuga Logic to Develop Novel Hardware Security Solutions with Support from DARPA Program
2013 I-Corps Team Tortuga Logic, a hardware security company with technology that identifies security vulnerabilities in semiconductor designs, today announced that it has received a contract from the Defense Advanced Research Projects Agency (DARPA) to develop additional hardware security solutions.
Technology Breakthroughs
Visikol Launches Market's First Suite of 3D Histopathology Services
2016 I-Corps team Visikol has launched its 3Screen whole mount tissue imaging services. For as little as $500 per tissue sample, Visikol is now offering 3D tissue labeling and imaging services to ensure that all researchers can easily and quickly acquire 3D information from tissue samples.
RightHand Robotics: MODEX 2018 Site of Automated Piece-Picking World Record
RightHand Robotics, a leader in robotic picking solutions and 2014 I-Corps alum, announced that a team of automation partners joined to set a world record at MODEX, the largest supply chain event in North and South America.
Funding
Ecovia Renewables Announces Major Partnership; Raises $1 Million In Seed Financing
I-Corps alum Ecovia Renewables Inc. signed a multi-year joint-development agreement with Seppic Inc, a leading designer and manufacturer of specialty ingredients. Separately, Ecovia has raised an initial $1 million seed round to fund near-term R&D, product development, and bioprocess scale-up activities.
BallotReady Raises $1.5M To Expand its Voter Guide Platform Nationwide
Chicago-based BallotReady, a former I-Corps team, has raised $1.5 million in a seed round that will help the company expand its service to all 50 states by the fall midterm elections. Investors in the round include InvestHER Ventures, Wakestream Ventures, New Media Ventures, Hard Yaka, and Grubhub CEO Matt Maloney.
Spread the news! Share the VentureWell Startup Roundup with your network.