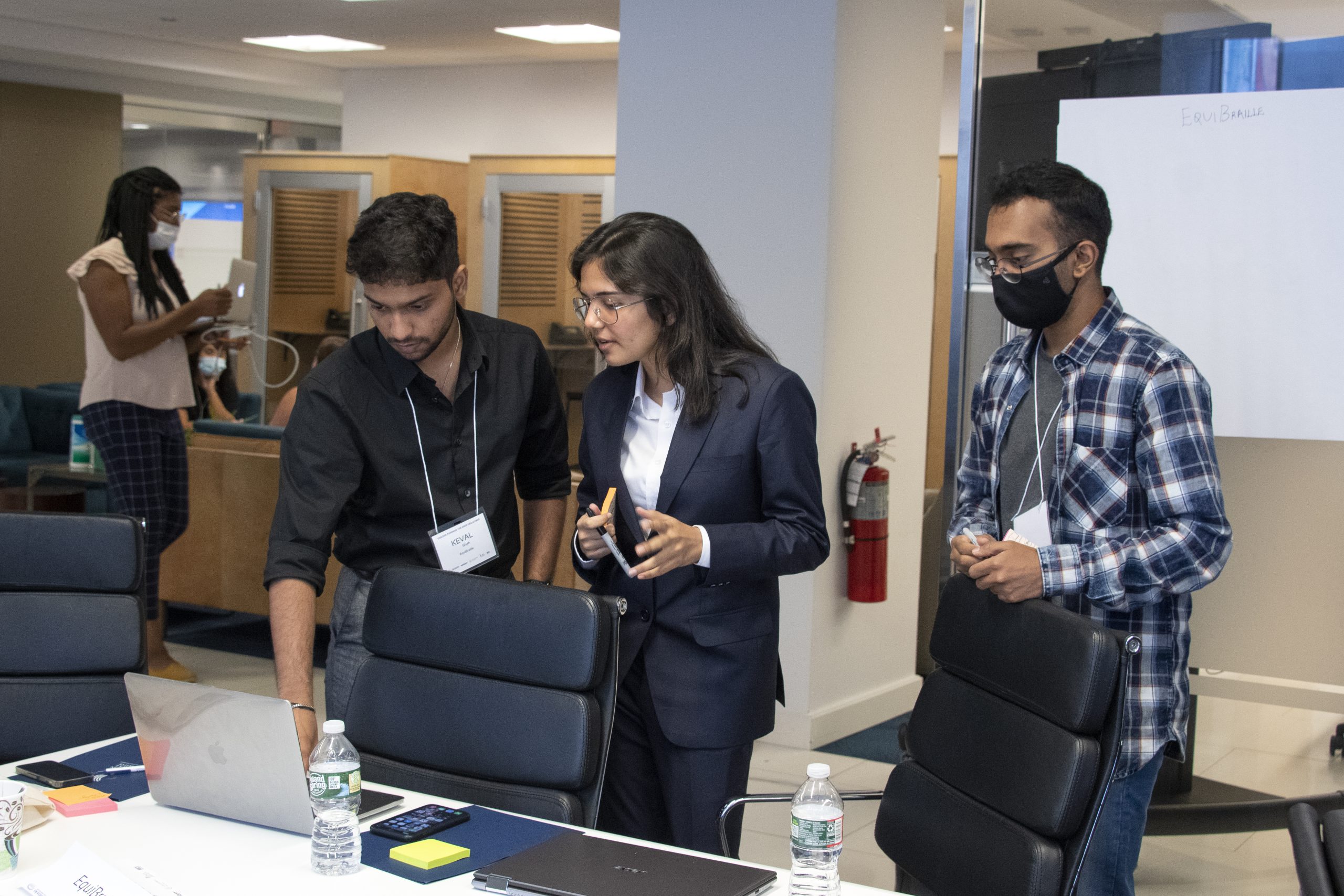 Twelve teams developing solutions that use advanced technology to address pressing societal needs in education, public health, environment, and peace and human rights participated in the VentureWell Pioneer workshop June 23–24 at the Clinton Foundation offices in New York City as part of the Verizon Forward for Good Challenge.
The winners, consisting of undergraduate and graduate students, as well as Clinton Global Initiative University (CGI U) alumni, are creating innovations addressing a range of critical social challenges. From high-tech beehives to pacifiers that monitor infants' biomarkers and deliver medication, they aim to close equity gaps in the areas of education, environment, healthcare, and human rights.
During the Pioneer workshop, these teams received in-depth, hands-on entrepreneurial training on market validation, intellectual property, and competitor analysis. Participants also receive two months of intensive coaching and mentoring with VentureWell staff and members of the broader Forward for Good Challenge partner network.
"The support of our partners at CGI U and Verizon is key to helping these entrepreneurs develop their inventions and make a difference in the world," said Cara Barnes, senior program officer at VentureWell.
Congratulations to the winning teams! Learn more about their exciting innovations:
Education
Read2Think is developing an artificial intelligence speech recognition and detection tool that assesses how a child reads, saving educators time in discovering and implementing individual assessments.
E.S.O. is developing ultra-low-latency transcribing and translation systems for visually impaired children, leveraging Internet of Things technology.
EternaAR is developing a citizen science game that teaches and recruits everyday people to invent medicine through the metaverse (augmented reality).
Gabb Global is developing an immersive virtual reality program that helps English Language Learners with real-world language learning.
READI is developing virtual reality and in-person instruction to give young adults entry-level workforce skills and certificate training.
Scholist App is developing a scholarship platform designed to help college students discover, apply for, and keep track of scholarships.
Environment and Climate Change
BEEnevolent is developing high-tech beehives that operate with minimal intervention, with the goal of increasing honeybee populations and boosting pollination.
Peace and Human Rights
unBail is developing a free mobile application that helps defendants navigate the criminal justice system, providing them with legal and case information.
Public Health
Compass is developing a texting platform designed to streamline patients' intake, appointment scheduling, and follow-up using asynchronous automation.
EnlighteN is developing a device that can detect when individuals are experiencing an overdose, alert emergency services or a personal contact, and then automatically inject them with a life-saving dose of naloxone.
Jubily is developing a platform that trains healthcare providers in cultural responsiveness and matches users with those providers and communities of support.
Nutrivide is developing a pacifier designed to deliver pre-dosed medications and provide insight into infants' well-being by monitoring a selection of key biomarkers.
About the Partners
Clinton Global Initiative University
The Clinton Global Initiative University (CGI U) is the higher education program of the Clinton Foundation, activating the next generation of leaders through year-round programming that includes access to topic experts and change agents, mentorship networks, financial resources, and community events including the annual CGI U meeting.
Verizon
Citizen Verizon empowers Verizon to deliver on its mission to move the world forward through action by expanding digital access and resources, protecting the climate and ensuring people have the skills needed for jobs of the future. Through Citizen Verizon, and the key pillar of Digital Inclusion, the company's responsible business goals include providing 10 million youths with digital skills training by 2030. To learn more about Verizon's digital inclusion efforts, visit CitizenVerizon.com.
About our Early-Stage Innovator Training Program
The VentureWell Early-Stage Innovator (ESI) Training Program brings together the best in student science and tech innovators and entrepreneurs for an intensive workshop, where students will learn what it takes to launch and scale a venture from our experienced program team, expert mentors, guest speakers, and thought leaders in social impact entrepreneurship and innovation. Learn more about our ESI program here.