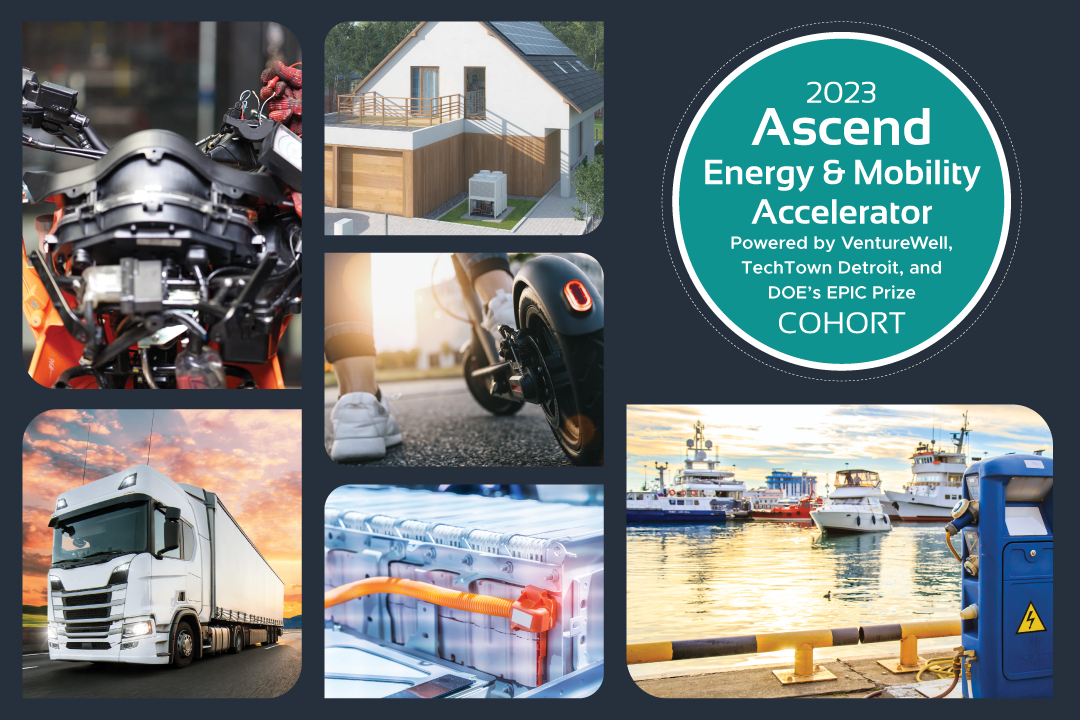 Ten Michigan-affiliated startups in the energy and mobility sectors have been selected for the Ascend Energy & Mobility Accelerator, powered by VentureWell, TechTown Detroit, and the U.S. Department of Energy's EPIC Prize. These seed-stage startups were selected after a competitive application process, proving their innovations have a compelling value proposition and can deliver a clear, positive impact—like a conversion kit to enable commercial trucks' and semi-trucks' safe, fully autonomous operation; and an all-in-one software management platform that streamlines the electric vehicle charging process.
These founders will strengthen their companies' financial model through six weeks of rigorous training, working one-on-one with an expert team of mentors who have extensive experience partnering with and investing in energy and mobility startups. The program culminates with an in-person workshop in Detroit, Michigan, at entrepreneurship hub TechTown Detroit on September 26 and 27.
"Increasing resources for mobility- and energy-based entrepreneurs is not only timely but critical to the work of positioning Southeast Michigan as a powerful contributor in this space," said Dawn Batts, director of growth capital at TechTown Detroit. "The Ascend program is not only an opportunity to support transportation, sustainability, and accessibility efforts, but also a way to encourage people to think about mobility broadly."
Meet the Cohort
AudioOdyssey | Ann Arbor, Michigan
AudioOdyssey is developing an interactive audio-based entertainment app designed to minimize driving accidents among truck drivers who experience drowsiness during long periods of time on the road.
Cocoon Technologies Inc. | Detroit, Michigan
Cocoon Technologies is developing LARA (License and Registration App), tech-enabled software that provides law enforcement with a contactless interface to engage with civilians during routine traffic stops, prioritizing safety and reducing stress.
Energy Storage Safety Products International, LLC | Detroit, Michigan
Energy Storage Safety Products International (ESSPI) is developing a fire and safety management system for companies that manufacture, store, transport, and employ lithium and lithium ion power technologies.
EVRaceworks | Ypsilanti, Michigan
EVRaceworks is developing custom batteries and engine conversion kits for motorbikes to help consumers transition from gasoline-powered to electric, ensuring that the process is simple and easy to implement.
FreightMiner | Ann Arbor, Michigan
FreightMiner is developing a conversion kit supported by a teleoperation station to enable commercial trucks and semi-trucks to operate fully autonomously, 24/7, reducing safety risks on the road.
GEKOT Robotics Inc. | Bloomfield Township, Michigan
GEKOT Robotics is developing a suite of sensors and controls to improve the safety and performance of electronic scooters through sidewalk detection and collision avoidance, mitigating accidents and injuries.
Surge Mobility | Istanbul, Turkey
Surge Mobility is developing a software management platform that streamlines the electric vehicle (EV) charging process for both charging station owners and EV drivers, creating an all-in-one ecosystem to facilitate the transition to wider EV use among consumers.
ThermoVerse, LLC | Ann Arbor, Michigan
ThermoVerse is developing cost-effective heating and cooling energy retrofits for low-to-middle income housing property managers, enabling energy-efficient building upgrades without the need to open up walls.
VMX Green | Detroit, Michigan
VMX Green is developing a recycling process for automotive end-of-life lithium ion batteries, allowing for safer and more sustainable disposal of hazardous waste materials.
Voltaic Marine, Inc. | Beaverton, Oregon
Voltaic Marine is developing AEW24, an aluminum, electric water sports boat powered by a 200 kWh battery that offers up to eight hours of performance, running with minimal noise and fumes plus the ability to recharge using standard EV outlets.
Access to an Enterprising Team of Mentors
Participants in the Ascend Energy & Mobility Accelerator will work closely with expert mentors to prepare their startup to move from customer discovery to commercialization. We are thrilled to welcome Lead Instructor Erika Block, an investor, advisor, and entrepreneur at Sticky Lab and lecturer at the University of Michigan College of Engineering's Center for Entrepreneurship, as well as the following mentors-in-residence: Kevin Blaser, venture capitalist and energy systems expert; Marcia Dawood, angel investor, Angel Capital Association and Mindshift Capital; Ellington Ellis, angel investor and founder, Ellington Energy; Jade Garrett, founder, Positive Deviancy, and hard tech and energy expert; Anne Maghas, angel investor and entrepreneur, Dash Group; Domineca Neal, angel investor, Commune Angels; and DeWayne Williams, angel investor, Commune Angels, and connectivity expert in mobility.
Thank you to our Regional Advisory Committee, who were instrumental in providing advice and support throughout the design and development of this program. They include: Tu Le, managing director, Sino Auto Insights; Alisyn Malek, University of Michigan Tech Transfer Office, and founder, Middle Third; Clay Phillips, mobility technology lead, Michigan Small Business Development Center; and Sherelle Streeter, senior mobility strategist, Office of Mobility Strategy, City of Detroit.
About Our Partners
The Energy Program for Innovation Clusters (EPIC) Prize recognizes the nation's most innovative incubators. Sponsored by the U.S. Department of Energy Office of Technology Transitions (OTT), the EPIC Prize awards cash prizes to regional incubator teams that submit the most creative and impactful plans, then implement those plans to develop strong clusters, connections, and support for energy startups and entrepreneurs.
This effort is funded by the Department of Energy's EPIC (Energy Program Innovation Cluster) competition and supported by the National Renewable Energy Laboratory (NREL) and TechTown Detroit, a nonprofit business service organization incubating and accelerating businesses across Detroit since 2004.