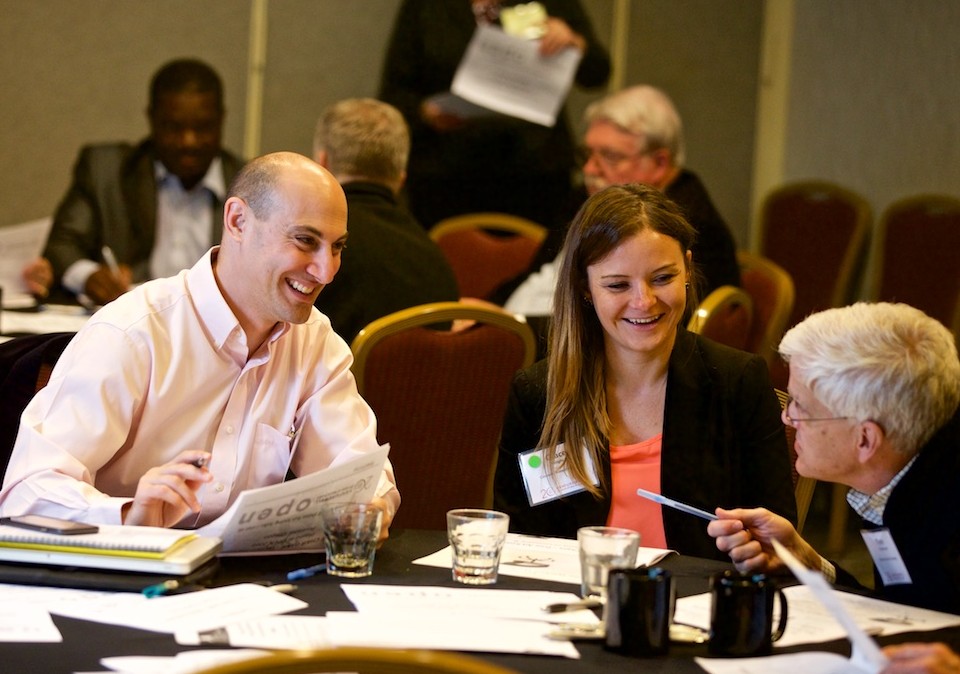 There I was at the VentureWell conference, a bastion of innovation and entrepreneurship, discussing ABET (www.abet.org), the four-letter word that seems to deflate any conversation among engineering educators. We were discussing the proposed changes to ABET that have recently caused quite a stir.
The conversation began with widespread discontent with the changes. Many of the changes seemed like a step backward in educating innovative and industry-ready engineers. For example, ABET removed the assessment of 'multidisciplinary teams', and 'knowledge of contemporary issues', which many in our community know are powerful accelerators of innovation. Furthermore 'lifelong learning' was narrowed to information literacy, and a wider consideration of global, economic, environmental, and societal forces was narrowed to the evaluation of impacts. There were also concerns about the driving forces behind the changes, with some speculating that they were made only to coax international audiences into adopting ABET. And there was suspicion that few, if any, stakeholders were consulted.
The current criteria had seemed restrictive when they were first released in 2000. But over the years, we found ways to leverage ABET criteria to make pedagogical changes that aligned with teaching innovation, design and entrepreneurship. I was a small part of that effort, publishing and presenting on using ABET to spark innovative pedagogy (Educating T-shaped Engineers: Connecting the Technical and Non-Technical ABET Criteria", Keynote Workshop for 2014 ABET Symposium). Would all of our thinking and work be undone? One participant perfectly summed up the concern: "Has ABET moved our cheese?"
Changes to ABET Criteria: Obstacle or Opportunity?
Personally, I had entered the conversations with strong feelings, and they were not positive. But during the course of our conversation I saw us shift; we began to practice what we preach to our students. Rather than complain about or fight change, we could pivot and go with the change. What opportunities might arise? Might this be a chance for us to more clearly map the goals of the entrepreneurship and innovation community to the new criteria? Might the new criteria open up room for programs to become distinguished from one another? Or perhaps inspire new pedagogical directions? We didn't have immediate answers, but we did begin to see possibilities.
Of course the innovation and entrepreneurship community will need to monitor how ABET criteria morph and eventually be put into practice. But in that moment, I could not have been more proud of our community. We did what any smart mouse does when they find that their cheese has moved: we started looking, not for the old cheese, or even for cheese at all, but for the new, exciting and impactful things that can only be precipitated when something changes in the world.
For more information on the proposed changes, see the ASEE Town Hall Meeting page.
About the author:
Joe Tranquillo is an Associate Professor of Biomedical and Electrical Engineering at Bucknell University. He helped start Bucknell's Biomedical Engineering Department and teaches classes in medical device design, instrumentation and systems. He was the founder and inaugural chair of the Biomedical Engineering Society Undergraduate Research Track, co-chair of the Body-Of-Knowledge task force, and is currently the program chair of the ASEE Biomedical Engineering Division (BED). He co-founded the KEEN Winter Interdisciplinary Design Experience and is the co-director of the Bucknell Institute for Leadership in Technology and Management. Joe has received funding from the NSF, NIH, DoD, VentureWell, KEEN, and his work has been featured on the Discovery Channel, TEDx and CNN Health. Joe has won the ASEE BED teaching award and is a National Academy of Engineering Frontiers of Engineering Education faculty member. He most recently was on sabbatical at Stanford as a Visiting Scholar in the Stanford Technology Ventures Program and Epicenter.