The students who participate in STEM programs today do not represent the diversity in our society, due to entrenched systemic inequities that silence the ideas and voices of students from underrepresented groups while amplifying those from majority groups. In this article series, we focus on the six areas for action presented in our report Advancing Equity: Dynamic Strategies for Authentic Engagement in Innovation and Entrepreneurship to address inequities in the field of science and technology (S&T) and innovation and entrepreneurship (I&E). In this first installment, we offer solutions to common problems faced in fostering authentic outreach and mentorship.
why cultivate authentic outreach and mentorship?
The current, collective awakening to and reckoning with systemic racism in the United States has intensified the need for solutions to address equity issues in the STEM field. Entrepreneurship centers and S&T programs in higher education need strategies to support early-stage innovators, especially those who identify as Black, Latinx, and Indigenous, women of all backgrounds, and individuals from low-income backgrounds.
We believe authentic outreach and faculty mentorship are two important strategies that, both independently and together, can help to bridge participation gaps in STEM I&E. Authentic outreach helps educators create a more personal connection with early-stage innovators to make them feel validated, safe, and invited to enter a welcoming space. And mentorship ensures that students build genuine relationships with faculty who possess diverse skill sets and perspectives, which is especially relevant for students of color, who find additional value in having a mentor or role model whose background and identities reflect their own.
Failing to address these gaps can have multiplying effects: A lack of authentic outreach and mentorship can perpetuate inequities in I&E, and the current remote-learning environment caused by COVID-19 could further complicate educators' ability to forge genuine connections. For insight into solutions, we spoke with VentureWell faculty grants recipients Isabelle Monlouis, Faculty Director for Executive Education Lean Six Sigma Certification Programs at Georgia State University, and Grant Warner, Director of Innovation in the Graduate School at Howard University. Given the current realities of the pandemic, we also offer advice on navigating these issues in a virtual world.
listen carefully to student-innovators' needs
In order to effectively conduct authentic outreach, it's important to identify student needs to better tailor communications and highlight program benefits. That includes understanding the types of mentors students are hoping to access during a program.
---
Monlouis suggests listening carefully when talking with students about mentorship opportunities. "Are they looking for somebody who looks like them, who's working in the same field, or somebody who shares their values even though they're in a different field?"
—Isabelle Monlouis, Faculty Director for Executive Education Lean Six Sigma Certification Programs at Georgia State University
---
Listening for specific needs can help educators to make the right mentor-student connections. For instance, a large percentage of Monlouis' students are African American, about 25 percent are first-generation college students, and two-thirds identify as women. Monlouis says she makes a concerted effort to connect her students with mentors who represent their diverse and intersectional identities.
It's also important to listen for any possible apprehension from students around connecting with mentors. Monlouis coaches her students on how to interact with mentors because she wants them to hone that skill in order to develop their own proactive relationships with mentors in the future. Her advice includes slowly building relationships with role models who genuinely represent the diversity of skills and lived experiences that students are seeking.
build trust to foster reciprocal relationships
Conducting authentic outreach and developing student-mentor relationships when in-person convenings are feasible is challenging enough. But in a virtual-only environment? It's difficult, but not impossible. In this new isolating reality, students need more than ever to feel connected—to peers, to mentors, to programs and pathways. Adapting authentic outreach activities and tailoring relationship-building efforts with mentors for a virtual environment can still help students to feel engaged and welcomed. That can further lead to students building trust and reciprocal relationships with educators, mentors, and the overall program—even from a distance.
While developing a student's trust through virtual channels is less than ideal, Monlouis reminds educators that it's relatively straightforward to transfer an existing relationship with a student into the online, post-COVID world because you already have a foundation of trust. However, conducting outreach or developing a relationship in a virtual environment with new student innovators is initially more challenging. "In this post-COVID world, I have to go slowly, and listen more carefully to their needs and wants," says Monlouis.
During outreach and relationship-building activities, Monlouis suggests letting students know that you are willing to work with them to identify what they're trying to accomplish—and then take it a step further. Reflecting and discussing ideas for future collaboration sets the foundation for a solid relationship, and shows that you are committed to your program's mission of ensuring students from all backgrounds are invited and supported. Of course, as noted above, students will trust and respond to outreach and relationship-building efforts if more faculty and role models who reflect the background and identity markers of students of color and others from underrepresented groups are available as mentors in the program.
promote broader networking opportunities and flexibility
One unexpected upside to an all-virtual environment is this: students have networking opportunities with a wider range of mentors and access to more faculty than is typical in an in-person environment. Outreach efforts can highlight these benefits of online programs. As a result of campus closings and work-from-home orders, Warner notes that more mentors are also more able and willing to connect with students on a variety of digital platforms—even Facebook and WhatsApp.
When conducting outreach about a virtual program, students also want to know that both synchronous learning and asynchronous mentorship opportunities are available. Communicating flexibility is crucial. "We have to develop solutions that support everyone," said Warner. Some people prefer email, some prefer to text, and some people like video chat. Remote learning has opened up how we connect with students."
---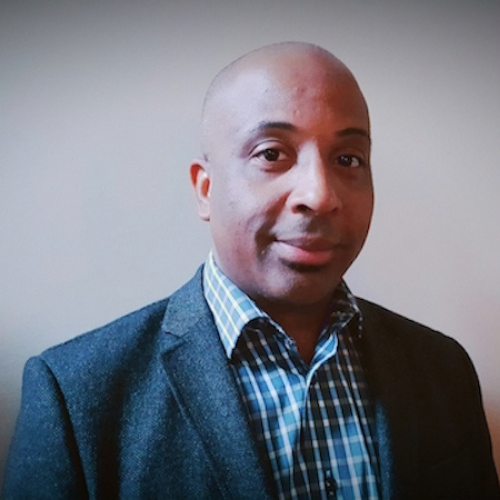 "We have to develop solutions that support everyone. Some people prefer email, some prefer to text, and some people like video chat. Remote learning has opened up how we connect with students."
—Grant Warner, Director of Innovation in the Graduate School at Howard University
---
Educators can further maximize the flexible connectivity that students desire by using online productivity tools. For example, Warner utilizes such tools to accommodate the various ways students want to meet one-on-one. "You can block time for a face-to-face synchronous meeting," says Warner. "Or if a student isn't comfortable doing a video chat, I'll block 20 minutes to respond to an email or answer a question in the discussion board and count that as an office hour."
coordination is key
Warner and Monlouis acknowledge that effectively reaching out to students and providing mentorship requires additional coordination among the program team—especially in a virtual environment. After identifying student learning and mentorship needs, it's important to audit the program team's resources for gaps and opportunities.
As mentioned in our report, when coordinating faculty mentors for student meetings or group events, be sure to invite individuals who represent those most impacted by systemic racism, sexism, and classism. They will best demonstrate a knowledge and understanding of the specific motivations of students from underrepresented groups.
It's also important to find mentors who are authentic and reflective about their own experiences—that is, they know why they were successful, or not, and what worked for them—so they can help student innovators in their own pathway.
As stated earlier, the virtual environment has widened the pool of faculty mentors. Warner says he found it relatively easy to recruit mentors to serve as judges for pitch sessions and to provide feedback to student presenters. Coordination has become easier as people have been isolated at home for so long and the online space has become "a mechanism for them to have human connection," adds Warner.
Mentorship and outreach complement each other as important strategies for broadening participation for underrepresented student innovators who are considering I&E programs.
Our report and interviews suggest that educators can meaningfully strengthen their relationships with students through both authentic outreach and expanded mentorship opportunities. These practices can help identify students' unique needs, provide broader networking opportunities, and build trust to increase students' confidence in the program—and in themselves. Despite the obstacles created by a virtual-only learning environment, it has also enabled greater access to a larger, diverse pool of mentors and has increased ways for faculty to connect with students, enabling new opportunities to bridge inequity gaps for underrepresented student-innovators in STEM.
Watch a recording of Community Conversations for Advancing Equity: Authentic Outreach and Mentorship.