We updated this article to include information on how to best translate pitch competitions to a virtual platform. The article was originally published on September 25, 2018.
Eli Velasquez, Director of Venture Development at VentureWell, has many years of experience developing entrepreneurial support programming for early-stage innovators. He offers insights on how to develop pitch competitions that provide maximum support to startups.
A boxing match. An ice water plunge. These are themes of two recent startup pitch competitions. Sound exciting? Sure. Does it benefit startups and the broader innovation ecosystem? That's debatable.
The goal of pitch competitions has shifted – and not always for the better. These events, also known as Demo Days, initially centered on cultivating solid investment opportunities for startups, bringing in active investors aligned with specific sectors. Some early competitions resulted in successful deals for both entrepreneurs and investors, and generated buzz for the organizing institution. Witnessing this success, more accelerators and universities added pitch competitions to their repertoire – yet focused on the glitz of the "competition", placing the organizers in the spotlight rather than the founders.
In my opinion, this trend negatively impacts startup ecosystems on several levels. Startups don't always pitch to judges with a vested interest in making a deal, or with deep knowledge of a particular sector; a wasted opportunity for both innovator and investor. The hype of pitch competitions can artificially increase business valuations to levels that make it unattractive to potential investors. For universities and accelerators, the rising costs of producing pitch competitions reduces the resources available for programs that actually prepare startups for success. Worst of all, many innovators view pitch competitions as the pivotal moment in their journey. That's misleading, as pitch competitions are one small experience in a much longer, complex journey – regardless if they win or not.
With years of experience as a Director of Venture Development – first at Texas Tech and now at VentureWell – I've developed programming for pitch competitions to support startups, university and accelerator partners, regional investors, and broader ecosystems. In my experience, here are five core elements of pitch competitions that create lasting impact.
diversify the judging panel
Startups will likely pitch to diverse groups throughout their journey. That's why I convene judges representing a variety of segments:
funders seeking a well-aligned investment opportunity

potential business partners looking for a startup to help them solve a problem

possible customers of the product or service

technical leads who can question and support the science
The multi-audience pitch model teaches teams to strategically explain their company's value proposition to a mix of critical players they'll encounter throughout their startup process.
allocate prizes wisely
Don't get me wrong, cash prizes are valuable for startups. Yet early-stage innovators also need training and mentorship in countless areas. I align awards with key milestones for the startups, creating criteria for how the money and resources will be deployed. For instance, if a team needs to conduct additional testing, pay several months worth of rent at a lab.  
Designing awards to offer multiple facets of support is also worth more than a blank check in the long run – for both the innovators and the award provider. Startups receive guidance on the best way to use the funds. From the funder's perspective, they know the money is well-managed and properly allocated.
provide value for everyone involved
Judges, mentors, investors, and other critical players in pitch competitions have little time to spare. I make sure the event is worth their while. I often build in pre-competition networking events just for key players involved with the event – and in the ecosystem. This allows the group to engage with different people who don't always have the opportunity to connect. The attendees feel like they receive a value-add for their time commitment to the competition.
I also use pitch competitions as a learning opportunity. For example, at a Texas Tech event, I invited entrepreneurs who secured funding by appearing on Shark Tank to share their "behind the scenes" experience. Their talk opened peoples' eyes around the reality of launching a business and partnering with investors.
create a "now what?" plan
Far too many startups leave a pitch competition thinking, "Now what?". That question has more urgency among teams who didn't win a prize. I help teams develop a post pitch competition action plan.
This includes coaching startups to put asks in their pitch that go beyond money. Why? Because there is always someone in the room who can provide something of value such as mentorships or connections after the event. I also ask teams to provide regular progress reports that I share with the ecosystem. More often than not, the success story sparks interest from a potential business partner or investor, even if the team doesn't make it to the podium.
assess your impact
More and more university administrators and partners of entrepreneurship support organizations are asking pitch competition organizers: can you measure the impact of your efforts? How do teams benefit or evolve after participating in your pitch competition?
These are sensible questions to ask. It's important to measure the impact of any activity or program that supports early-stage entrepreneurs—not only to prove to stakeholders that your programming benefits participants, but to determine how you can improve your offerings moving forward, and position your program for additional support and resources.
A good practice is sending participating teams a three-month and a one-year follow-up survey. The surveys help connect the dots around what the teams learned and what new milestones they achieved—or didn't achieve—in the development of their venture. This information helps adjust the programming to ensure future cohorts receive the right types of training and support. 
I also surveyed mentors, judges, and stakeholders after the competitions to solicit feedback on what worked and what could be improved. As a result, we were able to fine tune our Demo Day. For instance, we built in a networking luncheon and reception to foster more community engagement and provide students with more opportunities to connect with others in the ecosystem. The surveys also helped us realize that there was a lack of science and tech educators and regional economic development leaders involved with the competition. Including these groups in future competitions enhanced our programmatic offerings and expanded our network of expert advisors for student teams.    
[Editor's note: Use our Venture Development Framework to help inform the development, implementation, and evaluation of programs supporting early-stage innovators.]
embrace virtual options
The pandemic has made in-person pitch competitions essentially impossible for the time being. Many are moving online—and from participating in a dozen or so virtual pitch contests so far, I've found that there are a few crucial keys to success. 
Programs and schools need to work closely with founders to ensure that pitches are clear, succinct, and well-prepped, particularly pitch decks and any screen sharing portions. Encourage founders to create quick and easy-to-read materials on their startups that investors can read prior to the event and have handy during the pitches. 
It's also important to design and implement a seamless and consistent way of gathering investor or judge feedback through curated chats, polls, and/or private deliberations. This can help replicate the real-time constructive feedback often offered by judges at in-person pitch competitions. To avoid frustrating glitches that can leave the program and participants looking unprofessional, take time to ensure that the technology set-up is flawless. If you're incorporating pitch decks, videos, breakout rooms, etc., it has to be smooth, rehearsed prior, and run without any difficulties. Pre-event, investors and founders need to receive calendar invites from the hosting program so it's easy to access the event.  
Virtual pitch competitions enable organizations and founders to reach a broader, potentially global audience. This can create new opportunities to better diversify a competition: judges, investors and participants can be located across multiple regions, and the competition itself can be promoted and live-streamed much more widely. Adapting a pitch competition virtually can offer students an opportunity to connect with a larger network of potential investors and employers, practice their virtual communication and presentation skills, and celebrate the culmination of their project, class or venture.
skip the glitz
If you're in the throes of planning pitch competitions, keep it simple. Focus your efforts on supporting the innovators, and providing value to the judges, mentors, investors, and broader ecosystem. Time is of the essence: keep your program 90 minutes or less. This is particularly important to keep in mind during the pandemic when Zoom fatigue is at an all time high and people are jumping from meeting to meeting all day. 
And don't forget: pitch competitions aren't the final step in a startup's journey. These events can be the start of something impactful for everyone involved.
Learn more about our early-stage innovator programs, the E-Team Grant Program and ASPIRE (Accelerating Startup Partnership and Investment Readiness).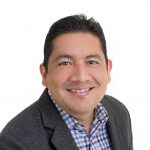 Eli Velasquez oversees the development of our new and ongoing early-stage innovator programs, and leads investor network development. Previous to VentureWell, his efforts in Texas led to the founding of a new angel network, and over $20M in funding for startups, entrepreneurship programs, and proof of concept funds. He obtained a BS in Mechanical Engineering from Boston University and a JD degree with an Intellectual Property Certificate from Whittier Law School.