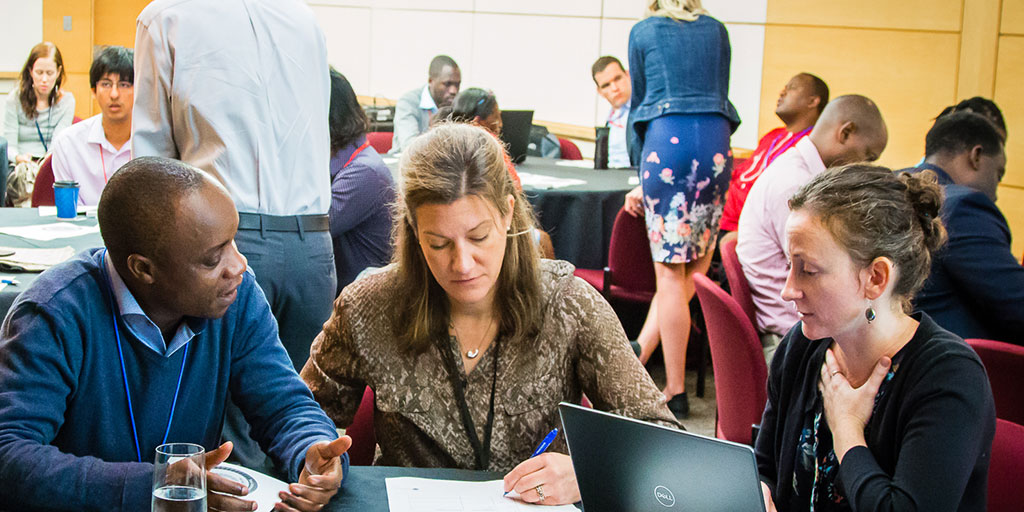 The world's most cutting-edge innovators in the sphere of maternal and newborn health recently gathered in Washington D.C. for the 8th annual DevelopmentXChange event for Saving Lives at Birth: A Grand Challenge for Development. The inspiring event celebrated and supported a community of diverse innovators who are tackling this complex challenge through advancements in science and technology, innovative service delivery models, and novel demand generation approaches.
A critical component of innovator and entrepreneurship programs is mentorship sessions with thought leaders in scaling, technical and clinical issues, fundraising, and marketing. But both innovators and mentors can agree: the initial mentorship meeting is a conversation starter. Innovators benefit most from expert guidance and advice through a long-term connection with mentors. Several Saving Lives at Birth DevelopmentXChange mentors shared their ideas on practical ways innovators can leverage a single, initial mentor session to grow their much-needed support network. The mentors include:
Courtney Chang, Senior Business Designer, IDEO.org
Rebekah Neal, Program Officer, Bill & Melinda Gates Foundation
Priya Sharma, Senior Policy and Innovative Financing Advisor at the Center for Accelerating Innovation and Impact, USAID
Eric Verkerke, Co-Founder and Chief Creative Officer, Emergence Creative
Start with a Timely Follow Up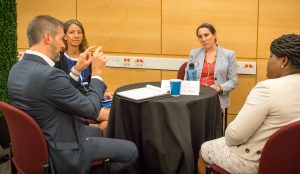 Your to-do list after a program is often very long, but it's wise to prioritize following up with a mentor within 48 hours. "It's common for you to share business cards with a mentor before or after a session," said Courtney Chang. "There's an unspoken promise in that moment of exchange that a follow up will take place. It's smart to follow through on that promise sooner rather than later. You may not have an immediate need for guidance, but planting the seed soon after meeting is good way to start building an authentic relationship with a mentor."
Connecting on LinkedIn or sending a thank you email is time well spent. "A succinct, friendly, professional note thanking the mentor for their time not only shows that you take your project seriously, but that you respect the mentor's time and insights," added Priya Sharma.
You can also use the outreach to plant seeds of meeting in the near future to talk more about a topic or problem addressed in the first conversation. As Rebekah Neal recommends, "At the end of the initial meeting, you can set the stage for a follow up meeting by clarifying what you'd like to discuss further. Then remind mentors about that next discussion in a follow up communication."
Make Clear, Strategic Asks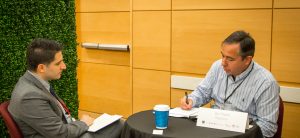 Mentors are busy people with many demands on their time. Given this reality, it's important to make concrete asks or requests of your mentors. "Avoid emailing a mentor with generic, open ended questions," advised Sharma. "Instead, ask for something specific, such as an introduction to someone or advice on an aspect of a business plan. Specific asks make it easier for mentors to respond in a reasonable time, and provides you with valuable information or resources in a timely manner." 
The same advice holds true for follow up face-to-face meetings. According to Eric Verkerke, a 30-minute follow-up meeting is a good window into expertise that you wouldn't normally have access to – so be strategic with that time. "I recommend using the conversations to brainstorm solutions to a specific problem. You likely won't solve the issue in 30 minutes, but you might gain some clarity on next steps."  
It's also crucial to target the right mentor to address specific needs. "Match your requests based on the mentor's area of expertise," said Neal. "For instance, a mentor with deep knowledge in scaling may not be the right person to speak with about branding."
Set Realistic Expectations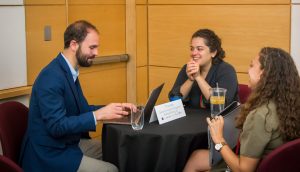 While extremely useful throughout your journey, mentorship is not a silver bullet for all of your startup challenges. Expecting otherwise can strain your relationship with a mentor. The mentorship process runs more smoothly – for the innovator and mentor – when expectations are managed from the start.
Take a mentor's availability. "Reaching out to a mentor with a challenging ask and expecting a quick turnaround is unrealistic," said Sharma. "Give the mentor a few days to respond. It's good to keep in mind that what's important to you might not be as important to others."
It's also common to leave a mentorship meeting more overwhelmed or confused than before. "That's because there's often a disconnect in your mind regarding what it takes to accomplish certain tasks or reach specific milestones," said Verkerke.  Expect surprises at every turn on your path, including mentor meetings that uncover new information or spotlight complex challenges that require some time to solve.
Provide Progress Reports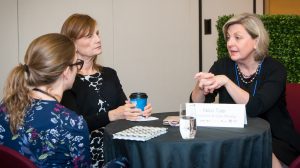 According to the mentors we spoke with, having a balance between targeted asks and progress reports is crucial to building a solid mentor relationship. "In an ideal world, 70% of your outreach offer updates on reaching milestones, and 30% is invitations to discuss a specific problem," said Chang. 
Mentors also appreciate knowing that you took their advice to reach the next level. "I get tremendous satisfaction knowing I was able to help," said Sharma. "That positive feedback encourages me to continue mentoring the innovator."
Chang adds, "Receiving quarterly emails with a brief update provides me with valuable backstory about your journey. That backstory is helpful when you reach out to me for advice. I have a better understanding of where you are and how I might be of most use."
Programs like Saving Lives at Birth DevelopmentXChange provide you with unique opportunities to make vital connections to thought leaders and experts in various fields. But like any personal or professional relationship, a mentor relationship needs to be nurtured and managed with respect. However, as these DevelopmentXChange mentors illustrate, the time and effort put into developing a mentor relationship has the potential to increase your chances for future success.
Read Innovator Insights Series: Maximize Support Networks for more guidance about making the most of mentor relationships. Or, download the full Innovator Insights: Illuminating the Path for Tomorrow's Inventors report for best practices around embarking on a journey in innovation and entrepreneurship.
Accelerating SL@B, a joint program of the Duke Global Health Innovation Center and VentureWell, is funded by the generous support of the Saving Lives at Birth partners: the United States Agency for International Development (USAID), the Government of Norway, the Bill & Melinda Gates Foundation, Grand Challenges Canada, the UK Government, and the Korea International Cooperation Agency (KOICA) under USAID contract number 7200AA18C00016.
Photography credit: Kevin O'Connell