Ibrahim Mohedas knew his team's assistive medical device would make it easier and safer for healthcare workers in low-resource settings to administer contraceptive implants. He just didn't know how to transform his invention into a sustainable venture. As a post-doctoral researcher in the University of Michigan Mechanical Engineering department, he was focused on product design, not commercialization. If he wanted to have an impact with his idea, he knew he needed guidance and support from experts in commercializing his global health innovation.  
Shortly after realizing there was a strong opportunity to scale their innovation, Mohedas and his team formed a startup called SubQ Assist. They participated in VentureWell E-Team and Xcelerator programs. That's where the real a-ha! moments occurred. The coaches and trainers showed the team what they didn't know they didn't know, and helped them rethink their product development approach in tandem with a sustainable business model.  
"Prior to these programs, we were overly obsessed with the technology, largely ignoring the commercial side," said Mohedas. "The coaches and trainers emphasized the need to approach product development in a holistic manner, where you consider all stakeholders involved and all phases of development no matter how early you are in the process."
The guidance paid off. Today, SubQ Assist is in the process of incorporating. They're also pursuing grant funding from Grand Challenges Canada to help move their device to the next phase.
Successful Innovators Maximize Their Support Network
It's rare for one person or even a few founders to have all the expertise needed to navigate the complicated startup process. Working with a solid network of coaches, mentors, and trainers can help guide early stage innovators through their journey.
Participants in the Xcelerator program report great value in their time spent with mentors and experts, specifically noting the importance of time to interact, network, and obtain feedback on their innovation from coaches, mentors, and experts. "The one-to-one discussions with facilitators was very beneficial. We were able to reality-check scenarios of various challenges and solutions with experts," said an Xcelerator participant.
As an Xcelerator program mentor, Laura Sampath, VentureWell Vice President of Programs, knows first hand the need for innovators to develop a support network. "Tapping into your network allows innovators to avoid working in a silo, staying focused on what they do best, and being honest about their shortfalls," said Sampath. She says a network includes trusted advisors with varying skillsets, experiences, and connections who can complement an innovator's knowledge and help him or her create a viable product.

"In any field, but in particular in science and technology innovation, there is often a fairly narrow skillset that comes with being an engineer or a scientist," Sampath says. "When [engineers or scientists] try to bring an innovation out of the lab and into the market, they require a well-rounded team to ensure that the essential strategic components they need are covered."

This article, the second installment of the Innovator Insights Series, highlights the value of coaches, mentors, and trainers and offers practical advice for early stage innovators looking to maximize their support network. We spoke with the following innovator-entrepreneurs, advisors, and experts involved with the Xcelerator program to identify ways to maximize support networks:
Ibrahim Mohedas of SubQ Assist
Sebastian Manhart of Simprints
Agostinho Almeida and Michael Free, Xcelerator innovation experts
Christina Tamer and Laura Sampath, both of VentureWell
Understand the Value of a Support Network
Early stage innovators have tremendous expertise when it comes to their technology, but they often have less experience with hypothesis testing, customer discovery, global markets, or the regulatory complexities of overseas markets. This is where mentoring from experts becomes essential. As Sebastian Manhart explained, "Mentoring and being able to draw on the experience of people who have been there before was and is absolutely crucial to our success. We have been lucky to count some serious thought leaders in the biometrics, software, sales, operations, and finance space as mentors."
Inventor-entrepreneurs can benefit tremendously from formal workshops that connect them with coaches and innovation experts who expose them to conceptual frameworks to guide their process. As Mohedas explained, "The trainings and mentoring are focused on the business and market side. They provide exposure to the concepts that I hadn't heard about before. They also offer a space to receive real-time feedback from experts on any number of topics, from IP, market analysis, distribution, manufacturing, or exit strategy."  
For Mohedas, working with experts was "like having a reference book with a massive background in innovation and strong hunches of where our pathways should go. Not necessarily the black and white answers, but lots of ideas that we wouldn't have gotten to if we hadn't worked with those coaches and trainers."
In addition to providing exposure to new and sometimes critical ideas, coaches, mentors, and trainers can help early stage innovators see their work in a broader perspective. For innovation expert Agostinho Almeida, this means "broadening the innovator's view of what the technology means in terms of impact, and what the market looks like." More often than not, working in these settings inspires innovator teams to substantially change their strategic plans.  "I've seen big shifts during the programs," says Almeida.  "People pivot significantly. They can change their client profile and market. If you look at innovators, when they step into a workshop and when they leave, and in follow up meetings, their perspectives and attitudes change for the better."
As VentureWell program officer Christina Tamer sees it, part of her job as a coach involves helping startups tie their experiences back to the theory. "Theories can be effective when they can be applied to a teams' individual situation, and having someone point out those connections [between theory and reality] can be important. But if they don't use the theory, if they overlook things that have been shown to work, they'll struggle and be more likely to fail."
In other words, while early stage innovators focus on the specifics of their innovation, coaches help them see their work as linked to broader patterns. According to Tamer, "Every innovator is experiencing problems and issues, and they feel like they are the first person to experience this problem." Imagining that they're forging a new path can be overwhelming and isolating. "As an aggregator of startup patterns, I have an arsenal of stories in my pocket that can help the innovator learn from what others have gone through before. Talking with someone who has seen this process before can ground them and minimize the isolation of challenging situations."
Programs that are comprised of in-person workshops and individualized mentoring help catalyze big ideas and pivots early in the innovation process. These experiences model the process of establishing and building the networks that many accomplished innovators tell us are absolutely essential to their success.  As global innovation expert Michael Free says, "That's mentorship. You bring people to the point where they're open to advice and to seeing what other people have experienced and appreciate what they need to do to build out their capacities."
Show Interest, Get Support
Experts who mentor innovators are busy people who tend to be selective about the teams or projects in which they invest their time and expertise. Innovators need to engage a variety of strategies to engage a coach or trainer and to get them excited to contribute to their progress.
Before working with a coach, mentor, or trainer, it's important to take some time to learn more about them.  Manhart explained, "As an early stage innovator, there are thousands of things you need help with. It's important to tailor your requests to a coach's area of expertise. It will elicit more valuable feedback and advice."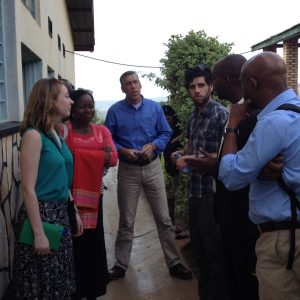 Tapping into mentor interests involves keeping them interested. Sometimes this means expressing an interest in what they have to offer. For Tamer, keeping coaches engaged can lead to expanded opportunities. "When I've sent templates or resources to a company but they haven't taken advantage of them, it's unlikely that I'll recommend them for investment. They don't seem interested. There can be a missed opportunity if you don't take advantage of help that people are offering."  
By contrast she said, "Even while an early stage company is navigating challenging licensing options, their proactiveness and responsiveness can keep a coach or mentor engaged. Since I manage the VentureWell investment program, seeing their questions and thought process can increase my confidence in their leadership abilities, which could ultimately lead to our investment."
Coaches and trainers want to help, but they can't read minds. Innovators should be upfront with people in their support network about needing help with difficult problems. And the more information they provide about the context and content of those problems, the better. For Tamer, "Innovators who send updates, set milestones, and have clear reports of key performance indicators allow mentors to see patterns in what's happening. That can be an opportunity for intervention before larger issues arise. So with data and information comes power."
But there's another paradox for innovators.  While it's critical that they be open to the knowledge that others have to share, they also need to remain confident and to be able to discern what is and is not useful information for them. This ability relates to what Tamer calls mentor whiplash. "It's about synthesizing the questions and making sense of it for yourself. You'll get lots of comments from coaches and trainers. Some will make sense, some will be wrong advice for your situation. You don't want to shoot down advice or not take in the information, but advice doesn't come with a quality rating. You might not always know. You have to be able to do that on your own."
Get into the Right Mindset to Get the Most Out of a Support Network
As discussed in the first installment of the Innovator Insights Series, innovators need to be coachable in order to get the most out of the expertise of coaches, mentors, and trainers.  That means developing an open mind to new ideas, and accepting that you might not have all of the information or knowledge you need to be successful.
Tamer says, "It's really important to be open and receptive to feedback. It's never effective if the innovators don't listen or react negatively to advice. And it's okay if you don't have all the answers. This process is all about discovery. You need to know what you don't know so you can work with a coach to fill in the gaps."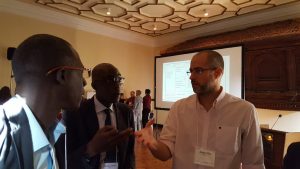 Whether in a program or working individually with a mentor, being open to new ideas and major shifts in perspective is essential, and sometimes it requires a willingness to test out ideas and get feedback on progress made or specific strategic planning tasks. Mohedas got the most out of sharing work he'd done with a coach. "The best thing is to have them review and critique what you're producing. These programs have people who are skilled at providing valuable feedback."
Mohedas' observation highlights a compelling theme from our research. Innovators may initially be reticent about sharing their ideas openly. Nevertheless, they typically have a voracious appetite for and are quick to adopt new things.  Especially in the early phases, they may need to take on roles and tasks that are new to them. As they try new things, mentors can play a critical role in giving them feedback. "So instead of having someone else do a market analysis," says Mohedas, "it's doing it [yourself] and having a mentor or coach give you feedback on it."
Start Building a Support Network Early
Utilizing support networks is a critical part of the innovation and entrepreneurship journey. Doing so will better prepare innovators to tackle other challenges in their adventure. The sooner innovators understand the benefits from working with experts in their network, the more value they will gain from it.
"Innovators who recognize the importance of discovering that they don't know what they don't know from the start of a relationship will derive much greater value from the time they spend working with experts," said Sampath. "Early exposure to a variety of coaches, mentors, and trainers will also help them determine the quality of advice they're receiving. Ultimately, innovators need to own all of their strategic decisions. They need to discern if the guidance suits their particular idea or invention. "
Innovators should start early in identifying coaches and experts who will remain in their support network for the long haul. Sampath says, "One thing to think about is: 'Is this person just going to be my program advisor, or is it somebody who is invested and wants to stick with us long term?'"
These insights illustrate that early stage innovators benefit greatly from a support system. Understanding the value of expert guidance early on can prime innovators to maximize their time with coaches, mentors, and trainers. Innovators who show interest and enthusiasm during and after a program gain the most attention and focus from time-strapped experts. Maintaining an open mind to expert advice – no matter how difficult to process – only helps innovators navigate the complex innovation and entrepreneurship journey.    
The rest of our Innovator Insights Series will focus on the hard-learned lessons of seasoned entrepreneurs that help illuminate the path for tomorrow's innovators, with the next installment taking a close look at the importance of building the right team. Read the first installment of the series here.
Other Installments in the Innovator Insights Series
Preparing for the Innovation and Entrepreneurship Journey
Mastering Strategy Development