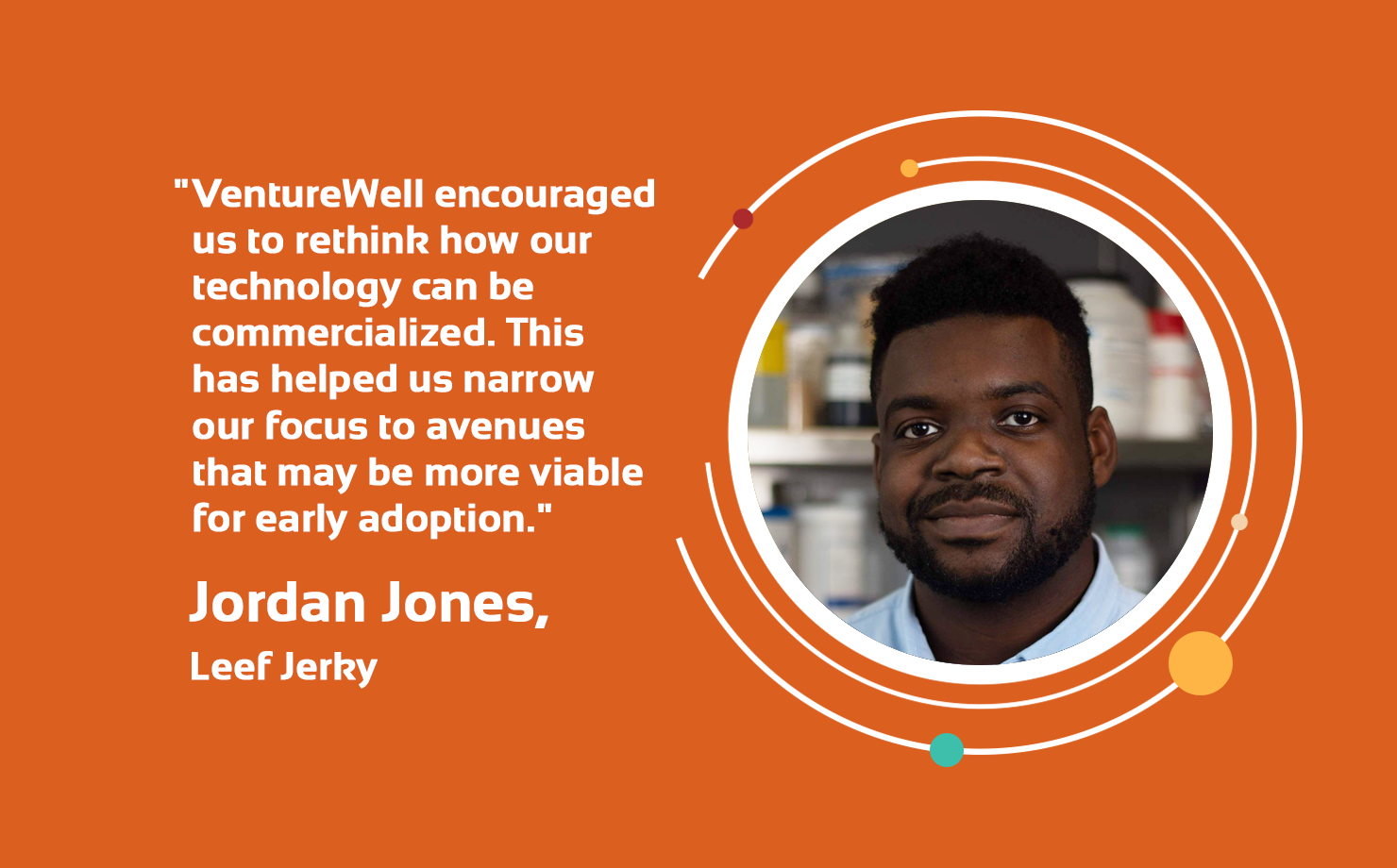 An innovator's journey from idea to market can be challenging and complicated—but also rewarding. Each month we explore how inventor-entrepreneurs in our network have evolved since they started their journey. Our goal is to share key learnings and best practices with early-stage science and technology inventors embarking on a path of innovation and entrepreneurship. Our latest spotlight is with Jordan Jones, founder of E-Team, Leef Jerky. Animal agriculture is a significant contributor to greenhouse gas emissions and uses enormous quantities of land and water. By growing isolated cow muscle cells on plant-based scaffolds, Leef Jerky is creating an environmentally-friendly meat product, progressing the movement to develop alternatives to current agricultural practices.
what challenge did you seek to solve with your innovation and why?
Traditional meat production is resource-intensive and unsustainable. The immense demand for land to cultivate crops and livestock is incentivizing deforestation. These practices often result in out of control wild fires that directly destroy forests and their biodiversity, and they also contribute to climate change perpetuation. We are developing a slaughter-free meat product that will reduce the need for large livestock populations and the land required to support them.
what have you learned along your innovation and entrepreneurship journey?
VentureWell has taught us to allow the customer to tell us about their needs. We have also learned that the adoption of our product will take significant public education efforts and careful planning. We are working hard to address the technical challenges that lie ahead of us to reduce skepticism and inspire others to change their dietary habits.
tell us how you've integrated environmentally-responsible practices into your innovation or process.
We have made it a priority to eliminate animal-derived components from our production process. This stance was one of the design considerations that contributed to our decision to use leaves as a scaffold in place of animal-derived scaffold components such as collagen. Lastly, we have chosen to use plants that are readily available and already part of our diets.
how has support from VentureWell impacted your innovation and venture?
VentureWell encouraged us to rethink how our technology can be commercialized. This has helped us narrow our focus to avenues that may be more viable for early adoption.
what's next for you?
We are currently working on developing a prototype of our slaughter-free meat product. Next, we will be looking for additional funding to develop a prototype of our bioreactor system.
---
The E-Team program supports dedicated science- and engineering-based student teams from across the nation in bringing their high-impact innovation out of the lab and into the market.