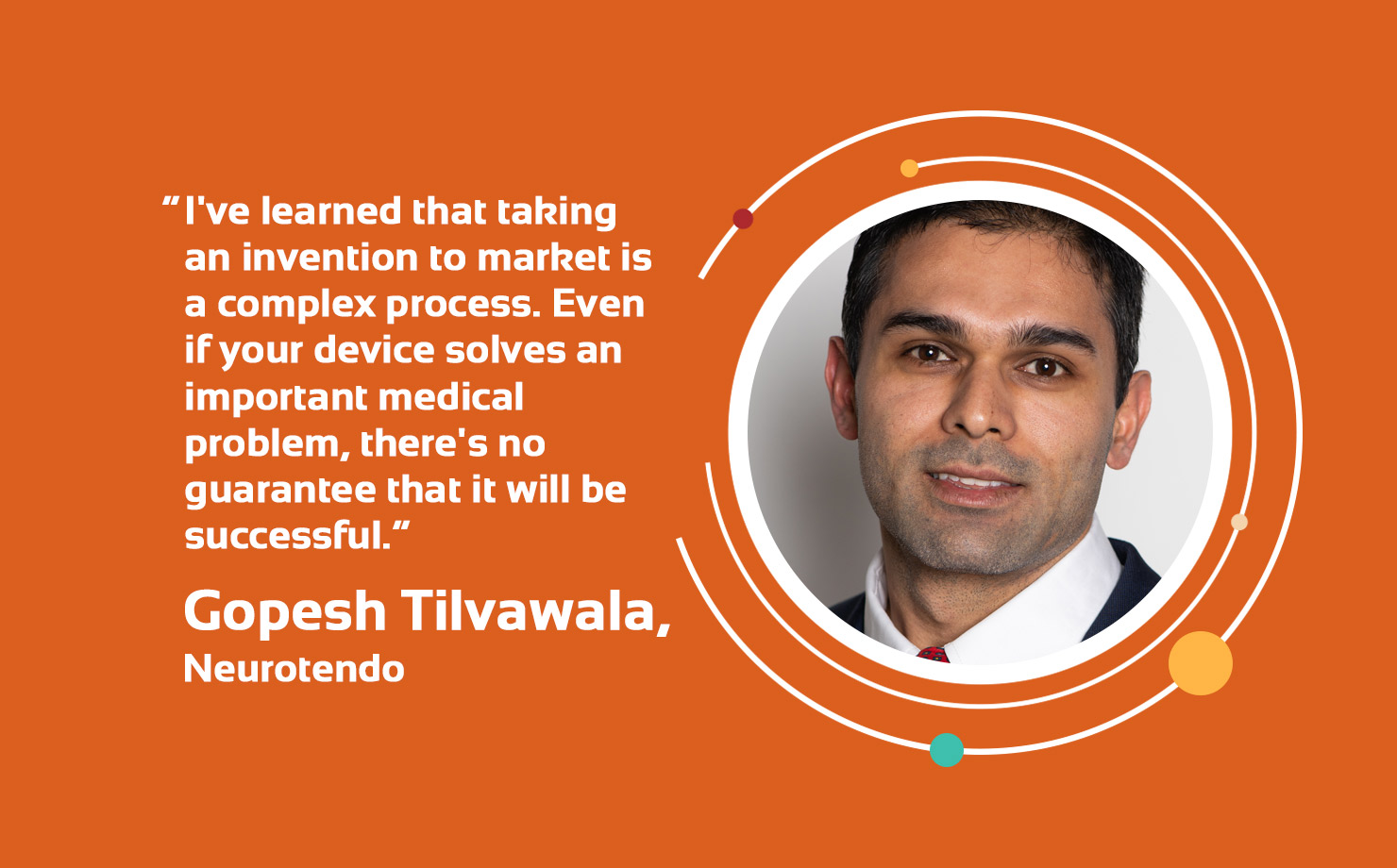 An innovator's journey from idea to market can be challenging and complicated—but also rewarding. Each month we explore how inventor-entrepreneurs in our network have evolved since they started their journey. Our goal is to share key learnings and best practices with early-stage science and technology inventors embarking on a path of innovation and entrepreneurship. Our latest spotlight is with Gopesh Tilvawala, cofounder of 2019 E-Team Neurotendo. The team developed a controllable robotic microcatheter to help neurosurgeons treat aneurysms at a faster and more reliable rate.
what challenge did you seek to solve with your innovation and why?
Stroke is the 3rd leading cause of death in the U.S. Through collaboration with neurosurgeons, we realized the primary reason for treatment failure was the inability to steer catheters within brain arteries. Our expertise in manufacturing devices that can fit within brain arteries led to the confluence between design engineering and this clinically unmet need. Our goal was to develop a device that translates the hand commands of neurosurgeons—a Nintendo for neurosurgeons—that enables safer and quicker treatment of aneurysms and stroke with higher success rates.

what have you learned along your innovation and entrepreneurship journey?
I've learned that taking an invention to market is a complex process. Even if your device solves an important medical problem, there's no guarantee that it will be successful.

tell us how you've integrated environmentally-responsible practices into your innovation or process.
While the clinically used devices are single-use only, the polymers used to build catheters are 100% recyclable. For all of our R&D work, we're able to capitalize on this approach and it has helped minimize costs as well.

how has support from VentureWell impacted your innovation and venture?
While we've received sufficient engineering and medical advice through our research work, the missing piece is mentorship and support to help take the inventions to the market. VentureWell taught us about the broader influence of market peripherals, value chains, and stakeholders involved in taking a product to the final consumer.
what's next for you?
We're conducting additional research and development on the engineering front to prepare for clinical trials.
---
The E-Team program supports dedicated science- and engineering-based student teams from across the nation in bringing their high-impact innovation out of the lab and into the market.