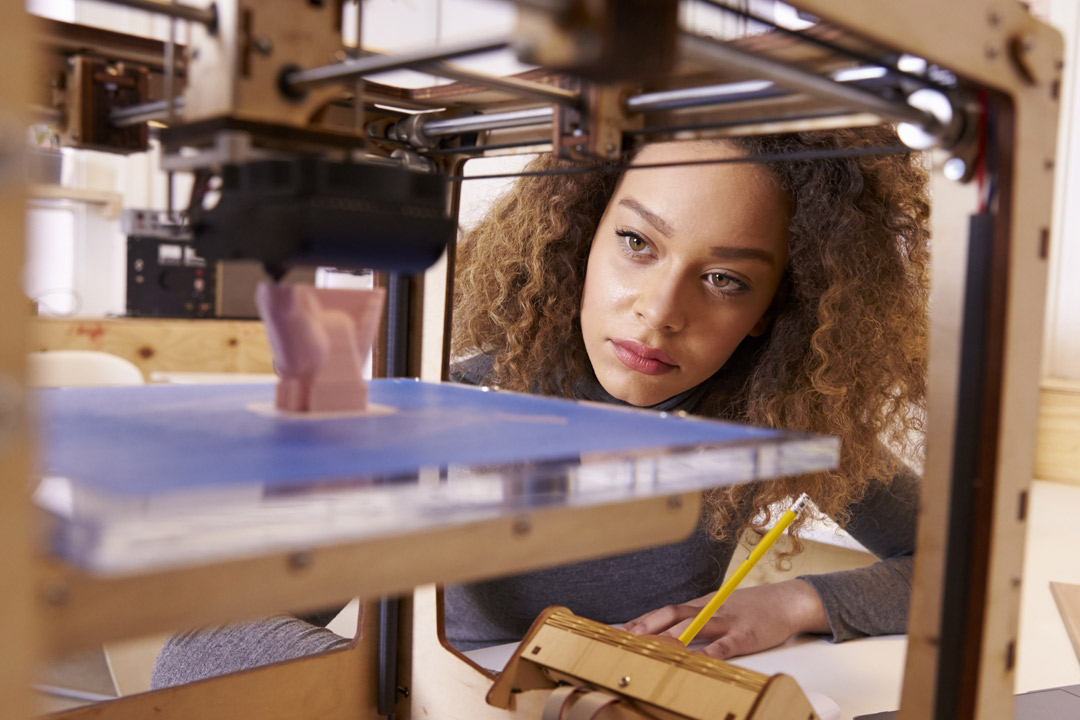 This article has been updated to spotlight more Black women engineers who continue to help solve our greatest challenges and lead the way to a brighter future. The original article was first published on June 23, 2020.
In honor of Black History Month, we are celebrating the innovative breakthroughs and inventions developed by Black women engineers. For many years, Black women have helped guide the engineering field to new frontiers. In the early 1980s, Dr. Donna Auguste became a lead software engineer at Apple Computers, where she held multiple patents for her work on Newton Personal Digital Assistant—an integral technological stepping stone to the iPhone and iPad.
NASA research mathematician Katherine Johnson was one of three black students who helped integrate West Virginia University's graduate schools in 1939. At NASA, she later calculated the trajectory that helped the first Americans reach the moon. Along with her colleagues Mary Jackson and Dorothy Vaughan, she was celebrated as a hero for those demanding action against sexism and racism in science and engineering.
Stifled Contributions of Black Women Engineers
A history of anti-Black racist policies and ongoing acts of violence severely stifled innovation within the Black community. Dr. Lisa Cook, Professor of Economics and International Relations at Michigan State University, published a study in 2013 on the ways violence has impacted innovation among Black Americans. Her research, which focused on patent filings, a key indicator in tracking innovation, during the years of 1870-1940, found that there were 726 patents filed by Black Americans during that period. Dr. Cook found that "African Americans filed patents at roughly the same rate as white inventors through about 1900…[then] there was a sharp decline in patenting right at 1900, around the time of Plessy v. Ferguson," the Supreme Court's 'separate but equal' ruling."
Through her analysis, she found that subsequent changes in policy, passing of further segregation laws, and acts of anti-Black violence, like the 1921 Black Wall Street Massacre in Tulsa, Oklahoma, strongly correlated to continued dips and steep decreases in patent filings by Black Americans. Dr. Cook found that, due to these acts of violence and racism, Black Americans were not able to launch more than 1,100 possible inventions. Additionally, historians have only found four African American women in total who were granted patents from 1865-1900.
Ongoing Systemic Racism
Systemic challenges for Black women in engineering still persist today. According to a study by the National Society of Black Engineers, the percentage of STEM bachelor's degrees awarded to Black women declined to 4% in 2015, down from 5% in 2006. In 2015, fewer than 1% of U.S. engineering Bachelor's degrees were awarded to Black women.
Failing to include the voices and ideas of Black women innovators to solve complex problems has a larger negative impact on society. A Stanford report looked across demographic and economic data at who becomes an inventor—and who doesn't. The troubling findings raise an important question—and echo Dr. Cook's findings: how many breakthrough innovations have we missed because of extreme inequity?
Against All Odds
Defying all of these challenges, Black innovators have continued to persist, using their talents and ideas to make historic contributions to the STEM field in America. Dr. Shirley Jackson, a theoretical physicist who was also the first Black woman to earn a doctorate at the Massachusetts Institute of Technology, paved the way for numerous developments in the telecommunication space, including the touch-tone telephone, the portable fax, caller ID, call waiting, and the fiber-optic cable. Marian R. Croak was inducted into Women in Technology International's hall of fame, an honor that recognizes her remarkable achievements in technology. Croak, who is currently a Vice President of Engineering at Google, holds over 200 patents, primarily in voice-over Internet protocol (VoIP). Next year, Croak and the late Dr. Patricia Bath, an ophthalmologist who invented laser cataract surgery, will be the first two Black women inducted into the The National Inventors Hall of Fame.
Today, Black women engineers continue to help solve our greatest challenges and lead the way to a brighter future. Denise Gray, an electrical engineer who's spent decades developing battery technology for electric cars, is a prime example of this. Gray, who started her career as one of the only Black employees at GM, was integral to the development of their first mass-market hybrid cars, the Chevy Volt. Gray now works as the LG Energy Solution Michigan Inc. Tech Center, where she leads the expansion of US production capacity of the lithium-ion cells and batteries used in electric cars.
The stories and contributions of leaders like Gray, Jackson, Croak, and other Black women engineers must continue to be elevated and honored. These will be the shoulders future Black women innovators can stand on as they continue to ascend to new heights. As part of VentureWell's ongoing commitment to Black innovators and to expanding equity within STEM innovation and entrepreneurship, we offer a set of resources from across the ecosystem. These resources offer training to support Black innovators in commercializing their innovation, including training programs, access to mentorship, scholarships, and grant funding opportunities. These are only a few of the training, mentorship, resources, and funding opportunities available to innovators of color in STEM. We want to ensure that we can maximize opportunities for success and encourage others to share additional resources.
National Society of Black Engineers Resources
Association of Public and Land Grant Universities Access and Diversity initiative and STEM initiatives
VentureWell resources for advancing equity in innovation and entrepreneurship
VentureWell E-Team Program and Course & Programs Grant