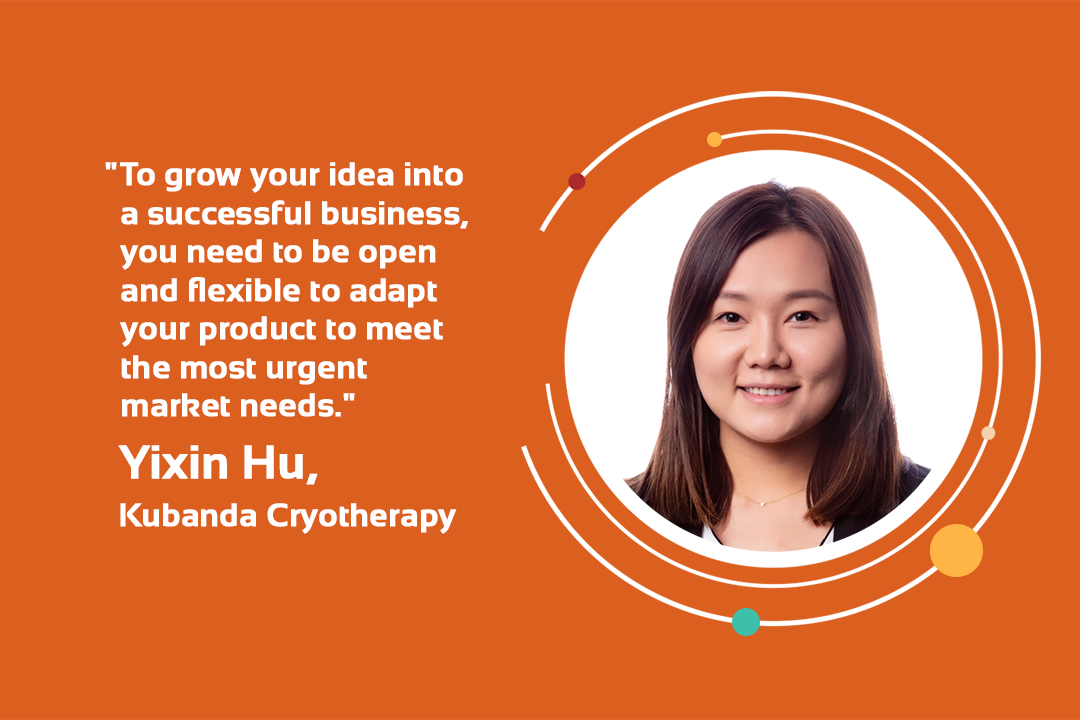 An innovator's journey from idea to market can be challenging and complicated—but also rewarding. Each month we explore how inventor-entrepreneurs in our network have evolved since they started their journey. Our goal is to share key learnings and best practices with early-stage science and technology inventors embarking on a path of innovation and entrepreneurship. Our latest spotlight is with Yixin Hu, founder of E-Team, Kubanda Cryotherapy. Breast cancer is the leading cause of cancer-related mortality for women worldwide. Though access to diagnosis equipment has greatly expanded, there is a deficit of breast cancer treatment options for women from under-resourced communities. Kubanda Cryotherapy is bridging that gap through their affordable carbon-dioxide based cryotherapy treatment.
what challenge did you seek to solve with your innovation and why?
While the availability of portable, deskilled cancer screening equipment is rapidly growing, the medical resources and treatment options remain inaccessible for women in lower-middle income countries. That means a large percentage of these women will receive a cancer diagnosis without an affordable and accessible treatment plan. Our innovation is a low-cost cryotherapy system that uses carbon dioxide to freeze and destroy cancerous tissue. Carbon dioxide widely available through the global soft drink supply chains, which means our system can be accessible even in a rural clinic in South Africa. The cryoablation (a process that uses extreme cold to destroy tissue) requires only local anesthesia and the women can return home on the same day of the breast cancer treatment with just a needle poke.
what have you learned along your innovation and entrepreneurship journey?
I have learned that it takes a lot more than just a good idea. To grow your idea into a successful business, you need to be open and flexible to adapt your product to meet the most urgent market needs. It's also important to prioritize; there might be multiple opportunities to pursue at the same time but it's crucial to purposely select which ones to put forth your best efforts and which ones to let go.
tell us how you've integrated environmentally-responsible practices into your innovation or process.
Our whole system is designed to be reusable to keep the costs low and reduce the burden of medical waste disposal. Specifically, the aluminum cryoneedle is compatible with most common sterilization methods such as autoclave and ethylene oxide gas.
how has support from VentureWell impacted your innovation and venture?
Venturewell support allowed us to take some time to dive in and evaluate the regulatory pathways necessary to push our invention towards the next phase of testing. We also used that time and developed a new bench testing approach that more directly and efficiently assesses the performance of our device. Overall, the program helped our company pivot from a research-focused startup to a more organic, customer-facing business.
how has your venture pivoted and adapted to the pandemic?
We were able to reopen our lab with limited in-person access and took advantage of the "slow times" to implement optimizations based on user-feedback.
what's next for you?
We will continue to seek grant funding for more in-depth studies on using the system in breast cancer treatment and obtaining clinical trial results to eventually seek FDA approval. We have also expanded our research and development and redesigned a system with the same technology to be used in veterinary applications.
The E-Team program supports dedicated science- and engineering-based student teams from across the nation in bringing their high-impact innovation out of the lab and into the market.
What does it take to get from idea to impact? Our new case study offers a deep dive into one innovator's entrepreneurship journey, highlighting the nuanced experience, lessons learned, and major development milestones.