At American universities across the nation, our best and brightest young minds are discovering innovative new solutions to our energy challenges. However, turning a game-changing technology into a commercial product requires a lot more than time in a lab. Aspiring student entrepreneurs often lack the business development skills, market exposure, and investor feedback they need to launch viable new businesses.
Cleantech University Prize (Cleantech UP) helps student entrepreneurs with promising clean energy solutions get their ideas out of the lab and into the market by providing the training, mentorship, and financial resources they need to become investor-ready businesses. We spoke with some of the 2017 regional winners about what they gained from the program.
Training
Swift Coat invented a nanoparticle coating to replace the expensive silver and indium tin oxide layers on solar panels.
2017 Rice Business Plan Competition first place winner
"As we explored the idea and the type of infrastructure we would need to execute our innovation, we realized that our business plan was not the most effective way to commercialize our technology," said Peter Firth of Swift Coat. "We've since adopted a licensing model. Potential customers have responded very positively to the new model, which allows us to get to market much faster."
Swift Coat is currently focused on serving their first two paying customers, a billion-dollar glass manufacturer and a solar manufacturing equipment supplier. "As we ship those samples off for evaluation in the next few months, we'll be using the funding we've received over the last year to scale up our technology and seek more customers," says Firth.
Left to right: Jonathan Bryan, an electrical engineering doctoral student and Peter Firth, CEO of Swift Coat hold a model of Swift Coat's nanoparticle deposition system on the Rice University campus in Houston, Texas. (Photo courtesy of Slyworks Photography.)
Mentorship
Infinite Cooling's technology reduces power plant water consumption by capturing steam escaping from cooling towers.
2017 MIT Clean Energy Prize first place winner
"For the Clean Energy Prize, we received some valuable guidance," said Karim Khalil of Infinite Cooling, whose company received legal, business, and technical coaching during the MIT Clean Energy Prize Competition. "Our pitch and business plan improved a great deal."
After the Cleantech UP competition, the Infinite Cooling team will be participating in the summer accelerator at MIT delta v, while simultaneously running their first industrial pilot at the MIT Cogeneration Power Plant.
The Infinite Cooling team with VentureWell's own Brenna Breeding.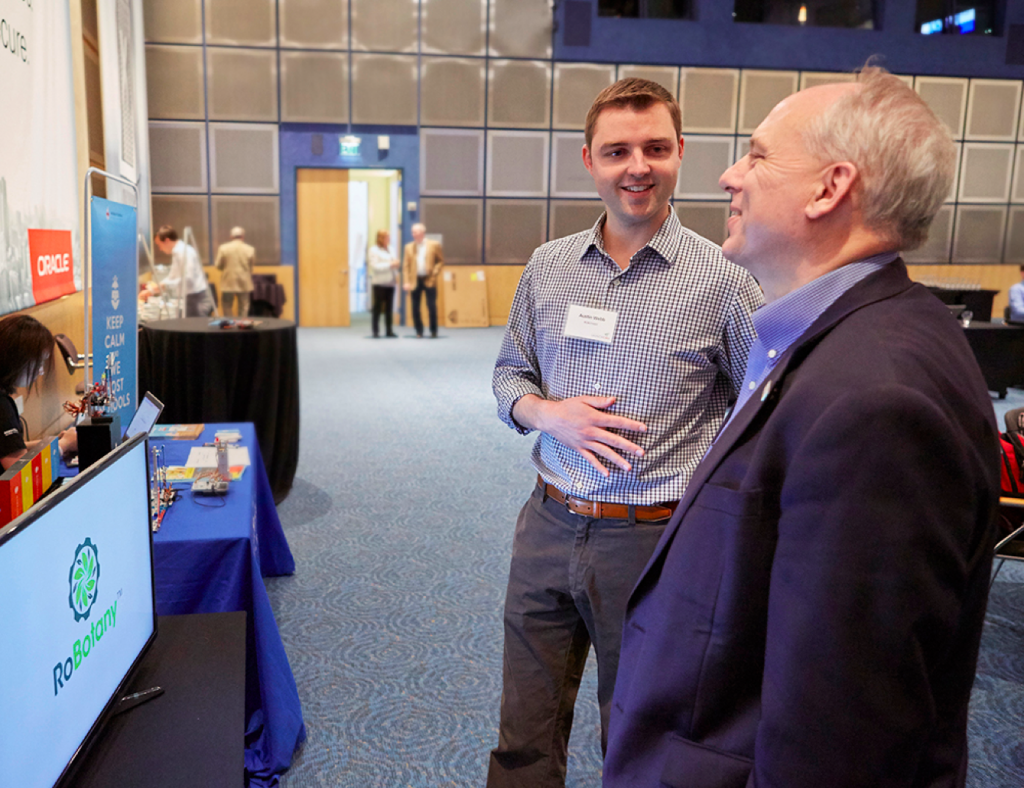 Networking
RoBotany developed vertical farming technology that improves labor efficiency and crop output.
2017 Carnegie Mellon Cleantech UP first place winner
"Networking with other entrepreneurs and industry leaders have generated many new ideas and potential partnerships," said CEO Austin Webb.
RoBotany is looking to close its Series A financing in the near future and begin building its full-scale farm located near downtown Pittsburgh.
Austin Webb representing his team at the LaunchCMU event, hosted by Oracle. (Photo courtesy of Oracle Blogs.)
Financing
Solstice Energy Solutions monitors, meters, and controls power sources from a mobile application.
2017 Berkeley Cleantech UP first place winner
"Winning the competition definitely helped kick-start our fundraising process," said Ugwem Eneyo, co-founder and CEO of Solstice Energy Solutions. "We were able to connect with investors and institutions that have proven to be valuable relationships."
After the National Competition, the team will be participating in the Capital Factory Accelerator in Austin, Texas while launching their beta program in Lagos, Nigeria.
Solstice Energy Solutions co-founders Ugwem Eneyo (left) and Cole Stites-Clayton (center) stand with Kristian Bodek of National Grid.
About Cleantech University Prize National Competition
Cleantech University Prize (Cleantech UP) business plan competitions provide aspiring student entrepreneurs with the mentorship, business development skills and training, and investor feedback to transform their clean energy ideas into impactful businesses. Launched in 2015, Cleantech UP builds upon its precursor, the DOE National Clean Energy Business Plan Competition. Since the competition started, participants have formed more than 200 ventures, created more than 115 jobs, and raised more than $120 million in follow-on funding.
Winners of the eight regional competitions competed in The Cleantech UP 2017 National Competition on June 26 and 27 in Austin, Texas. The National Competition is made possible through a collaboration between the U.S. Department of Energy, VentureWell, and the eight Universities and Organizations that host each regional competition.