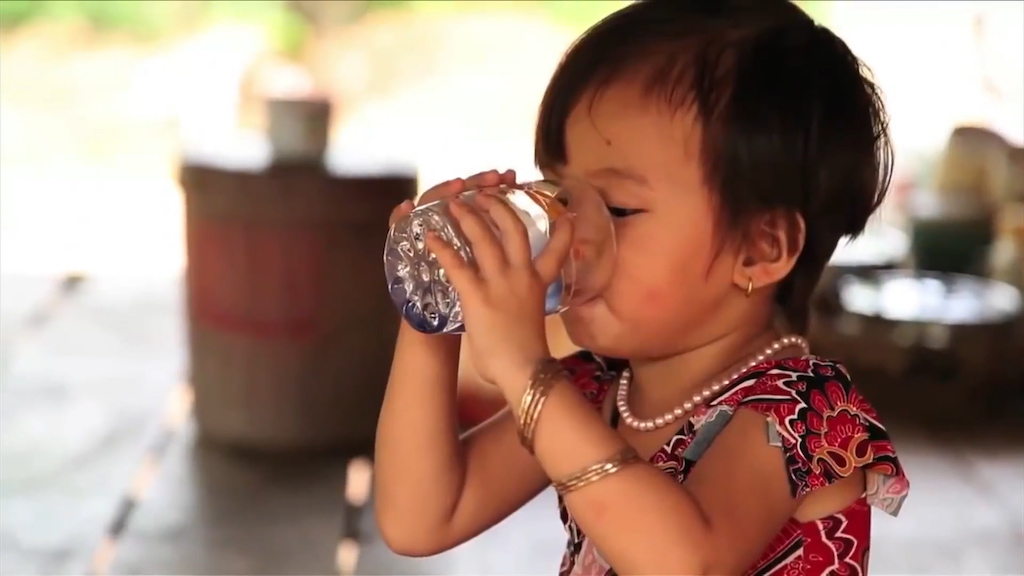 For Drinkwell co-founder Minhaj Chowdhury, the arsenic water crisis in Bangladesh was personal. Although he was born in the U.S., he traveled every summer to visit his grandparents in Bangladesh and he saw how the problem had ravaged the country.
The World Health Organization estimates that the arsenic water crisis affects over 200 million people across 70 countries and is the largest mass poisoning in human history. In Bangladesh alone, an estimated 20 to 45 million people are at risk of being exposed to arsenic in drinking water. "It's what's called a 'development disaster,'" Chowdhury says, because many of the wells in Bangladesh were drilled by the Global West as a solution to water scarcity. Arsenic is a colorless, odorless, naturally occurring metal, and when ingested it can lead to illness, diarrhea, and a cancer-causing disease called arsenicosis.
Chowdhury set out to find a solution, and he joined forces with Dr. Arup SenGupta and Mike German of Lehigh University, who had developed award-winning, sustainable technology to remove arsenic from water. VentureWell was the first money in at Drinkwell, with grants in 2008 and 2011 to develop and test the technology and the business model. "Had that funding not come in, who knows if this technology would have ever come out of the lab," said Chowdhury.
Today, Drinkwell uses a micro-franchise model to establish locally run water businesses in communities affected by arsenic. Chowdhury says the franchise model is generating jobs, income, and quality of life for local entrepreneurs. "We're providing a solution that is impacting thousands of lives, and we hope to impact five million lives by 2020," Chowdhury says.  
A sustainable technology
Drinkwell's water-filtration technology relies on a resin-based regenerable adsorbent to sustainably deliver safe drinking water. The technology is reusable, recyclable, and saves more water than current solutions that use reverse osmosis technology. "[We use] a hybrid anion exchanger that only removes the arsenic or the fluoride," Chowdhury says. "Because reverse osmosis removes the good things as well as the bad things, you need to essentially re-mineralize the water by injecting minerals into it, which can be a cumbersome additional step."
Reverse osmosis cleans water by using electricity to push water through a membrane, trapping particles to remove them. Chowdhury says the process requires a lot of energy and wastes a high percentage of water, referred to as toxic brine wastewater.
"Say you have a hundred liters of raw water and you push it through a membrane using electricity," he says. "You're only going to get fifty liters of potable safe water. The remaining fifty liters is actually this toxic brine waste that you have to throw out."
Drinkwell's technology, on the other hand, wastes only 1% of water, and the resin can be reused five times. The company takes waste management seriously, and puts waste material into aerated, coarse sand filters for safe storage. The process is EPA-validated.
"After about two million liters of dispensing you can actually do what's called regeneration," Chowdhury says.  "So it's the same idea as recharging your cell phone battery as opposed to throwing out your AA battery." Chowdhury says Drinkwell specifically targeted a long life cycle to "keep our cost structure down. We compete on the lifetime value of our technology."
Drinkwell received the Sustainable Practice Impact Award at VentureWell's 20th annual OPEN conference in recognition of the company's sustainable business approach.
Empowering local entrepreneurs
In order to scale up their company, Drinkwell launched a micro-franchise model, betting that the profit incentive would motivate communities to sustain clean drinking water. Currently, there are 200 operators of Drinkwell's technology in Bangladesh, Cambodia, Laos, and West Bengal (India).
"In places like India and Bangladesh, there's an appetite to make a living," Chowdhury says. "It's really incredible when you can see how science and technology allows people to empower and employ themselves. Being able to provide safe water in your community is a very proud job."
Chowdhury says one critical factor to Drinkwell's success is ease of use. "Naturally when you look at the microfranchise model, if the entrepreneur doesn't think your product is easy to use, they're not going to build a business around it," he says. "If an uneducated, illiterate but ambitious person wanted to make a living by operating our system, how could we make their life easiest?"
One way was to replace an inefficient pen-and-paper payment and tracking model with smartphones and water ATMs, which allow customers to deposit water credit on their debit cards and swipe their cards to dispense their water. Using water ATMS, operators can easily track utilization rates over seasons. "You can actually predict water sales, see how your entrepreneurs are performing across your network, and determine what lessons can be shared between your group," Chowdhury says.
Non-profits and government partners
To continue to scale operations, Drinkwell began to eye other entrepreneurial partners such as non-profits and NGOs who could operate water systems to boost their own revenue streams. "Non-profits can earn revenue by using their relationships and social capital to sell water in villages where they already have relationships," Chowdhury says.
And now that Drinkwell has proved successful, governments have begun inquiring about partnerships. Chowdhury says Drinkwell has won $1.4 million in government contracts in India, and is scheduled to install 150 systems over the next 18 months. Additionally, Drinkwell announced a dramatic expansion of its efforts, launching a new urban initiative with Dhaka WASA, the water utility of the most densely populated city in the world, to provide mobile money-enabled water ATM technology across its network of 700 pumps, providing safe water to 17 million people.
As Drinkwell continues to expand, providing clean drinking water and economic opportunities to individuals, non-profits, and governments, Chowdhury has advice for other innovators looking to create sustainable and profitable technology: "It's very important to figure out where in the value chain you play and how other people can make money by partaking in your ecosystem."
Learn more about Drinkwell
Watch a short video about the company's story and mission.