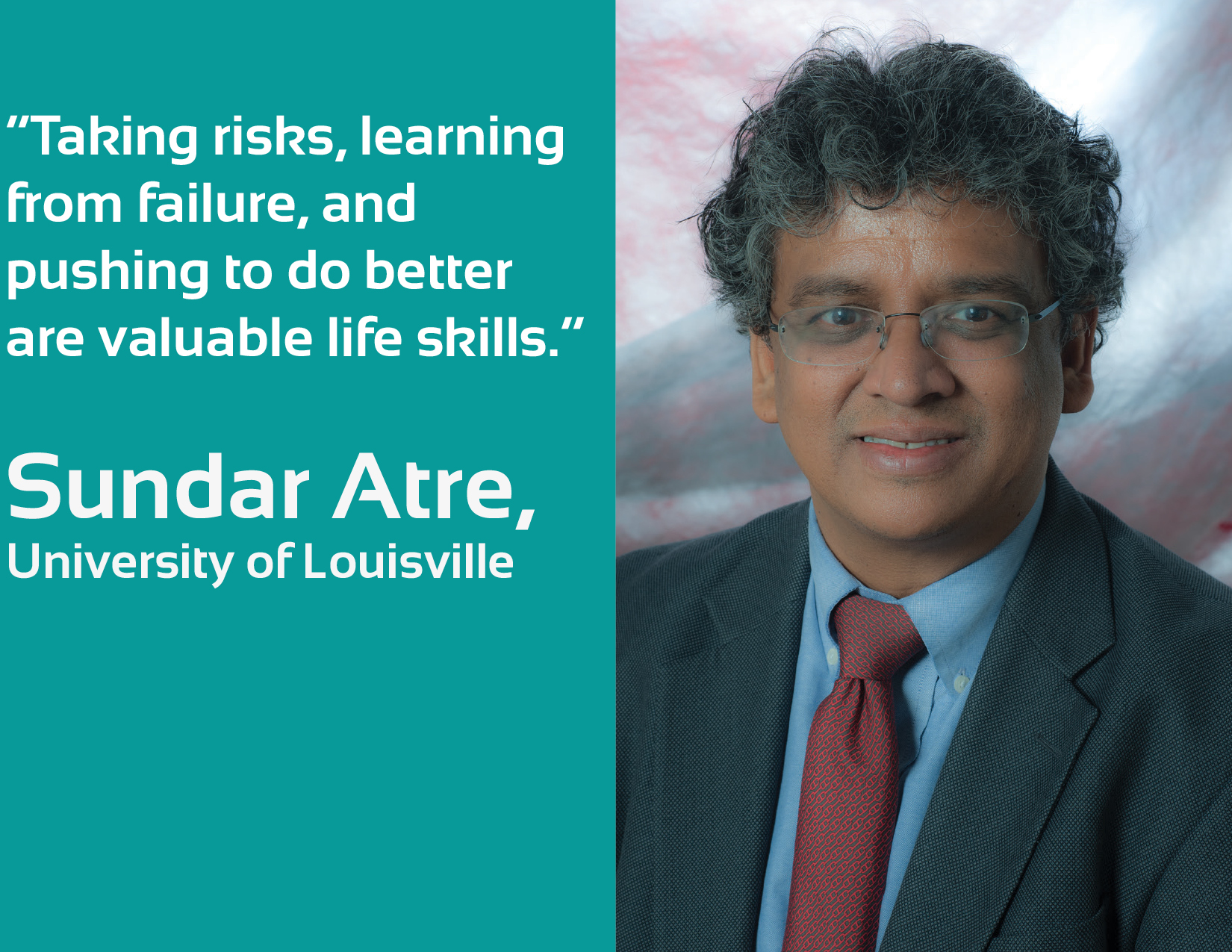 This week we continue our series highlighting educators within the VentureWell network that are doing good work—faculty members that are challenging norms in higher education and inspiring students to impact the world through invention.
This month's faculty spotlight is Sundar Atre, Endowed Chair of Manufacturing & Materials at the University of Louisville. Dr. Atre participated in VentureWell's Pathways to Innovation Program with Oregon State University in 2015. He leveraged the lessons learned from Pathways to launch the University of Louisville's 3D Printing Business Incubator.
How did you get interested in teaching entrepreneurship?
I have been associated with startups for the last 20 years. During that time, I continued to have overlapping roles in academia. There was a lot to learn while engaging the two (at times conflicting) worlds. There was also a great deal of enthusiasm in navigating the space. I wanted to share that excitement with students. I felt that most students are constantly pushed only to succeed, to the extent that they become worried about failure and feel discouraged to take risks. Taking risks, learning from failure, and pushing to do better are valuable life skills. I felt this was an important dimension for students to explore, whether or not they wanted to become an entrepreneur.
What is your favorite thing about teaching?
Watching students focus their energy and efforts to achieve growth and success.
Where would you like to see the field of entrepreneurship in five years?
I don't view entrepreneurship as a field. I think of it as a mindset.* Thinking about entrepreneurship as a mindset opens the possibilities to more thoughtful discussion about the "what, why, and how" of entrepreneurship.
What traits make for great teachers, advisors or mentors?
Passion, preparation, and perseverance. It also helps to have the ability to do most things well and explain the process to others.
What books on entrepreneurship and innovation have you been reading lately?
The Third Wave: An Entrepreneur's Vision of the Future by Steve Case. I was inspired by a concept in the book called "The Rise of the Rest." Case argues that high-growth companies can start and scale anywhere, not just in a few coastal cities. I think Louisville has the potential to become a startup hub if the community comes together to energize its emerging ecosystem.
What's your most useful classroom activity or assignment?
Designing and fabricating a product after identifying a compelling market niche based on iterative reasoning. The exercise gives students an opportunity to analyze information and act on it.
Watch an overview of the University of Louisville's 3D Printing Business Incubator below.
*Read more about entrepreneurship as mindset in this story: Determining the "What, Why, and How" of the Entrepreneurial Mindset: A Conversation with VentureWell's Phil Weilerstein and Thema Monroe-White.