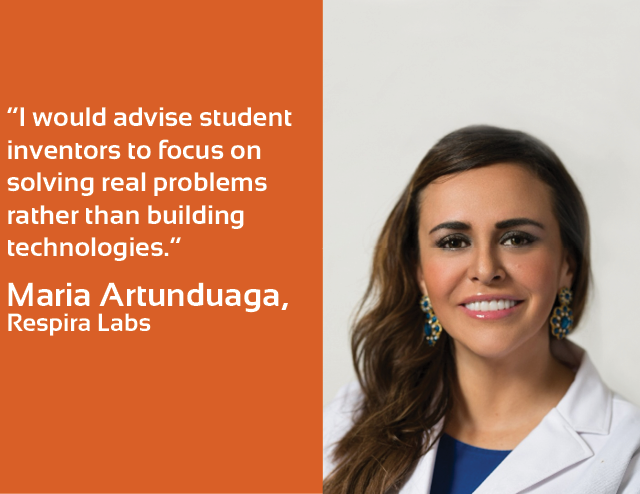 An innovator's journey from idea to market can be challenging and complicated – but also rewarding. Our Innovator Spotlight series explores how inventor-entrepreneurs in our network have evolved since they started their journey. Our goal is to share key learnings and best practices with early-stage science and technology inventors embarking on a path of innovation and entrepreneurship.
Our sixth Innovator Spotlight is Maria Artunduaga, MD, MPH, MTM, Founder and CEO of Respira Labs. Artunduaga is an E-Team grantee and participated in the I-Corps program. She invented a device that continuously monitors patients' lung function and collects lifestyle and other medical data to improve management of Chronic Obstructive Pulmonary Disease (COPD).
What was the inspiration behind your innovation?
My grandmother died as a result of a COPD attack. Her doctors had no idea how to leverage technology to improve her prospects while she was alive. That was a defining moment. I needed to explore ways to prevent unnecessary COPD-related deaths. I changed careers, completed two masters – in public health and translational medicine – and worked in academia, government, and consulting. Now as a translational physician – working to move an idea from basic science research to a clinical application – I am tackling the issue head on. In the last few years, I launched a startup as a way to quickly and effectively help people suffering from COPD.
How has your mission evolved?
I initially thought the best way to address global public health issues was through academia and the public sector.  But I soon realized that limited funding cripples these sectors, which leaves them poorly equipped to sustain success. In today's world, entrepreneurs are making great strides in solving critical problems because they direct capital in more purposeful and impactful ways.
Knowing what you know now, what would you have done differently?
I would have started developing relationships with seasoned entrepreneurs, mentors, and investors earlier. I now realize that it's important to not only speak with customers and end-users, but to connect with experienced people in the ecosystem. There are no formulas for entrepreneurial success, but fostering relationships with other people with experience truly helps.
Throughout your journey, what has been your most valuable skill?
Experimentation has been a valuable asset. As a physician, I not only bring a clinical perspective and credibility to healthcare issues, I am willing to experiment: testing hypotheses, analyzing results, and iterating. People in the medical field are trained in pattern recognition and learn to handle uncertainty, assess risk, and make cost-benefit decisions. Those skills provide doctors with the potential to become great entrepreneurs.
What advice do you have for other student inventors?
I would advise student inventors to focus on solving real problems rather than building technologies. I lost a year trying to find a healthcare application for a technology, only to find that that technology didn't create value for patients or doctors. The best way to address a problem is to talk to those affected by it. Speak to 40-50 people before committing to an approach. Keep an open mind and don't be afraid to change directions.
What's next for you?
Respira Labs plans to apply for an SBIR grant by the end of the year.  Non-dilutive funding would de-risk our technology prior to raising institutional or investor money. We will improve upon our functional prototypes, and test the technology on more patients.