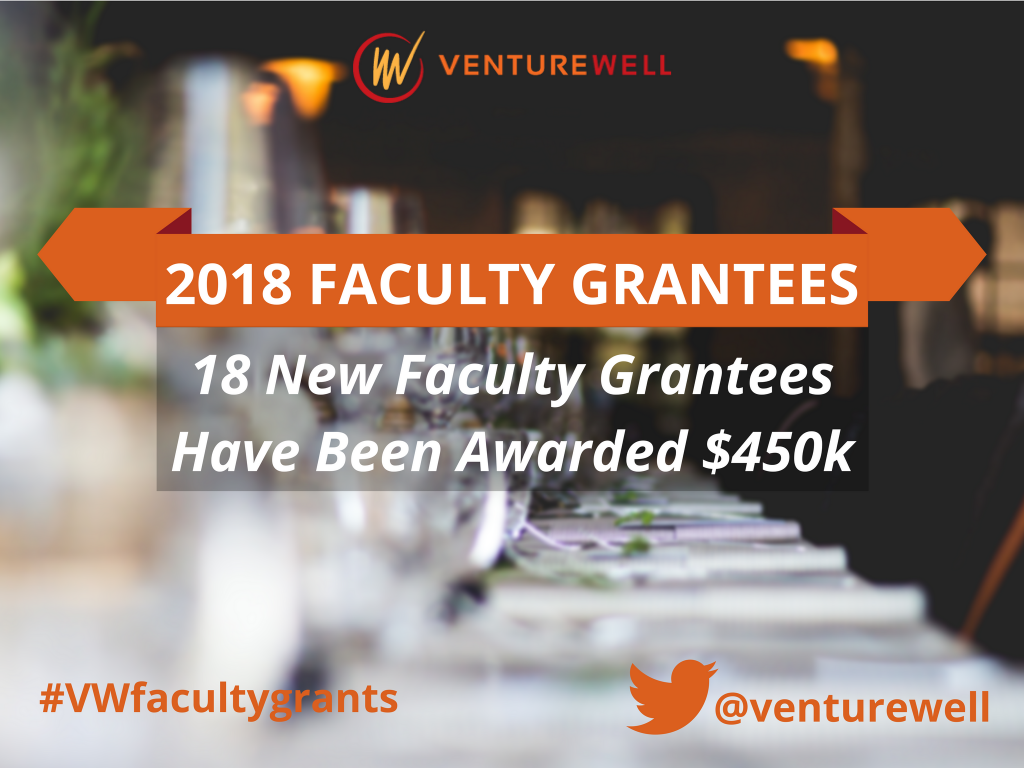 We're excited to kick off the new year by announcing our 2018 Faculty Grant awardees! We've given $450k in total to faculty from 18 universities to support the creation or improvement of courses and programs to engage students in STEM innovation and entrepreneurship. Meet them all here.
Our Faculty Grants Program offers university faculty up to $30k in funding to pioneer new ways to challenge students to develop inventive, STEM-based ideas and gain the entrepreneurial skills they need to bring them to market.
The 18 new grantees include:
Developing an Entrepreneurial Mindset in First Year Women Students (Binghamton University, SUNY) –  A first year course sequence specifically focused on helping undergraduate women develop an entrepreneurial mindset, in order to increase the number of women in entrepreneurial activities on campus and lead to stronger interest among women in launching a venture upon graduation.
Building a Curriculum that Fosters an Innovation & Entrepreneurial Mindset for our First-year Students (Michigan Technological University) –  An expansion of a pilot program that introduced design thinking into a first-year engineering course. The goal is to develop a curricular model that will best fit within the existing required first-year engineering and business courses program, and to implement and test this improved curricula during the 2018-19 and 2019-2020 academic years.
Growing a Health + Tech Design Program to Include Entrepreneurship  (University of California-Berkeley) – An enhancement of the Fung Fellowship program based on lessons learned during a pilot experience. The primary goal of the program is to provide student teams within the first year of the program with essential business and entrepreneurship knowledge as well as resources needed to transform health technology ideas into market-ready products. The grantees will integrate a series workshops, funding, and mentorship opportunities to help accelerate student teams progress.
Meet all of our grantees here and learn more about our Faculty Grants program here.