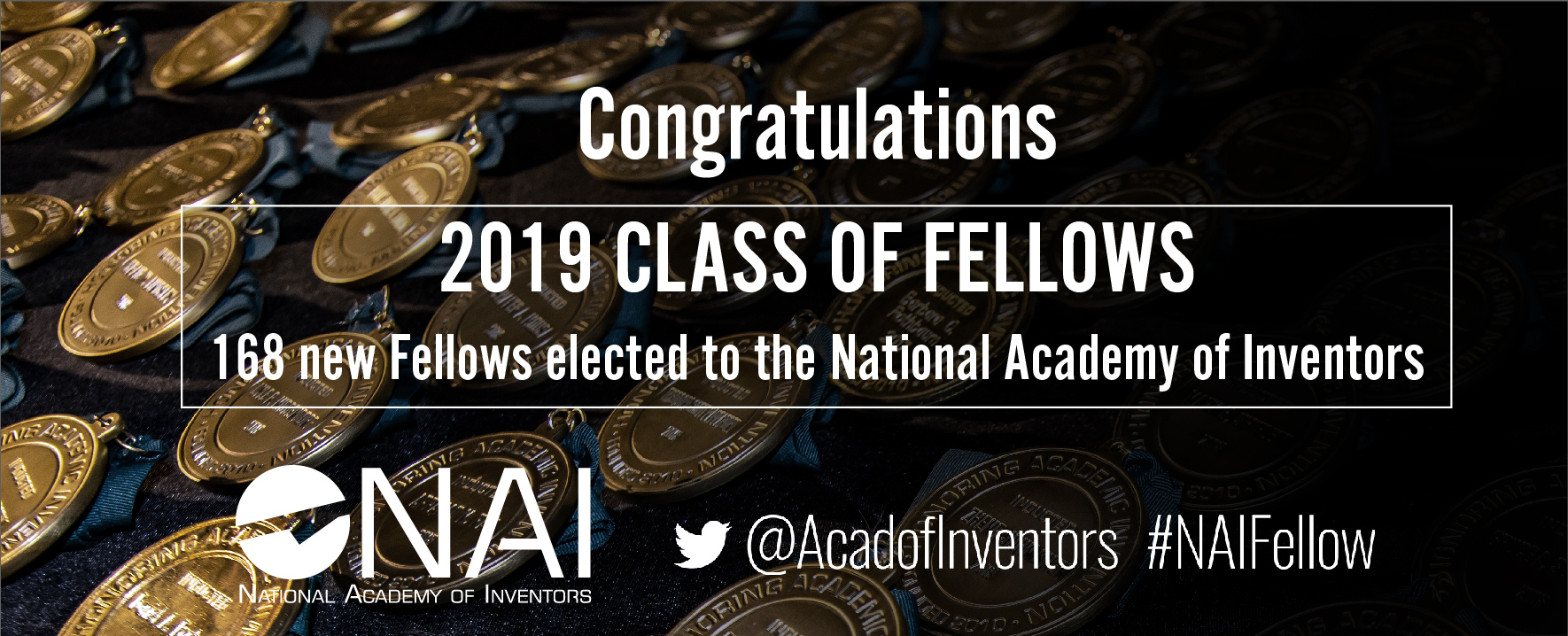 The National Academy of Inventors (NAI) announced their inductees for the 2019 NAI Fellows Program. The program highlights academic inventors who have demonstrated a spirit of innovation in creating or facilitating outstanding inventions that have made a tangible impact on quality of life, economic development, and the welfare of society. 
Congratulations to the many individuals from the broader VentureWell community who have been named a 2019 NAI Fellow. Principal Investigators (PI) for several VentureWell E-Team grantees and National Science Foundation (NSF) I-Corps program participants are among the awardees. You can see the complete list of NAI Fellows on the NAI website.
Meet the 2019 NAI Fellows from the VentureWell community:
VentureWell Grantees 
Guillermo A. Ameer of Northwestern University, PI for E-Teams, Sintact Medical Systems and Aspirigon: Anti-Aspiration System. 
Terri Fiez, PI for a VentureWell Faculty Grant for the University of Colorado Boulder. 
Glenn R. Gaudette of Worcester Polytechnic Institute, PI for E-Team, Leef Jerky. 
Anita Mahadevan-Jansen of Vanderbilt University, PI for E-Team, Hadamard Transform-Based Spectral Imaging System.
NSF I-Corps 
Stephen A. Boppart of University of Illinois at Urbana-Champaign, PI for I-Corps team, PhotoniCare. 
Karen Lozano of The University of Texas Rio Grande Valley, PI for I-Corps team, Portable.
Radenka Maric of the University of Connecticut, I for I-Corps team, Flex Nano Coatings. 
Holger Schmidt of the University of California, Santa Cruz, PI for I-Corps team, Liguilune Diagnostics. 
Hongjun Wang of Stevens Institute of Technology, PI for I-Corps team, Dental Innovation. 
Chee Wei Wong of the University of California, Los Angeles, PI for I-Corps team, Chip-scale phase modulations and tunable filters. 
Karen L. Wooley of Texas A&M University, PI for I-Corps team, Natural Product Engineering Materials. 
Min Wu of the University of Maryland, PI for I-Corps team, Mini Signal. 
Chuan-Jian Zhong of Binghamton University and The State University of New York, PI for I-Corps teams, Cat, Printinks, and Solwire. 
About the NAI Fellows Program
Election to the program is the highest professional distinction accorded solely to academic inventors. To date, NAI Fellows hold more than 41,500 issued U.S. patents, which have generated over 11,000 licensed technologies and companies, and created more than 36 million jobs. In addition, over $1.6 trillion in revenue has been generated based on NAI Fellow discoveries.
The 2019 Fellow class represents 136 research universities and governmental and non-profit research institutes worldwide and collectively hold over 3,500 issued U.S. patents. Among the 2019 Fellows are six recipients of the U.S. National Medal of Technology & Innovation or U.S. National Medal of Science and four Nobel Laureates, as well as other honors and distinctions. Their collective body of research covers a range of scientific disciplines including neurobehavioral sciences, horticulture, photonics and nanomedicine.
Watch this video to learn more about the NAI Fellows program.