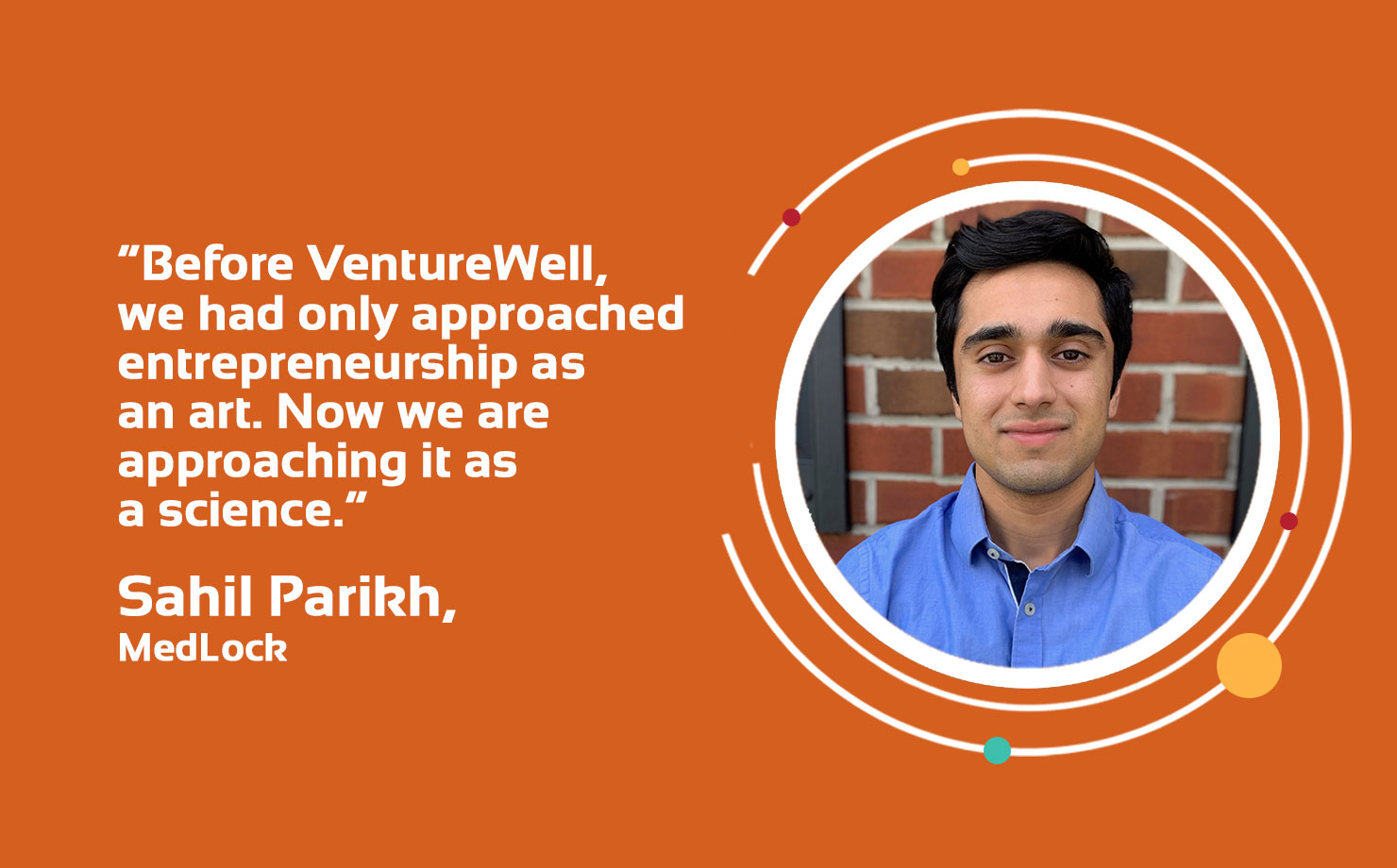 An innovator's journey from idea to market can be challenging and complicated—but also rewarding. Each month we explore how inventor-entrepreneurs in our network have evolved since they started their journey. Our goal is to share key learnings and best practices with early-stage science and technology inventors embarking on a path of innovation and entrepreneurship. Our latest spotlight is Sahil Parikh, co-founder of E-Team, MedLock. The team is developing a secure pill dispenser for use with opioid prescriptions that tracks when patients consume the medication and transmits the data to healthcare providers, preventing unintentional misuse.
What challenge did you seek to solve with your innovation and why?
MedLock hopes to assist patients in facing the difficult process of recovering from opioid addiction. I have always had a passion for social entrepreneurship, and in the past, I have consulted other impact-based organizations through clubs, such as Profit with a Purpose. However, I realized that simply advising other organizations did not fulfill my desire to help others.
That was when I ran into one of my current co-founders, Rishub, who often volunteered as an EMT. Sadly, his first patient died in his arms from opioid overdose. He had a clear drive to solve this problem. That was the only convincing I needed to embark on this journey to explore potential solutions to the opioid crisis. While visiting outpatient treatment facilities, I spoke one-on-one with several patients in recovery. I felt a strong connection with these people who were struggling to overcome their opioid addiction. That was when I knew I wanted to assist them with their recovery process.
What have you learned along your innovation and entrepreneurship journey?
Entrepreneurship has transformed the way I approach problem-solving. The most important thing I have learned is to get out into the real world and incorporate feedback from key stakeholders into the design process. With over 150 customer discovery interviews, our team has prioritized asking patients, providers, and pharmacists about the key challenges they face on an individual and organizational basis. This process ensures that I have a clear understanding of the largest barriers to effective treatment and understand how broader industry trends affect people on the ground-level.
Tell us how you've integrated environmentally responsible practices into your innovation or process?
Our team has found it easy to incorporate sustainable practices into our prototyping process. While iterating on the product, we choose not to 3D print entire prototypes with each change. We only printed the parts that were altered, and then we rebuilt the prototype. My team and I have been excited to think of ways to continue incorporating environmentally responsible practices into our venture after we commercialize. One idea is collecting any hardware that has reached the end of its life cycle, so we can either repair it or salvage the working pieces.
How has support from VentureWell impacted your innovation and venture?
Before VentureWell, we had only approached entrepreneurship as an art. Now we are approaching it as a science. After the workshop's emphasis on quantifying differentiators and goals, we clearly defined key objectives that are necessary to move forward. This has significantly increased clarity on what needs to get done, which is important with our large team of eight. Without written goals, it is easy to be working hard on the wrong things.
Also, through the competition matrix activity, we were forced to take a look at our entire platform with fresh eyes. After comparing our solution's features to those of other practices, we realized we were truly a platform aimed to assist in holistic treatment of opioid addiction, rather than a preventative monitoring system like most of the current solutions in place. 
What's next for you?
We will be testing our prototype as well as co-creating our educational and psychological resources with providers and patients. We have begun working on designing a study to test our platform's ability to improve key metrics in opioid addiction recovery. We also have the major goal of putting our device into the real world. There are five clinics that will test our product. We hope to begin a feasibility trial with at least 10 patients in one of these locations by January 2020.
Learn more about our E-Team Grants and submit your application!
Learn more about MedLock here.