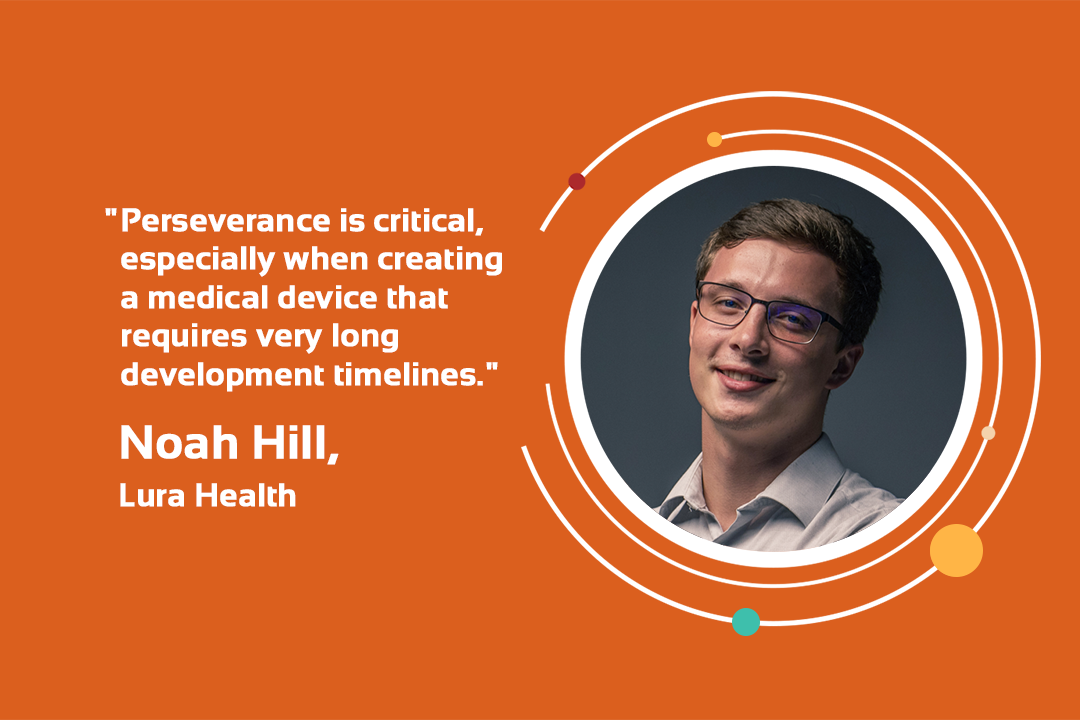 An innovator's journey from idea to market can be challenging and complicated—but also rewarding. Each month we explore how inventor-entrepreneurs in our network have evolved since they started their journey. Our goal is to share key learnings and best practices with early-stage science and technology inventors embarking on a path of innovation and entrepreneurship. Our latest spotlight is with Noah Hill, founder of E-Team, Lura Health. Though comprehensive nutritional tracking can be an important part of preventive health care, the options available to doctors and patients are unreliable and time-intensive. Lura Health has created an intraoral biosensor that can monitor nutritional consumption, deliver real-time updates through a mobile app, and synthesize data to help people make informed decisions about their health.
what challenge did you seek to solve with your innovation and why?
Dan Weinstein (a co-founder) and myself were both competitive athletes before college and we became increasingly frustrated with inaccurate and tedious pen and paper nutrient tracking methods. We wanted to build a technology that would tell us exactly how many carbohydrates, fats, and proteins were in our meals while requiring no user input. That inspired us to develop an intraoral sensor that can automatically monitor nutritional consumption.
what have you learned along your innovation and entrepreneurship journey?
Perseverance is critical, especially when creating a medical device that requires very long development timelines. Plans will change, things will go wrong, and stressful decisions will have to be made, but this is all part of the journey. Sticking through the challenging issues that come up and staying true to your vision will allow your team to learn, grow, and be even more prepared for the future.
tell us how you've integrated environmentally-responsible practices into your innovation or process.
One of the key innovations within our technology is extremely low energy consumption, which allows our product to have a very long lifetime while using super small batteries. This means that patients don't need to swap their device for a new one very frequently, which is sustainable. Right now we are also exploring various environmentally sustainable product packaging designs.
how has support from VentureWell impacted your innovation and venture?
Support from VentureWell allowed myself and my co-founders to work on Lura Health full-time during summers and following graduation. The workshops were incredibly helpful in refining our business model and pitch, directly supporting our journey in raising just about $850,000 in venture capital funding and receiving a $256,000 NSF SBIR Phase I grant.
how has your venture pivoted and adapted to the pandemic?
Throughout the pandemic, we have been working in Shenzhen, China at the HAX hardware startup accelerator. We were very fortunate as the factories and resources in Shenzhen handled the pandemic very efficiently, so we did not experience substantial delays in R&D. We did notice that body temperature screening was one of the most widespread methods of quickly diagnosing potential health risks, so we quickly developed an intraoral temperature sensor as a pivot off of our current intraoral pH sensor.
what's next for you?
We recently finished tech development for our first product, an intraoral pH monitor. Our next big milestone is to raise a large enough seed round to support passing the FDA regulatory process as a Class II De Novo device. The next step in our larger company vision is to expand our preventive health care technology, and create a solution for monitoring many analytes beyond oral pH. Thousands of health biomarkers are present within saliva and we aim to replace blood testing with our non-invasive, preventive health care monitoring platform.
The E-Team program supports dedicated science- and engineering-based student teams from across the nation in bringing their high-impact innovation out of the lab and into the market. 
What does it take to get from idea to impact? Our new case study offers a deep dive into one innovator's entrepreneurship journey, highlighting the nuanced experience, lessons learned, and major development milestones.