We awarded over $225K total in funding to student teams developing high-impact innovations.
We are excited to announce the 24 teams who have been accepted into our Spring 2020 E-Team Grant Program cohort! Each early-stage student team, selected through a competitive national review process, was chosen based on the potential for their innovation or invention to have a significant positive social, health, or environmental impact. 
Seventeen teams have each been awarded a $5,000 Stage 1 grant, and seven teams will receive a $20,000 Stage 2 grant. Teams will use funds to advance prototype development, conduct customer discovery research, and establish their intellectual property portfolio as they move their project out of the lab and into the market. In addition to funding, these teams will take part in our intensive Early-Stage Innovator Training Program; Stage 1 teams will attend the Pioneer workshop, which focuses on customer discovery, and Stage 2 teams will attend the Propel workshop, where they will work to develop and validate their business model.
Meet the Spring 2020 cohort below: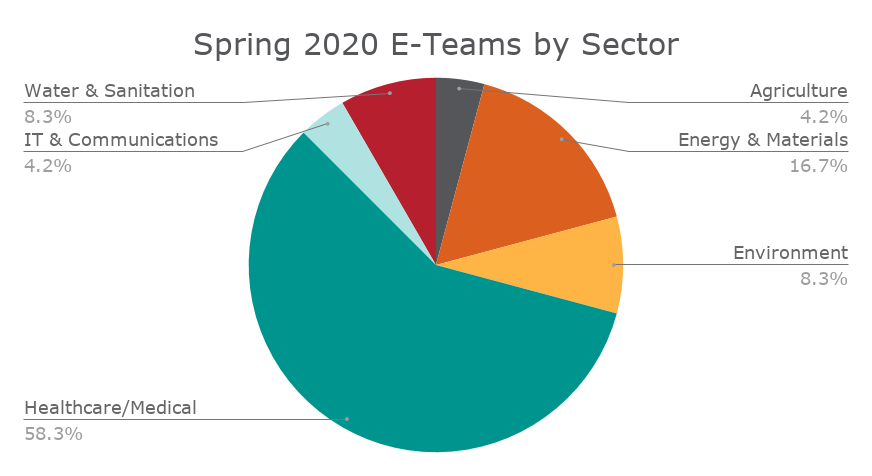 agriculture
AgCorder Stage 1
AgCorder is developing a handheld sensor platform that allows agriculturalists to correlate optical and biological factors in real time to evaluate horticultural performance.
energy & materials
Bio-Shield Roofing Systems Stage 1
Bio-Shield Roofing Systems is developing a roofing shingle using flax, a biological material that is inexpensive, non-toxic, and easier to dispose of safely than traditional asphalt shingles.
University of Colorado at Boulder E-Team Stage 1
This student team at University of Colorado at Boulder is developing a novel energy-efficient window that uses uncolored metal films to dynamically tint the glass and block light and heat.
Ocean Motion Technologies, Inc. Stage 1
Ocean Motion Tech is developing a device to generate energy from ocean waves that is controlled with advanced AI and is able to adapt to the local sea conditions to provide optimal power output.
Shiver Solutions Stage 1
Shiver Solutions is developing a smart, low-power device to de-ice vehicle windshields that attaches to the glass and senses and automatically removes ice. 
environment
EnvironFlo Stage 1
Environflo is developing a device to clean oil spills safely and effectively, and that doesn't use temperature, pressure, or chemical absorbents that are common in other current methods.
Remora  Stage 2
Millions of pounds of trash pollute the Earth's oceans, and ports and harbors as a result are incurring millions of dollars in cleaning costs, regulatory fines, and lost tourism revenue. Remora developed SeaSkimmers: solar-powered autonomous marine drones that track and collect trash in the oceans; the devices will navigate using GPS, camera data, and a laser surveying system, along with utilizing the Live Ship Tracker feed, a real-time global monitoring system of ships' locations and speeds.
healthcare/medical
Ambulatory Innovations
Ambulatory Innovations is developing the Community Ambulation Tool (C.A.T.) Mat, a modular interlocking floor mat system that simulates various types of terrain in order to help physical therapists assist their patients to improve movement. 
BruxALERT Stage 1
BruxALERT is developing a wearable device to monitor habitual bruxism (teeth clenching and grinding) and give biofeedback to help users stop the habitual behavior and help reduce the headaches, facial pain, and dental damage it causes.
ByeStrep! Stage 1
ByeStrep! is developing an over-the-counter diagnostic test to detect strep throat at home; the device connects to a telehealth platform to enable patients with positive indications to receive an e-prescription for an antibiotic.
Cellens Stage 1
Cellens is developing a noninvasive solution for the detection of bladder cancer that is based on machine-learning-assisted microscopic analysis of cells and is highly accurate and can be easily integrated within the current clinical procedure.
drizzle Stage 2
Tuberculosis (TB) is a leading cause of infectious disease mortality worldwide; a major contributor to TB transmission is under-diagnosis. drizzle developed a device that can be used by individuals in low-resourced areas to test for tuberculosis, reducing the risk of disease spread by under-diagnosed cases and enabling earlier treatment intervention.
Drizzle also participated in the Virtual OPENMinds Showcase. Watch their video pitch. 
Hubly Surgical Stage 2
Half of the 20,000 intracranial access procedures performed outside of the operating room annually in the US result in failure, and the manual hand crank technology has remained largely unchanged since the 1400s. Hubly is making this process more modern and safer by developing an integrated medical drill system for common neurosurgery procedures that combines multiple neurosurgical tools and integrates a guidance mechanism enabling the procedures to be done at the bedside and reducing reliance on operating rooms.
InSync Stage 1
InSync is developing a non-invasive monitoring device to assess respiratory effort in critically-ill pediatric patients to help detect signs of distress earlier and guide physicians throughout respiratory support therapies.
MIST Stage 2
Up to 5% of adolescents in the US are affected by scoliosis, some of them requiring significant surgery to correct the condition. MIST is developing ThIRA, a spinal disk replacement implant which dynamically corrects scoliosis using simple mechanical properties and avoids the negative aspects of current procedures. 
Nanodropper Stage 1
Nanodropper is developing a user-friendly universal adapter for eyedrop medication bottles to create smaller droplets, thereby reducing waste due to oversized drops and decreasing the per-dose cost to patients.
Nephrogen Stage 1
Team Nephrogen is developing a simple, rapid, non-invasive point-of-care test for acute kidney injury (AKI) in chemotherapy patients that screens urine for highly sensitive and specific biomarkers of AKI.
OxyGen Stage 2
Patients with chronic respiratory diseases rely on long-term oxygen therapy devices and portable oxygen concentrators. But, these devices are heavy, difficult to maneuver, and, for the more than a quarter million Americans who need high-flow support, do not provide sufficient output or battery-life to support their needs. OxyGen developed a portable oxygen concentrator for patients on long-term oxygen therapy that combines high-flow ambient air with pulses of concentrated oxygen in a mechanism that is easily maneuverable and energy-efficient.
ReduSeal Stage 1
ReduSeal is developing an antimicrobial shield that adheres to standard glove boxes used in healthcare settings to reduce potential microbial infection and lower glove waste from 20% to just 4% per box.
Relavo Stage 2
Over 700,000 Americans suffer kidney failure requiring them to receive dialysis. Although one form of dialysis, peritoneal dialysis, is associated with improved health outcomes and better quality of life, because it is administered at home and relies on the patient to properly sterilize the equipment, it carries a high infection risk and is less frequently prescribed than other forms of dialysis. Relavo developed the PeriotoneX, a medical device for patients with kidney failure that disinfects tubes used during home peritoneal dialysis, resulting in improved health outcomes and higher quality of life.
Vmobi ™ Stage 1
Vmobi is developing a wireless platform solution to enhance mobility and improve educational and employment access for visually-impaired and blind people that combines artificial intelligence and peer-to-peer service with existing assistive tools.
information technology & communication
Iconic AIR Stage 2
Businesses and institutions concerned with air quality need to detect leaks, identify pollution sources, and monitor emissions. Iconic Air is developing a geospatial analytics platform and an air quality monitoring device that attaches to most aerial and terrestrial vehicles (manned and autonomous) for use in collecting samples of pollutants and aeronautic data.
water & sanitation
Photolixir Stage 1
Photolixir is developing a water purification solution that removes hazardous microbes and metal ions through a chemical reaction that uses only sunlight and atmospheric oxygen.
Solar Confidence for Solar Disinfection (SoCo for SODIS) Stage 1
Solar Confidence for Solar Disinfection is developing a solar-powered device that provides a visual indicator for solar disinfection of water and that can be used by both households and communities.
about e-team grants
E-Team Grants give student teams the opportunity to access up to $25K in funding, along with the training, networking opportunities, and national recognition they need to launch their venture. We have trained over 850+ student entrepreneurs comprising 330+ E-Teams who have collectively raised more than $205 million in follow-on funding and launched over 180 ventures after taking part in the E-Team Grant program. 
The E-Team Grant program is presented through the generous support of The Lemelson Foundation and the Autodesk Foundation.
Learn more about our E-Team Grant Program.