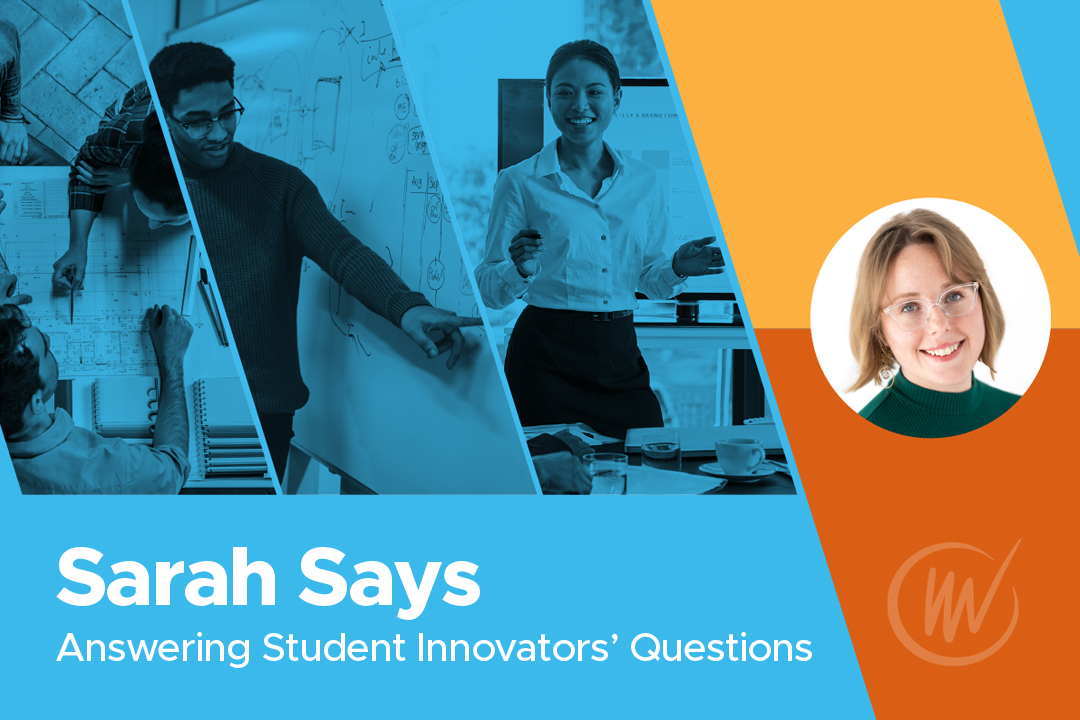 Welcome to Sarah Says, a new series by VentureWell Program Officer Sarah Wharmby. Sarah will address commonly asked questions raised in our E-Team workshops.
Our latest E-Team cohort is made up of bright and engaged student innovators who are looking to bring their ideas to life. They're developing innovations to positively impact the social, health, and environmental spaces—and like all of us, they face similar challenges when deciding where to go next. In my experience as a program officer at VentureWell, I've noticed many student innovators want to continue exploring the possibility of turning their idea into a venture. But they also question: Is that really the next best step for me at this stage? Should I continue my education, or explore getting a job instead?
Second-guessing an entrepreneurial journey is natural—you may decide that it's not the right decision for you at this time. There's also a certain level of privilege that comes with even being able to consider launching a business. Not everyone has the luxury of choosing to pursue their innovation right away, which is why it's so important to myself and my colleagues that we continue to support inclusivity efforts in entrepreneurship.
To help student innovators decide the best path for them, I mapped out three possible approaches you can take as you move toward graduation.
Embrace being a student.
Being a student gives you access to many avenues of support as you pursue innovation. Consider extending your college journey; by getting another degree or adding a major/minor, you're taking advantage of a large institutional network that's available to you. It's important to identify the key resources at your specific school, such as community mentors and alumni networks. Consider looking into the following:
Funding and support through competitions and programs. The benefits of early-stage support can't be understated—and by nurturing your venture as a student, you're setting yourself up for later success.
Connect with other student innovators. At colleges and universities, resources are often donated specifically for students in need: a desk at co-working spaces or makerspaces, mentorship from alumni, and other in-kind gifts.
Mentorship programs and/or opportunities. It's important to seek guidance from experienced faculty, staff, or peer leaders. They often have years of valuable experience, and can impart knowledge specific to your business.
Institution-industry partnerships, often found in commercialization offices. Many colleges and universities have programs in place to connect students with industry specific nonprofits and organizations. Most universities have programs and resources for entrepreneurs and startups, which provides an excellent way to connect with and seek support from professionals.
Say yes to the… job!
Security and stability are key while you're still in the development stages of your business. It's okay to accept a job offer now in order to build the foundation necessary for the work you want to do later. Just be sure to:
Continue developing your big idea on the side. By carving out dedicated time each week, you'll have an opportunity to do things like create a business plan, map out possible milestones, and consider avenues of funding.
Save money. This one might seem simple, but giving yourself a cushion to fall back on will mitigate stress later on, and help you self-fund your future business.
Focus on paying off student loans. Accepting a job after graduation can help you shorten the timeline for paying off your loans. It's okay—and prudent!—to make that a priority.
Think like a full-time founder.
You're ready to give it a go as an entrepreneur. Before launching a business, it's crucial to start thinking like a founder. You can do that by mapping out what business needs are currently being met and which ones are falling through the cracks. There are a few ways—and many paths—to go about doing this:
Evaluate your support system. Friends, family, and other co-founders can provide emotional support for business leaders in the face of highs and lows.
Assess your finances. Risk aversion can be helpful when planning for the future. What do your finances look like? What funds are you allocating where?
What makes sense for you might not work for another student founder, and that's okay! No matter what path you choose, it's important to consider all the factors involved in your unique situation before proceeding.
---
Join me for an info session on December 13, 2022, or January 18, 2023, to learn more about The E-Team Program and how we can help you launch your innovation through up to $25,000 in grant funding and entrepreneurship training!
---
Sarah Wharmby supports VentureWell's early-stage entrepreneurship programs, providing training for innovators in the Pioneer and Propel stages of the VentureWell Accelerator program. Sarah has managed educational programs in both the nonprofit and higher education sectors; she has worked closely with social enterprises and social entrepreneurs, as well as student founders.
About the E-Team Program
Through the E-Team Program, we have trained over 500 student teams and more than 1,400 student innovators. Our teams have raised $740M+ in follow-on funding and have launched 400+ ventures since taking part in our program.
Learn more about VentureWell's E-Team Program, which supports student-led science- and engineering-based teams from across the nation in bringing their high-impact innovation out of ideation and into the market.