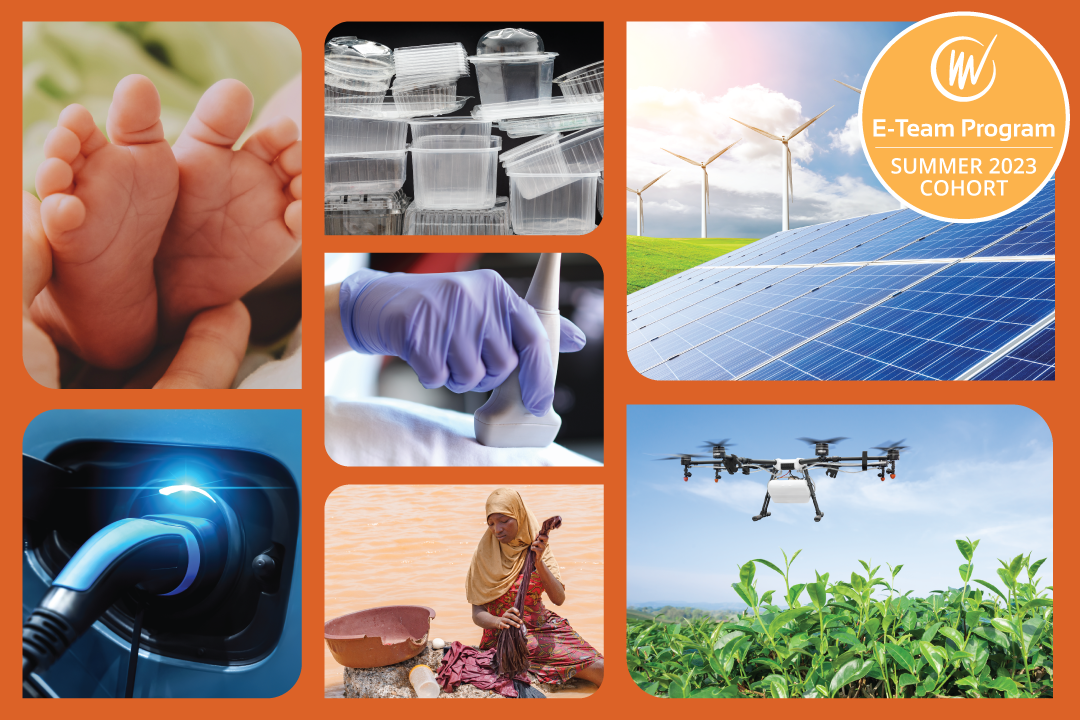 Twenty-two teams have been selected for the Summer 2023 cohort of the E-Team Program. Chosen through a rigorous selection process, these entrepreneurs aim to address crucial societal, health, and environmental challenges with novel science- and technology-based innovations. Sixteen teams will begin their entrepreneurship journey by participating in Pioneer, the first stage of the program, which includes $5,000 in grant funding and dedicated training to help uncover the ideal market for their inventions. Six teams will advance to Propel, the second stage, where they will receive a $20,000 grant and further training in building their business model canvas and testing their business hypotheses.
We are thrilled to support the debut of promising teams like Earnest Nic, which is developing a smart kit that studies menstrual blood to provide a more comprehensive look at reproductive health; and the return of Stage One E-Team participants like BioBarrier Technologies, which developed a low-cost alternative single-use food packaging that is sustainable and safe.
Learn more about the promising inventions being developed by our newest Pioneer and Propel teams:
Pioneer
Agriculture
Acreage Farms | Embry-Riddle Aeronautical University
Acreage Farms is developing a mobile monitoring system for vertical farms that records and collects 3D environmental data to improve plant growth and reduce overall costs for multiple high quality sensors.
Fungimize | Oklahoma State University
Fungimize is developing a sensor system that provides real-time data to enable precise fungicide application, enhancing crop yield and minimizing costs for farmers.
MUDBUG: Low-Cost IoT Environmental Sensors | The Cooper Union for the Advancement of Science and Art
MUDBUG (Multi-Use Data Acquisition Bio Unit Group) is developing low-cost sensor units for small-scale family farms to monitor soil conditions, improving quality and maintenance, as well as increasing food supply.
Healthcare/Medical
ATHENA Box | Vanderbilt University
ATHENA Box (Amplified Trehalose Emission for Nonpolar Assay) is developing a low-cost, lightweight handheld device that uses fluorescent dye to detect pulmonary tuberculosis (TB), offering a more accessible alternative to current pulmonary TB diagnostic tests, which are expensive and require laboratory facilities, electricity, and trained technicians.
comPLEX Dx | Johns Hopkins University
comPLEX Dx is developing a rapid blood test to detect 12+ different pathogens in pediatric patients for rapid diagnosis of respiratory diseases, minimizing delays in treatment to address infant mortality rates.
DentAwareTM: Improving Minority Dental Care Through Accessibility | Fayetteville State University
DentAwareTM is developing an affordable testing kit that assesses early signs of periodontal disease and connects users with local health clinics so they can access affordable care, particularly in marginalized communities.
Earnest Nic | The New School
Earnest Nic is developing a smart kit that uses biometric data to study menstrual blood, providing a more comprehensive look at a user's menstrual health, improving reproductive care and screening for potential health conditions.
iCONNECT | George Mason University
iCONNECT (Coordinating Opioid Network Needs with Expert Clinical Teams) is developing a mobile app network for people with substance use disorders to access local support resources like food pantries, housing assistance, and medical clinics, creating real-time human connections at a crucial moment for users.
MedPrepAI | Yale University
MedPrepAI is developing an artificial intelligence (AI)–powered MCAT tutoring platform that learns and evolves with each user interaction to democratize access to medical school admissions consulting.
ProbeMate | Duke University
ProbeMate is developing an ergonomic silicon grip cover that fits over the handle of an ultrasound transducer device to alleviate strain on a sonographer's wrist and hand during scans.
Pulse Mate | Duke University
Pulse Mate is developing an affordable, durable device that simulates a realistic human arm, allowing for medical professionals to practice inserting a needle the arm's arterial line, while also providing multiple skin tones in order to promote racial equity.
ReBlood Rx | University of California San Diego
ReBlood Rx is developing a reliable oxygen delivery system to treat hemorrhagic shock in environments where blood availability is low.
Information Technology & Communication
Sustainable Ecofriendly Smartphone | Central Washington University
Sustainable Ecofriendly Smartphone is developing a smartphone that is highly resistant to dust and water using gaskets rather than adhesives, promoting easy and low-cost repair that extends the life cycle of the device.
The Car Seat Companion | Elizabeth City State University
The Car Seat Companion is developing a Bluetooth-enabled pad that fits underneath a child in a car, that, when activated, will send an alert to a parent or guardian via smartphone to notify them that a child is still in their car seat.
Infrastructure/Building
ShotHawk Active Shooter Response Systems | Bradley University
ShotHawk Active Shooter Response Systems is developing an AI-enabled device that can detect an active shooter threat and deploy non-lethal deterrents directly at the shooter, dissuading an assailant and providing a distraction for police intervention.
Streamline Charging | Pennsylvania State University
Streamline Charging is developing customizable, cost-efficient technology for electric vehicle (EV) charging that can service up to 10 parking spaces per station, reducing installation costs and making EVs more accessible to existing gas stations.
Propel
Energy & Materials
BioBarrier Technologies | Pennsylvania State University
Per- and polyfluoroalkyl substances (PFAS) are commonly used to coat paper-based food packaging products, but they rarely break down and can negatively impact the environment and human health due to toxins. BioBarrier Technologies developed a sustainable, low-cost, and food-safe alternative to single-use food packaging that resists water and oil penetration.
MissionHydro | University of Massachusetts-Lowell
More than 100,000 people die in the U.S. each year due to health complications from poor air quality. MissionHydro developed a hydrogen-fuel energy storage system that can capture renewable resources like solar and wind much more effectively, while having zero emissions and a high energy density.
Environment
ReuMo | University of Washington
Common grass lawns require a high volume of water to maintain, and artificial lawns exhibit increased runoff with plastic thatch and grass fibers. ReuMo developed an alternative customizable moss kit that reduces water and energy use and prevents storm water runoff through a layered filtering system.
Healthcare/Medical
EMIT—Male Contraceptive | Arizona State University
More than 500,000 people choose to get a vasectomy in the U.S. every year. However, reversing the procedure is expensive and only has a 50% success rate, causing emotional distress for couples looking to conceive post-procedure. EMIT—Male Contraceptive developed a minimally invasive male contraceptive using an injectable hydrogel that provides a completely reversible double barrier to sperm movement past the vas deferens.
NanoMood | University of California San Diego
Over 970 million people around the world are living with a mental health disorder, and while care options exist, access to treatment can be limited or inaccessible. NanoMood developed wearable technology that monitors mental health symptoms through biological, physiological, and digital internal markers in order to support patient treatment at clinics.
Infrastructure/Building
Ultropia | University of Washington
Worldwide, more than 5 billion people wash their clothes by hand. Many do not have access to the infrastructure and resources required to obtain conventional at-home laundry facilities. Ultropia developed an affordable, all-in-one ultrasonic washer and dryer that requires less water, power, ducting, and plumbing, to make sanitation more accessible.
Meet the Summer 2023 E-Team Partners and Sponsors
We are thankful to our partners that work with us to support these startups, including Qualcomm Incorporated, a leading wireless tech innovator and our host for the in-person Propel workshop; The Engine, a venture firm and our host for the in-person Pioneer workshops; and The Lemelson Foundation, a nonprofit dedicated to supporting the power of invention to improve lives.
The E-Team Entrepreneurial Journey
In our Summer 2023 cohort, all teams will undergo rigorous entrepreneurship training to enhance their innovations. In the Pioneer stage, teams will identify the ideal market for their invention, understand potential venture pathways, and define their unique value in context of the industry landscape. During the Propel stage, teams will form and test their business model hypotheses. They'll flesh out their business model canvas, verify it through customer interviews, and work on building their intellectual property portfolio.
Participants in our summer workshops will convene at The Engine in Boston, Massachusetts, July 27-28 (Pioneer) and the Qualcomm Thinkabit Lab in San Diego, California, August 10-11 (Propel).
"This is a crucial time for innovators on the cusp of their entrepreneurial journey," said E-Team Program Officer Sarah Wharmby. "We connect teams with our broader VentureWell community—including experienced staff, industry-specific mentors, and their own peers—creating a dedicated network of continuous support long after they complete our training program."
About the E-Team Program
Through the E-Team Program, we have trained over 500 student teams and more than 1,500 student innovators. The teams have raised over $600 million in follow-on funding and have launched 300+ ventures since taking part in our program.
Learn more about VentureWell's E-Team Program, which supports student-led science- and engineering-based teams from across the nation in bringing their high-impact innovations out of the lab and into the market.