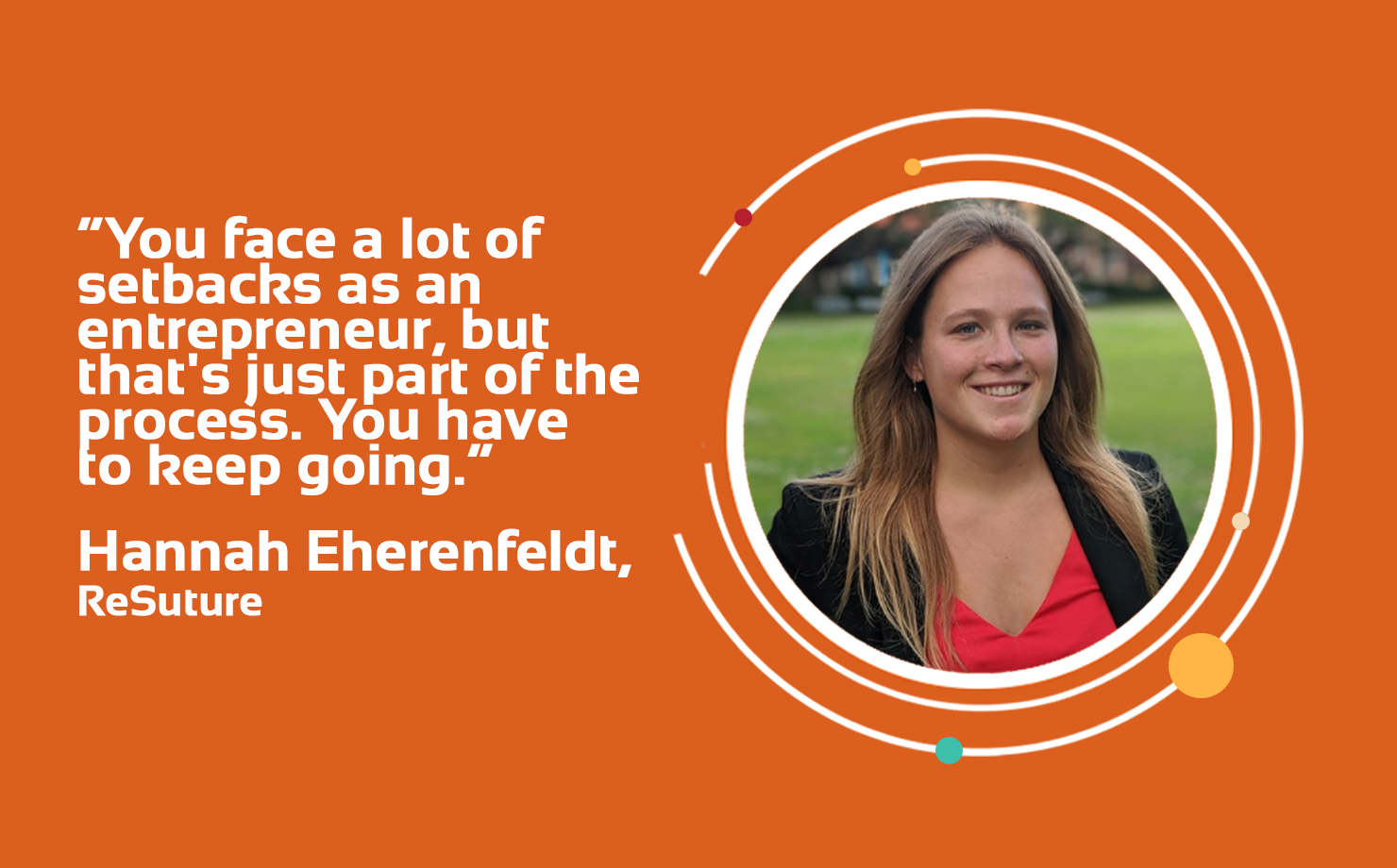 An innovator's journey from idea to market can be challenging and complicated—but also rewarding. Each month we explore how inventor-entrepreneurs in our network have evolved since they started their journey. Our goal is to share key learnings and best practices with early-stage science and technology inventors embarking on a path of innovation and entrepreneurship. Our latest spotlight is Hannah Eherenfeldt, CEO and co-founder of E-Team, ReSuture. The team is developing a material for use in surgical simulations that accurately reproduces the mechanical properties of human vascular tissue and can be used repeatedly, providing highly realistic vascular surgery simulations and reducing training time.
What challenge did you seek to solve with your innovation and why?
It has been shown that surgical complications can be reduced by 50% using simulation training, so we are trying to create a product that makes surgeries safer. We are bridging the gap between the classroom and operating room by providing training tools to allow future surgeons to learn complex procedures before operating on a patient. Our artificial human vasculature has the same mechanical properties and anatomy of live tissue. We believe our product will change the way we train surgeons, shifting away from practicing on cadavers and "on-the-job" training.
What have you learned along your innovation and entrepreneurship journey?
I'm trained in biomedical engineering, so this whole process has taught me a lot about the business side of things. There is so much that goes into developing a new product—more than I expected. Additionally, you have to learn to be resilient. You face a lot of setbacks as an entrepreneur, but that's just part of the process. You have to keep going.
Tell us how you've integrated environmentally responsible practices into your innovation or process?
Eliminating excess waste from our manufacturing process is a huge focus of ours. We reuse any materials we can and use eco-friendly cleaning supplies in our lab.
How has support from VentureWell impacted your innovation and venture?
VentureWell has been incredibly helpful in teaching us the business and legal aspects of having a startup. They really helped guide us toward thinking comprehensively about our market, customer, and value chain. Additionally, they connected us with amazing mentors and other student teams. Further product development would not have been possible without the funding from the program.
What's next for you?
I'm pursuing this venture full time. We have pilot programs set up with two medical schools and are continuing product development. We have drafted a provisional patent and have been accepted to an incubator program where we're working on customer and business development. We plan to apply for Stage 2 of the VentureWell E-Team program to learn how to acquire the necessary capital to scale up production.
Learn more about E-Team grant opportunities and application deadlines here.