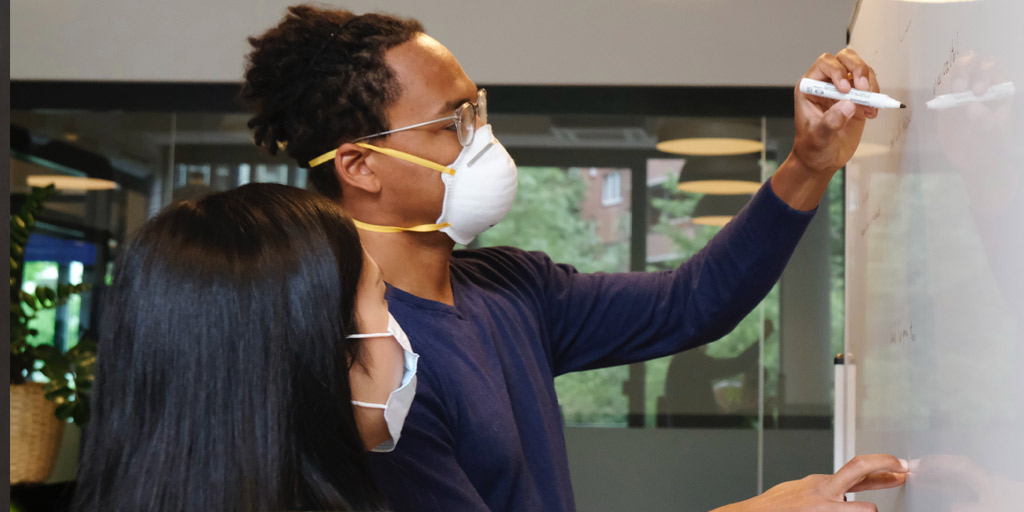 Securing funding for a venture as a student entrepreneur can be tricky work. Innovators often have to look far and wide to find funding opportunities that are the right fit for the scope and stage of their venture. It can be particularly difficult to know where to start within the ever-changing fields of science and technology innovation. 
As the startup industry braces for the impacts of the COVID-19 pandemic, funding avenues can seem more uncertain than ever. The pandemic has undoubtedly changed the entrepreneurial landscape but it's still possible to pursue and obtain funding—especially for entrepreneurs creating innovative technologies that can help in the battle against the virus. 
VentureWell director of venture development, Eli Velasquez, spoke to the Seeding Ecosystems podcast about the major financial stakeholders for emerging startups: governments, foundations, and investors. Below, we've unpacked key insights on how early-stage science- and technology-based entrepreneurs can access funding resources available for ventures, and pivot to new opportunities in these challenging times.
governments
Governments offer a number of vital funding resources for entrepreneurs in science and technology innovation. In the US, the Small Business Innovation Research and Small Business Technology Transfer program is a first stop. In Egypt, there is the Science and Technology Development Fund, and the Malaysian government offers several funding resources for early-stage ventures. The Global Innovation Hub has compiled a detailed listing of government and organizational funding opportunities around the world. 
Government funding is generally the most accessible and the most flexible; it often comes in the form of grants, which means that startups usually are not obligated to repay the funding or provide equity in return. While Velasquez does warn that relying too heavily on government funding can negatively affect a startup's ability to achieve market and revenue stability, government funding is a valuable resource for entrepreneurs in the early stages of launching a startup.
In response to the pandemic, the US government has dramatically altered existing funding mechanisms, releasing hundreds of new grant opportunities related to the virus that represent over a billion dollars in funding. These emergency grants intend to accelerate the development of research, technologies, and businesses that are addressing and mitigating the impacts of the pandemic. These grants vary widely in scope and scale, ranging from less than $10,000 to over $2,000,000 in both short and long term funding. In April, the National Science Foundation released a broad call for proposals for research related to the pandemic, and has since funded over 500 rapid-response grantees mobilizing to research the coronavirus. Similarly, the National Institutes of Health lists over 50 emergency grants regarding the coronavirus pandemic on their website. One of these opportunities is more than $500 million in funding from The National Institute of Biomedical Imaging and Bioengineering's Rapid Accelerations of Diagnostics program for solutions that build capacity for a rapid increase in COVID-19 diagnostic testing in the United States. 
foundations
Private foundations, corporations, and nonprofits are important funding stakeholders in an entrepreneurial ecosystem. This kind of funding typically has tighter criteria, a more intentional focus, and requires close alignment with a funder's mission. 
Private foundations like the STEM Funders Network offer grant opportunities for early-stage startups, though many are difficult to tap into without a reference or invitation. On the other hand, nonprofits like the Kapor Center provide early-stage ventures grant funding, mentorship, peer support, and access to a broader network through application-based incubators and other programs. These are very competitive and often require a full-time commitment and more structure around the venture. 
Corporations typically provide funding through "challenge" mechanisms, which award funding, networking opportunities, and even contracts to a venture with the best solution. While all foundation funding opportunities are generally more competitive, they can help fortify a venture's financial stability and connect them to useful tools and networks. 
Many companies and organizations have launched industry-specific COVID-19 challenges to support and amplify innovative technologies and ventures. Johnson & Johnson and the Grand Challenges coalition, composed of the Gates Foundation, USAID, and Grand Challenges Canada, host a number of challenges seeking medical innovations related to COVID-19. MIT is currently accepting applications to their Health Security and Pandemic challenge, and OpenIdeo has also launched a COVID Business Pivot Challenge to help mitigate the economic impacts of the pandemic.
investors
Investment funding can be integral to kickstart momentum and take your venture to the next level. However, without experienced guidance, the process of acquiring investment funding can be convoluted for early-stage entrepreneurs. To pursue this level of funding, startups will need a fully formed business model, marketing strategy, and qualified, diverse team; investors will often expect ventures to have secured prior funding from the government or private sector before they are willing to buy-in.
However, the pandemic has created new obstacles for this kind of funding. Velasquez says: "Almost overnight, things shifted from a founder's market to an investor's market. That's created the dynamic where investors have a lot more leverage in how they negotiate. They have a lot more say in the kind of rights they take in the company and in the valuation of the company." 
Since investing is decentralized from any one particular mechanism or platform, individuals and firms are responding to the COVID-19 pandemic in a variety of ways.  Some funders are pausing new investments entirely, and others are accelerating their search for new investing opportunities. Velasquez suggests early-stage entrepreneurs look for investors that already have vested interest in their specific industry, and imagine where they might be focusing next. 
"You have to polish up your crystal ball and think, where are the trends developing? Where have investors put money in the past, and are they willing to double-down on that kind of investment?" he explained.
key tips for funding success during COVID-19
Go back to customer interviews.

 We're witnessing some of the main pain points of the pandemic appear, but as the crisis continues to develop, other needs will emerge within your customer segment. Dive into customer discovery and listen closely for any new needs or trends.

Study how your field is changing. 

The COVID-19 pandemic is ongoing and it is still not possible to predict the extent of its impact across the world. It's important you take the time to pay attention to the large and subtle changes in your industry, and shift priorities as necessary.

Take advantage of new networking opportunities. 

While high costs made industry conferences difficult to access pre-pandemic, it's now easier than ever to attend a panel discussion or networking meeting. Look for webinars, online networking meetings, and other digital opportunities to make connections with industry leaders and peers.
While the future impacts of the pandemic are still largely unknown, early-stage entrepreneurs can still find the funding to move forward with their ventures. By understanding the key economic stakeholders in their ecosystem and preparing for anticipated shifts in the entrepreneurial landscape, innovators can best position themselves for success.