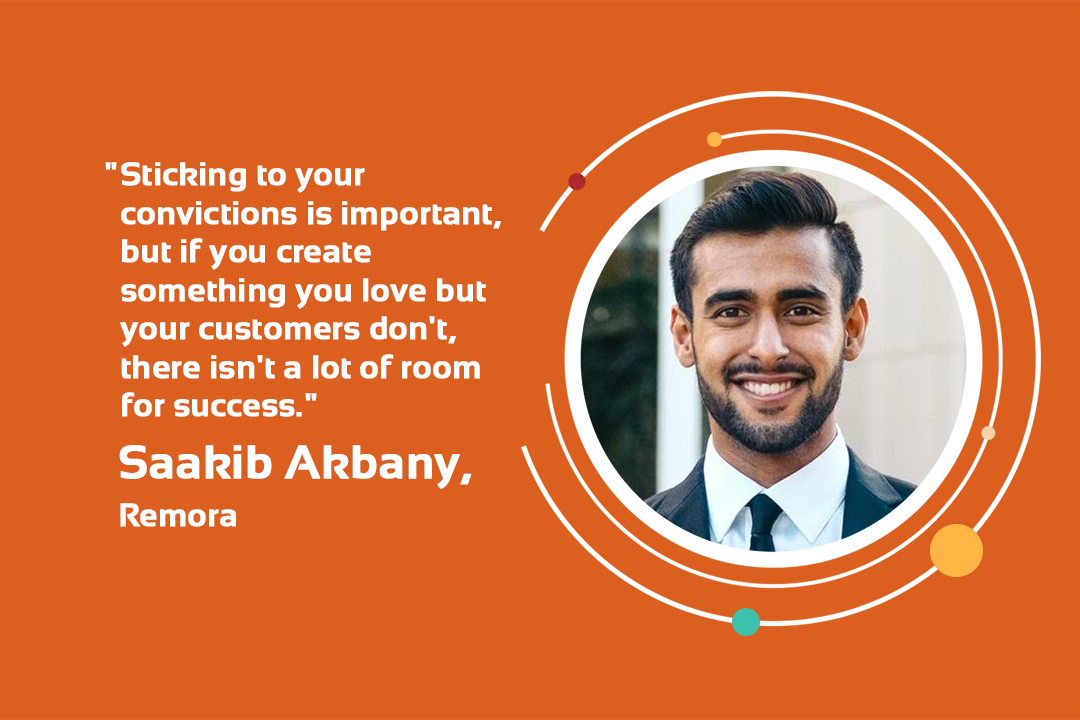 An innovator's journey from idea to market can be challenging and complicated—but also rewarding. Each month we explore how inventor-entrepreneurs in our network have evolved since they started their journey. Our goal is to share key learnings and best practices with early-stage science and technology inventors embarking on a path of innovation and entrepreneurship. Our latest spotlight is with Saakib Akbany, co-founder of E-Team, Remora. In 2015, experts estimated that there was over 150 million metric tons of plastic polluting the world's oceans and predicted that by 2040, the number would balloon up to 600 million. Akbany and his co-founders realized that the best place to address ocean pollution is at the source: in ports and bays. Their solution is Remora, an autonomous marine drone that uses AI technology to collect floating garbage from ports, enabling ports to save money and protect the ocean.
what challenge did you seek to solve with your innovation and why?
Growing up in Southern California, my team and I have felt the issue of marine plastic pollution as particularly urgent. Through customer interviews and research, our team quickly learned that waterfront organizations spend $10.2 billion to collect this trash but were woefully unequipped to handle a problem at this scale with manual collection using boats and nets. To address this, our team developed a system of trash-eating aqua-drones to skim marine debris for waterfront organizations and prevent ecological damage. The unmanned drones use AI technology to optimize collection routes, allowing for better debris collection performance at lower costs.
what have you learned along your innovation and entrepreneurship journey?
One of the most important actions you can take as a startup is to pivot. If your goal is to create a truly successful startup, it's important to stay open-minded to new information and agile enough to adapt your strategy, especially when the data is coming from your customers. Sticking to your convictions is important, but if you create something you love but your customers don't, there isn't a lot of room for success.
tell us how you've integrated environmentally-responsible practices into your innovation or process.
By actively removing plastics and other marine debris from waterways with AI technology, the Remora inherently minimizes ecological damage and allows people to both benefit from marine services now as well as protect them for future generations. However, removal from the oceans is only one portion of the process. We don't want to remove trash only from the oceans just to drop it into landfills. We plan to provide the collected plastic to upcycling companies as raw materials and donate a portion of our proceeds to NGOs like the Ocean Discovery Institute, which provides conservation education to low-income youth. This two-pronged approach of using technology and education will allow us to better achieve success in tackling plastic pollution at its source.
how has support from VentureWell impacted your innovation and venture?
The VentureWell E-Team program was really helpful in taking the big, looming concerns every startup has with complex business topics and condensing them down into key takeaways. That, along with the mentors and peers the program connected us with, helped our team break down the details of our business plan by giving us a solid support system to help us along the way.
how has your venture pivoted and adapted to the pandemic?
Working on a hardware-focused startup during a global pandemic can definitely be difficult with physical distancing. One thing it made really clear to our team, however, is how important it is to divide responsibilities and set clear and measurable goals.
what's next for you?
Our team just applied for a Small Business Innovation Research grant from the National Oceanic and Atmospheric Administration, and we are currently developing our pilot-ready product, and aiming to go full-time later this year.
The E-Team program supports dedicated science- and engineering-based student teams from across the nation in bringing their high-impact innovation out of the lab and into the market.
What does it take to get from idea to impact? Our new case study offers a deep dive into one innovator's entrepreneurship journey, highlighting the nuanced experience, lessons learned, and major development milestones.