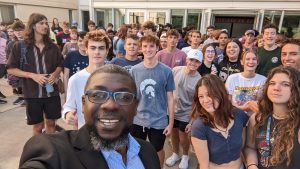 Initially, Bayo Ogundipe didn't envision a career in academia for himself. "I was quite certain that a lifetime in the classroom didn't particularly appeal to me," he explained. Born in Nigeria, Bayo got his professional start exploring the intersection of sustainable engineering and design. He worked closely with stakeholders to address environmental, social, and economic considerations in business. "In Nigeria, small-scale entrepreneurship is ubiquitous," he told us. "Over time—and working with people from a wide range of disciplines—I realized that an entrepreneurial mindset that fosters value creation in a broad sense can be a critical component of solving sustainability challenges."
After graduating from the Stevens Institute of Technology with a doctorate in environmental engineering, Bayo worked briefly for an environmental consulting firm before his first teaching opportunity arose. Both New York University and the Stevens Institute invited him to teach courses on water resources in engineering, and it was a major unlock for him. "I realized that learning and instruction didn't have to be chores, and I was hooked," he told us.
Bayo has also completed extensive research sponsored by the U.S. Department of Defense, which focused on the environmental impacts of munitions and the development of tools and protocols for assessing sustainable engineering designs. These efforts would result in research publications on environmental and sustainable engineering, and support Bayo in co-authoring a textbook, Engineering Applications in Sustainable Design and Development (2015).
"Receiving a Course & Program Grant provided validation of the proposed work to all our stakeholders and partners."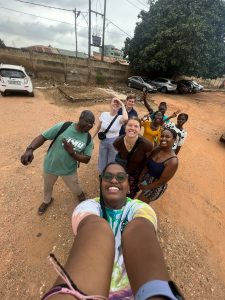 He brings that deep subject expertise and experience with cross-disciplinary work to his current role as professor and head of the Engineering department at James Madison University (JMU). There, Bayo has mentored more than 120 undergraduate students on their research, honors coursework, and capstone design, and he's also served as director and co-director of two study abroad programs, facilitating trips to both Tanzania and Ghana. "There is something about guiding students as they navigate a new world of information and understanding—making connections between foundational principles and practical applications—that cannot be replicated in any other profession," he said. "It can imbue a life with purpose."
The global nature of innovation and entrepreneurial thinking continues to remain top of mind for Bayo, who has worked to make his curriculum accessible to engineering students who haven't been exposed to challenges facing communities in other parts of the world. "Students have to get out of the framework that they have in mind," he explained. "When they come into a classroom, they're getting something completely different than what they expected. How do you get engineering students to talk about consumption? How do you get engineering students to talk about population?"
JMU received a VentureWell Course & Program Grant for a multidisciplinary course led by Associate Professor Justin Henriques titled Peace Lab Studio, which Bayo helped support. Serving as a launchpad for students from the U.S. and Kenya, the class has teams collaborate internationally to develop climate solutions for the developing world. "There are very few sources of support and funding for these kinds of projects and initiatives," Bayo told us. "In addition to the direct value of financial support, which is always critical to any academic venture, JMU receiving the Course & Program Grant provided validation of the proposed work to all the stakeholders and partners."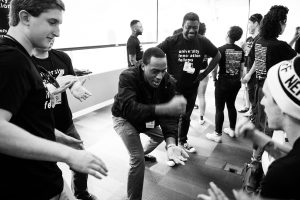 Further expanding his relationship with VentureWell, Bayo also served as a facilitator for a variety of workshops and communities of practice, including the Infusing Sustainability Into the Curriculum workshop, the Green Launchpad Educators Workshop, and the Engineering for One Planet Scaling for Impact Workshop. "The communities of practice that developed from these projects have been invaluable to growing my network and developing practical methods for engaging students at the intersection of innovation, entrepreneurial thinking, and sustainability," Bayo said.
Bayo continues to push the boundaries of traditional frameworks in the training of engineers addressing societal needs through innovative and sustainable design. "It gets me really excited," he explained. "There's an opportunity now to work directly with communities all over the world to develop solutions. We are now able to see things in ways that we were not actually thinking about before."
Hear more from Bayo about how he leveraged his Course & Program Grant to advance sustainability in his engineering department:
About Our Course & Program Grants
VentureWell Course & Program Grants offer U.S. higher education institutions up to $30,000 to expand and strengthen STEM innovation and entrepreneurship ecosystems, with the end goal of accelerating sustainable and inclusive innovation. In addition to funding, grantees receive professional development and peer networking opportunities to support their work.