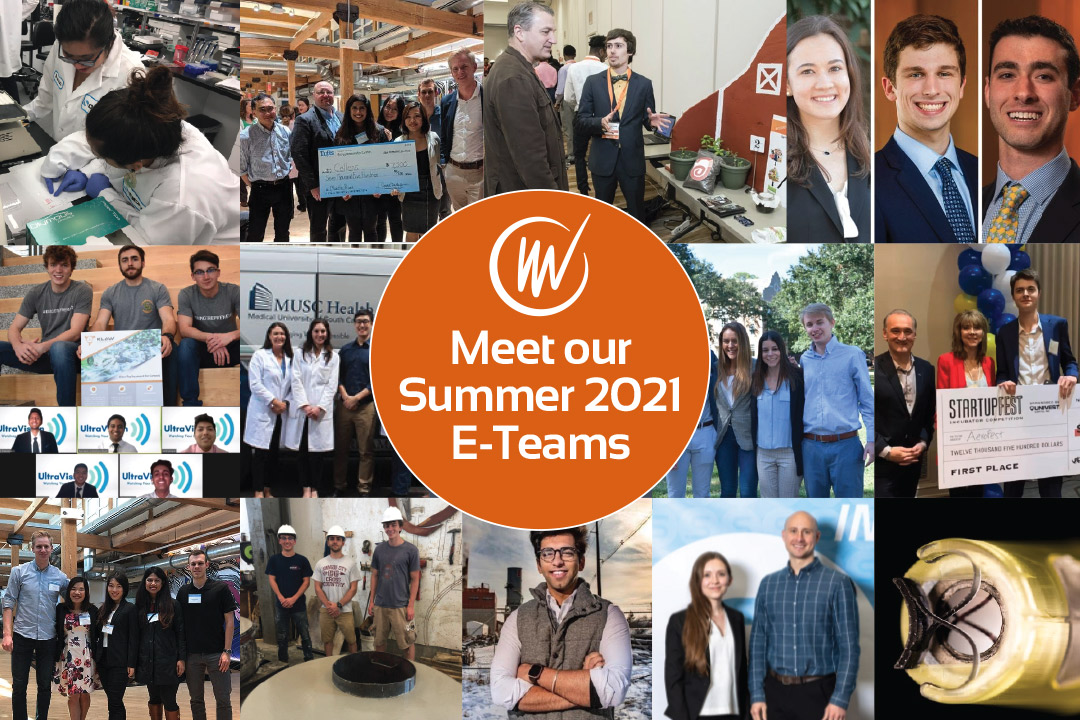 We are excited to announce the 28 early-stage student innovator teams who have been accepted into our Summer 2021 E-Team Grant Program! The teams were chosen based on the potential for their innovation to have a significant positive social, health, or environmental impact. Eighteen teams will receive a $5,000 Stage 1 grant, including two Howard University teams from our partnership with Black Tech Ventures. An additional 10 teams have been awarded $20,000 Stage 2 grants to support the development of their innovations and ventures.
From cardiovascular healthcare wearables to AI-powered recycling bins, the Summer 2021 E-Team cohort are inventing solutions for a better tomorrow. Take SonoHug: they're developing a low-cost fetal heart rate monitoring device that can be used remotely, which can enhance prenatal care for expecting parents in low- and middle-income countries. Another great example is Flux Hybrids, a team developing a low-cost system that can convert any vehicle running on an internal combustion engine to a hybrid or fully-electric vehicle, which could help accelerate the transition away from fossil fuels.
These teams are also creating innovations that solve multiple problems at once: KLAW Industries' glass-based cement alternative is addressing both glass waste management and sustainable concrete manufacturing, and Earnest Earth's bioreactor technology platform can help reduce agricultural waste disposal costs for farmers and creates sustainable microbe-enhanced biofertilizer.
Read more about this cohort and their exciting innovations:
stage 1
biotechnology
BioPhoundry | Tulane University of Louisiana
BioPhoundry is developing a synthetic biology platform that can produce bacteria-killing viruses called phage for patients with antibiotic resistant infections at a faster rate and at a lower cost than existing methods.
energy and materials
Flux Hybrids | North Carolina State University at Raleigh
Flux Hybrids is developing low-cost technology that can convert vehicles with internal combustion engines to hybrid or electric power systems.
NASADYA | University of Illinois at Urbana-Champaign
NASADYA is developing a scalable solution to manage excess energy generated by power plants by converting it into usable hydrogen and oxygen for other industries.
environment
rStream Recycling | University of Massachusetts Amherst
rStream Recycling is developing an AI-powered on-site recycling device that can sort waste faster and at a lower cost than existing options.
healthcare/medical
Cardiac Surgical Trainer | Texas A & M University
Cardiac Surgical Trainer is developing customizable heart models that mimic tissue and have detailed anatomical accuracy to train surgeons in complex procedures.
forMED Technologies | University of California-Irvine
forMED Technologies is developing a low-cost, at-home medical device that enables eye doctors to provide continual, non-invasive monitoring to patients with glaucoma allowing for more frequent updates to their treatment plan.
Kalia Health | North Carolina State University at Raleigh
Kalia Health is developing an early diagnosis tool for preeclampsia that can be used easily and at-home for expecting parents lacking access to routine prenatal care.
LaparoVision | Brigham Young University
LaparoVision is developing a laparoscope lens cleaning tool that can be used quickly and easily during surgical procedures without removing the laparoscope from the patient mid-procedure, reducing surgical error and preserving the clarity of the images.
PulseFlex | Dartmouth College
PulseFlex is developing a wearable health monitoring device with a flexible, low-power patch design that can continually monitor cardiovascular health for people with hypertension.
Sonohug | University of Illinois at Chicago
Sonohug is developing a device for monitoring fetal heart rate that is low cost and connects to smartphones, enabling remote monitoring and intervention by healthcare providers.
Aether Masks | University of Utah
Aether Masks is developing a surgical mask that provides users with a comfortable, fog-free experience and prevents bacterial transmission.
The SAVER | Medical University of South Carolina
The SAVER is developing a device for treating patients during cardiac arrest that increases blood flow to the heart and brain during CPR by stopping blood flow to the legs.
UltraVision | University of California-Irvine
UltraVision is developing a noninvasive brain trauma monitoring device that uses ultrasound imaging to rapidly assess intracranial pressure after head injuries outside of clinical settings.
Visilant | John Hopkins University
Visilant is developing a low-cost mobile-based telemedicine platform that enables comprehensive, ongoing eye disease screening outside of clinical settings.
information technology and communication
Available Truck Parking Locator | Black Tech Ventures
Available Truck Parking Locator is developing an app software system that utilizes drone technology and machine learning to provide real-time parking availability to freight truck drivers.
other
AeroPest | Drexel University
AeroPest is developing a commercial pest control system that uses precision spraying drone technology to eliminate pests such as wasps or hornets on high buildings and structures.
Alcea | University of Notre Dame
Alcea is developing a menstrual product dispenser that utilizes contactless payment options and an inventory tracking system to enable convenient, consistent, and safe access to high-quality single-use menstrual products in public spaces.
TechX | Black Tech Ventures
TechX is developing an online platform that provides access to expert mentorship, technical resources, and recruitment opportunities for computer science students from underrepresented backgrounds.
Stage 2
agriculture
Earnest Earth | University of Illinois at Urbana-Champaign
Removing agricultural waste can be a costly and labor-intensive process for farmers. Earnest Earth is developing a process to convert solid agricultural waste such as manure into biofertilizer using a patented bioreactor technology and proprietary microbes.
energy and materials
Transfoam | University of Virginia-Main Campus
Though biodegradable plastics like PHB can serve as an alternative to petroplastics, manufacturers cannot scale quickly enough to meet demand. Transfoam is developing a biomanufacturing process that can convert petroplastic waste into biodegradable plastic, enabling manufacturers to obtain raw materials at a lower-cost.
Lignolix | University of Delaware
Cosmetic companies are struggling to meet the current consumer demand for sustainable, nontoxic products without raising costs. Lignolix is developing a process to convert biomass waste rich in lignin, an organic polymer in wood and plants, into low-cost additives that can replace traditional petroleum-based additives in personal care and cosmetics products.
INGIAN Technologies | Lehigh University
Gas leakage in the U.S. oil and natural gas industries accounts for an excess of $2 billion revenue loss per year—and the environmental cost is even greater. INGIAN Technologies is developing a cost-effective system for gas leak detection in pipelines and conduits that uses off-the-shelf optical tools for rapid and site-specific leak detection.
environment
Intelligent Systems | Vanderbilt University
People who work in assisted living facilities, K-12 school systems, and hospitals are at higher risk of health issues related to indoor air quality. Intelligent Systems is developing software technology that uses IoT sensor devices and deep learning algorithms to monitor HVAC systems and proactively identify problems in indoor air quality.
KLAW Industries | Binghamton University, SUNY
Concrete manufacturers face constant material shortages and high material costs. KLAW Industries is developing a recycling process to convert glass waste into a partial cement replacement that can replace up to 30% of cement in concrete and strengthen concrete by 11%.
healthcare/medical
Cellens | Tufts University
Current standards for bladder cancer detection often result in misdiagnoses, late diagnoses, or gaps in screening. Cellens is developing a highly-sensitive nanoscale imaging platform that can identify malignancy at the cell level and machine learning software to enable detection of cancer recurrence.
Reachable Solutions | University of Pittsburgh-Pittsburgh Campus
Current assistive technologies can be difficult for elderly people to use, which prevents them from living independently. Reachable Solutions is developing the SleeveSaver, an assistive device that helps people with limited mobility put on jackets by themselves.
Sensit-IV | University of Washington-Seattle Campus
Contemporary medical technologies have difficulty detecting if a patient goes into shock, but early identification can dramatically improve rates of survival. Sensit-IV is developing a diagnostic tool that aims to decrease mortality rates and reduce hospital costs by using open flow microperfusion technology to enable continuous, targeted assessment and treatment of shock.
TrachTech | Tulane University of Louisiana
Biofilms and debris adhered to intubation tubes can lead to patient complications that may require tracheotomies. TrachTech is developing a device that can dislodge debris and clean the interior of intubation tubes, maintaining airflow from ventilators and reducing the risk of serious infection.
the E-Team entrepreneurial journey
Each Stage 1 team was awarded a $5,000 grant, which will support them as they conduct customer discovery, further prototype development, and establish their intellectual property portfolio to advance their projects out of the university lab and into the market. In addition to funding, these promising innovators will take part in our intensive Pioneer training program.
"The Pioneer workshop will allow innovators to understand and validate the markets that they are targeting with their innovations, gain clearer insight into what entrepreneurship may look like for themselves as individuals, and connect with and receive feedback from their peers and expert coaches and instructors." said E-Teams Program Officer Cara Barnes.
The Stage 2 teams were awarded a $20,000 grant and will take part in the Propel training workshop, where they will work to develop and validate their business model. Propel helps early-stage innovators map and validate the pathway for their venture, digging into business model design and mapping action plans to engage stakeholders and de-risk their venture.
---
about the E-Team Grant program
Through the E-Team program, we have trained nearly 400 student teams and more than 800 student innovators. Our teams have raised close to $200M in follow-on funding and have launched 180+ ventures since taking part in our program. Learn more about E-Team Grants and how we support student innovators, and for more information on the benefits of early-stage training programs, read our retrospective report, The Multidimensional Impact of Entrepreneurial Support Programs.
For more information on VentureWell, read about our impact over 25 years.