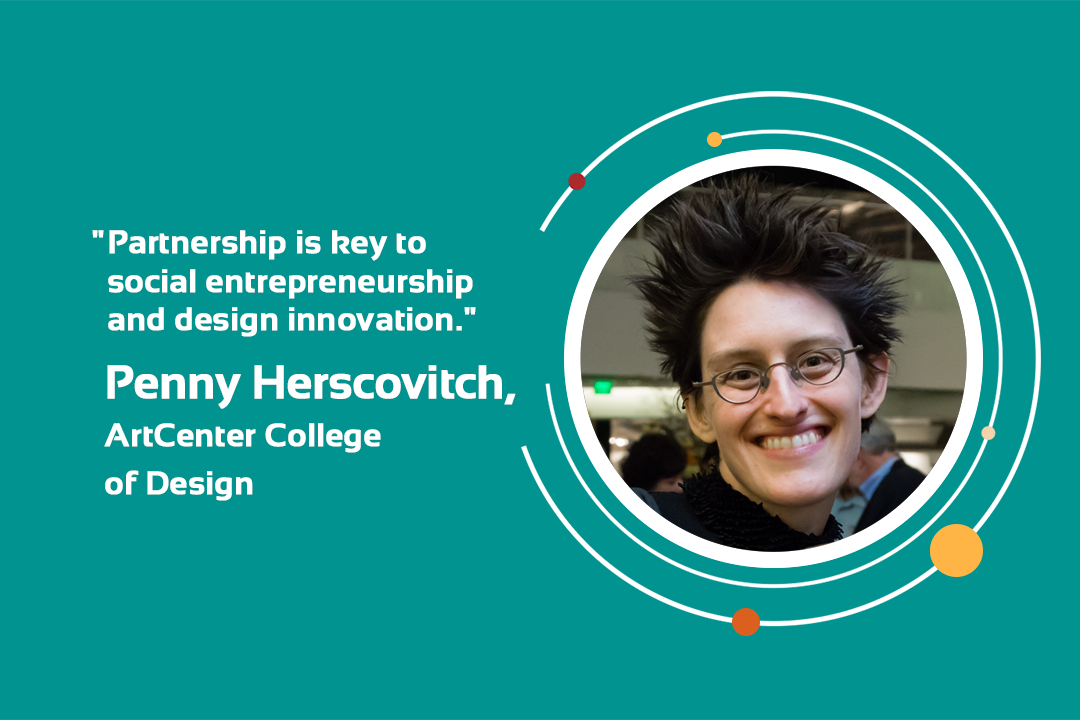 Our Faculty Spotlight series highlights educators within the VentureWell network who are doing transformative work—faculty members who are catalyzing change in higher education and inspiring students to impact the world through invention. This month's spotlight is Penny Herscovitch, Associate Professor in Environmental Design at ArtCenter College of Design. Herscovitch helps students develop high-impact social innovations by connecting science and entrepreneurship principles in collaborative design environments. In the fall of 2020, she received a Faculty Grant to design a new interdisciplinary course that introduced students to green inventing with ceramic technologies, exposing students to culturally relevant materials in the real-world context of entrepreneurship.
tell us about your journey infusing entrepreneurship in your field and curriculum.
VentureWell has really been influential in my social entrepreneurship work. My journey began in 2009 with the VentureWell-funded Safe Agua educational initiative to design innovative, affordable solutions to address water poverty in Latin America, in collaboration with the NGO Socialab and the communities they serve in Chile, Peru, and Colombia. This experience led to co-developing the Design Strategy for Social Innovation Toolkit, an online resource that supports educators in applying design principles within their courses and frames a term-long process of design education for social impact.

With VentureWell support, I was then able to co-lead a sequel series of collaborative design initiatives focused on social entrepreneurship, including Safe Niños, a long-running partnership with the nonprofit COANIQUEM in Santiago, Chile, that used design innovations to aid the recovery of pediatric burn patients and to help their families. I am looking forward to the upcoming VentureWell-supported Advancing Sustainable Ceramics: Technologies, Products & Entrepreneurship interdisciplinary course that will introduce students to green inventing with ceramic technologies, in collaboration with Tama Art University, Tokyo.
tell us about the course for which you received a VentureWell faculty grant.
We were inspired by both the beauty and technological versatility of ceramics. Over millennia, ceramics have played a profound role in history and industry. Ceramics are pervasive in daily human life, affecting consumer products, building materials, and even ocean restoration. We realized that advances in 3D printing and nanotechnology offer tremendous potential for innovation in ceramics invention. When you combine that with the exciting potential for making ceramics more sustainable, we saw it as a huge and untapped educational opportunity.

Much of my work has involved exploring insights from other countries around the world because I believe it's so important for students—especially young inventors—to be able to see themselves as part of a global entrepreneurial community. We're partnering with faculty colleagues in Japan because both of our colleges wanted an international perspective in developing our curricula. Japan has been a leader in the use of various waste materials to make new kinds of tiles and glazes. Ultimately, the class will focus on guiding students in understanding the full dimensions of their own impact as inventors and designers, across borders and industries.
how do you want the field of entrepreneurship to evolve in the next five years?
I believe that the field will continue to embrace international, cross-cultural collaboration, with an eye toward equity and the needs of a broader range of communities and audiences. Partnership is key to social entrepreneurship and design innovation.

I see my role as linking design students with organizations who are working on the ground to make change. To advance our students' opportunities for cross-cultural collaboration, I aim to strengthen bridges with our educational partners, such as Tama Art University in Tokyo and Tongji University's College of Design & Innovation in Shanghai.
what are the challenges you're tackling in your work today, and how are you addressing them?
In teaching human-centered design and innovation, we are currently tackling the challenge of safely conducting participatory research and the collaborative design process. During the pandemic, I have been working with colleagues to adapt field research methods to work either online or in new and creative ways at a distance. For example, one student team engaged the local community by writing questions in sidewalk chalk, asking how people would like to see a disused area in their neighborhood transformed. Passersby responded enthusiastically with their own sidewalk chalk drawings.

Other teams have tested prototypes while volunteering at local outdoor community events, such as Parks After Dark in Pasadena and MyCOVIDmd's Vax Equity vaccine pop-ups. In fact, the restrictions during the pandemic lead to more creative ways to engage stakeholders in the process of co-design, innovation, and entrepreneurship.
what's your most useful classroom activity or assignment?
With my co-teachers, we have been developing tools for collaborative design research with community members, partner organizations, and subject-matter experts. These activities can work both remotely and in person. My current favorite is called Draw Your Dream. First, students or participants take a digital photo of an existing space. Then, students draw over the photo digitally, as the participant narrates their dreams or ideas for the future of this space/experience. Finally, students ask participants to narrate what the drawing means and keep asking "why" to get towards the root of the participants' vision.

For example, a student design team asked a community activist who co-founded Get Out the Shot Los Angeles and an emergency room doctor who co-founded MyCOVIDmd to share their dreams for the future of vaccine pop-ups, by drawing over photos of existing events.
tell us about a moment or experience that reaffirmed the importance and value of STEM entrepreneurship education for you.
While I love watching students realize the interconnections between design, science, and business, I think the real value is revealed when they use that knowledge to invent something that genuinely makes people's lives better. I've seen that happen in project after project in our classes. Our students create things that help children who have suffered terrible burn injuries, or that help mothers in developing countries who lack access to clean water, or that help our own local community make it through the pandemic. The students can bring such amazing ingenuity and passion to their work. It's challenging to be an educator in this niche, but so much good can come from it.
Learn more about our Faculty Grants program.