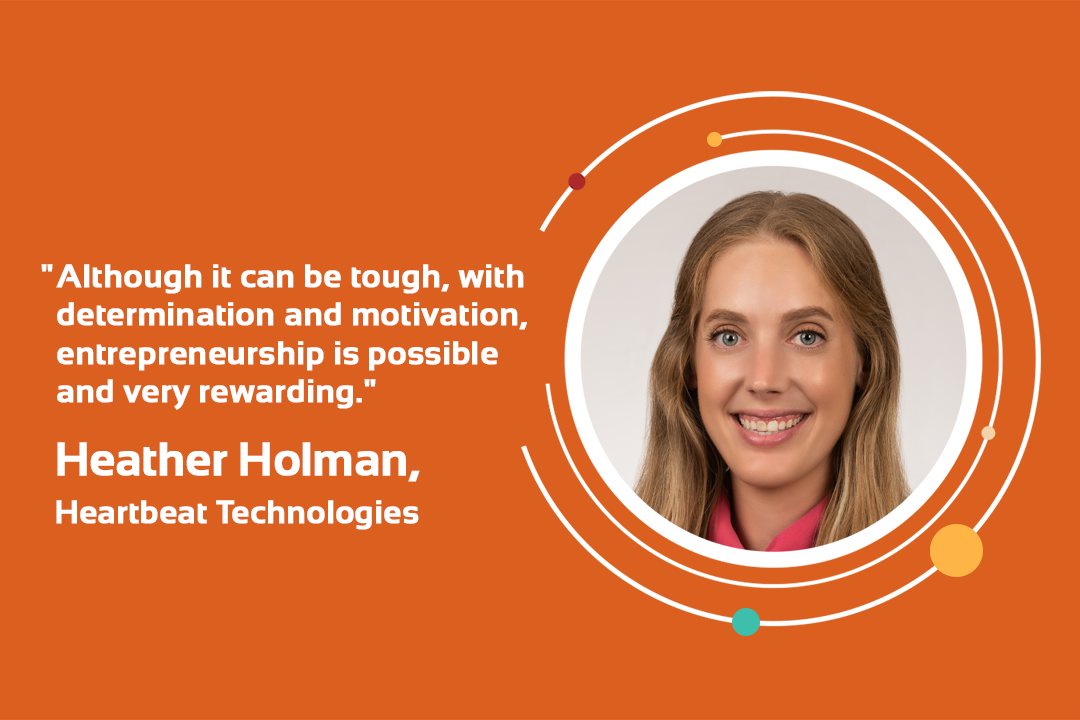 An innovator's journey from idea to market can be challenging and complicated—but also rewarding. Through our innovator spotlight series, we explore how inventor-entrepreneurs in our network have evolved since they started their journey.
Our latest spotlight is with Heather Holman, co-founder and chief scientific officer of E-Team Heartbeat Technologies LLC. Heart attacks kill hundreds of thousands of Americans each year, yet there have been few innovations in CPR or cardiac arrest treatment since 1960. Heartbeat Technologies is developing the SAVER, a device for treating patients experiencing cardiac arrest that increases blood flow to the heart and brain during CPR by stopping blood flow to the legs.
What challenge did you seek to solve with your innovation and why?
Heartbeat Technologies is combating the cardiac arrest public health crisis with the development of a novel CPR adjunct, the SAVER. There are more than 356,000 out-of-hospital cardiac arrests per year, and these events have a 90% fatality rate even with CPR. Of those who survive, 91% suffer neurologic injury. The US healthcare system spends an estimated $33 billion per year on these patients' hospitalization due to the associated disability from a cardiac arrest event. Our discussions with healthcare professionals, EMS, and cardiovascular science researchers identified that the key to improving patient survival and neurologic recovery is to increase blood flow to the heart and brain and ensure that good quality CPR is being performed, which are key functions of the SAVER. As a team of healthcare professionals and medical students who have witnessed and responded to cardiac arrest events firsthand, we were motivated to make a difference and improve outcomes in our patients.
What have you learned during your innovation and entrepreneurship journey?
I have gained the courage and the confidence to pursue an idea and make it a reality. Although it can be tough, with determination and motivation, entrepreneurship is possible and very rewarding. Finding the right support system and mentors is key to being successful, as it takes a village to raise a startup.
Tell us how you've integrated environmentally responsible practices into your innovation or process.
Currently, we are finalizing our prototype and are considering environmentally sustainable materials in the construction and packaging of the SAVER. We are also looking into a reusable version of the SAVER.
How has support from VentureWell impacted your innovation and venture?
The VentureWell E-Team program gave us the foundation we needed to develop and commercialize the SAVER. When we started in the Pioneer workshop, the SAVER was basically an idea, and the company was just recently incorporated. Through their lessons and mentorship during each of the workshops and beyond, we have developed the SAVER with end-users in mind and have grown the company exponentially. We are very grateful for everything we have learned through VentureWell and their continued support throughout our entrepreneurship journey.
What's next for you?
Following our participation in ASPIRE, Heartbeat Technologies is seeking seed funding to finalize our prototype and complete preclinical and clinical trials to prepare us for FDA submission.
---
The E-Team Program and ASPIRE, part of the VentureWell Accelerator, support dedicated science- and engineering-based student teams from across the nation in bringing their high-impact innovation out of the lab and into the market.
Heather Holman is one of 19 early-stage student innovators who was selected to receive a stipend from the Innovator Stipend Program, sponsored by Qualcomm. The program offers financial support to student innovators from underrepresented groups who are pursuing the development of their innovation or working to secure a patent for their product while enrolled full-time in school. Learn more about the program and meet all of the recipients here.