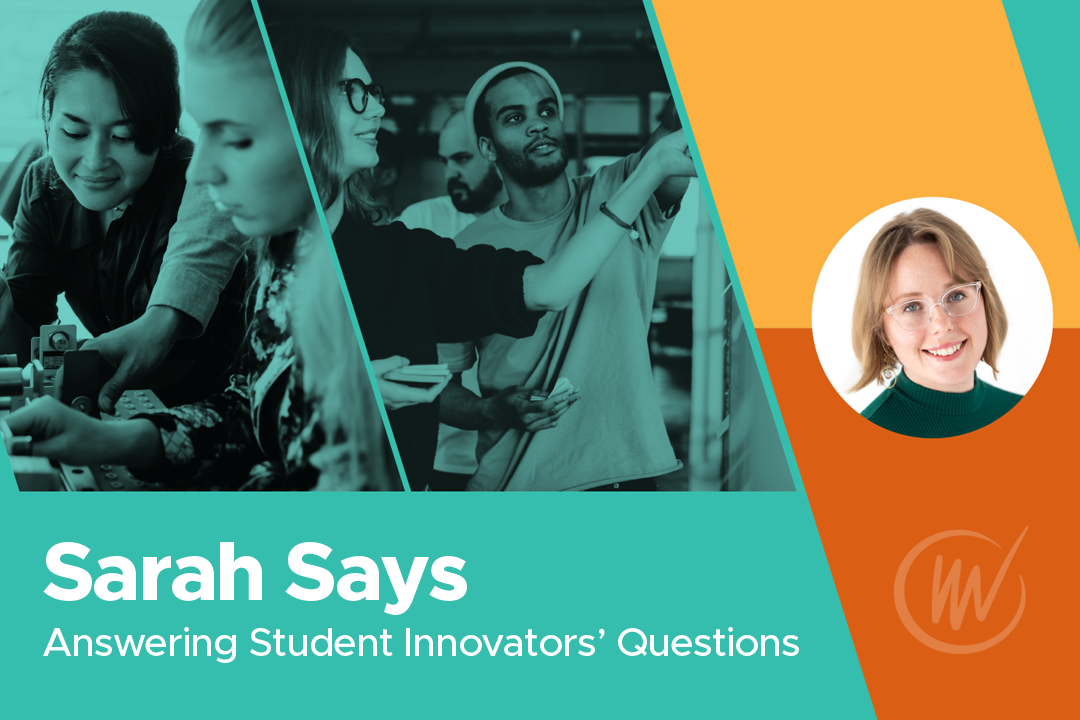 Welcome to Sarah Says, a series by VentureWell Program Officer Sarah Wharmby. Sarah will address commonly asked questions raised in our E-Team workshops. Read Sarah's first article on mapping student pathways here.
In order to launch a successful venture, you need to deeply understand your potential customers and the end users of your product. You need to envision yourself in their shoes, understanding their pain points and challenges. This is where customer discovery interviews come in!
In my work with student entrepreneurs, I've noticed that many early-stage innovators need a little extra support at this stage—and that's understandable. Among the biggest challenges student entrepreneurs face are how to connect with meaningful interview candidates, whether in-person or virtual interviews are best for customer discovery, and what the pros and cons are for each option.
In the past, traditional in-person interviews were the go-to method for early-stage innovators looking to connect with potential customers. Today, a variety of virtual interview methods are gaining traction as viable alternatives. While your options are numerous, choosing the best interview approach for your target customers will help you identify interviewees that matter, maximize the benefit for the amount of time you put into the process, and reduce bias on behalf of both the interviewer and the interviewee.
Let's dig into both in-person and virtual interview methods, to find out which one is right for your venture.
In-Person Customer Discovery
There are many advantages (and some disadvantages) to setting up in-person interviews. From real-time data collection to detailed observation, you will find this format helps you gather more nuanced information. Alternatively, in-person interviews can be resource-intensive when travel is involved, and focus groups can potentially lead to "group think," which might not allow for a fully accurate picture of what individuals in the group truly believe.
Consider the following interview types when choosing how to connect with potential customers in-person:
Face-to-face: An in-person meeting allows for a deeper level of engagement with the interviewee. This format lets you notice and respond to body language. Facial expressions and movements can convey volumes of information without saying a word. Use your instincts around body language to guide your follow-up questions.
Observation-based: If you're looking for an unfiltered perspective from your potential customers, observing consumers in their day-to-day environment is a great option. This format allows for data collection in real time, giving you a unique third-person perspective. Consider writing out questions for yourself in advance and answering them after the interview using your field observations.
Focus groups: This format is an excellent way to reap all the benefits of a face-to-face interview, while also receiving feedback from multiple people, not just one. In a focus group, customers have the opportunity to consider other opinions and play off of each other, which can create an environment ripe for particularly detailed and even creative feedback. This type of interview will require you to reformat your interview questions; discussion-based questions should prompt conversations from the group. Consider this type of interview when attending sector- or industry-specific conferences.
Virtual Customer Discovery
While in-person interviews have long been the go-to format for entrepreneurs looking to explore customer discovery, virtual interviews and data-gathering methods have grown in popularity; with advances in technology, they're virtually as effective as in-person interviews.
By offering a virtual component to potential customers and end users of your product, you're opening up the interview process to people with limited time, those without access to reliable transportation, or those with disabilities that make an in-person interview difficult or unappealing. You can also access stakeholders and customers who might be based in different locations, without having to rely on travel expenses to meet with them. These are all important considerations for early-stage innovators who are looking to foster diversity and inclusion, while sticking to a budget.
Consider the following ways of collecting customer discovery data:
Virtual interviews: This is a great option for people who, for a variety of reasons, can't attend an in-person interview—or actually prefer a virtual format. This allows for a more equitable, accessible process, which will introduce you to a much larger group of potential customers. There are some drawbacks, however. Relying on a 2D format will mean you miss out on some body language and visual cues.
Surveys: An effective way to collect and catalog information, surveying can help you obtain a bird's-eye view of customer feedback. You will be able to see the results instantly, and make appropriate connections accordingly. Additionally, this format is low cost and easy to organize. Consider using virtual tools such as survey administration software, online databases, and email marketing platforms to make the process even easier.
Video surveys: This format combines the benefits of a survey with visual representations of your questions, which can greatly enhance the data you collect. Consider your color choices, text enlargement options, and more; this can be an inclusive customer discovery format! A benefit of this style of interview is that you can retain a recording and continue to rewatch (with the potential for new insights) and share (with permission, of course!).
Online observation: Customer discovery can be done by simply reading or observing what people are saying and doing online. Test your assumptions and prove or disprove a hypothesis by observing content that already exists: peruse a forum thread, read online reviews, or take a deep dive into a relevant social media group. While this type of data collection can be unverified or biased, it is also plentiful, free, and easy to access. Much like the observation-based in-person interview, this virtual counterpart offers the additional benefit of widening your pool of potential interviewees. You will be able to access a more diverse range of potential customers while also getting an opportunity to observe their responses without a filter.
There's no right or wrong answer when deciding which data-gathering format is best for your venture. You might find that choosing a mix of styles will offer a more well rounded set of data from potential customers. It all comes down to the unique needs of your innovation, so research is key.
What's next? Be sure to check out our customer interview guide once you've selected the formats that best suit your venture. You're on an important and rewarding road toward understanding your customer, building a product, and launching a venture that will solve a problem—and we're excited to see you succeed!
---
Sarah Wharmby supports VentureWell's early-stage entrepreneurship programs, providing training for innovators in the Pioneer and Propel stages of the VentureWell Accelerator program. Sarah has managed educational programs in both the nonprofit and higher education sectors; she has worked closely with social enterprises and social entrepreneurs, as well as student founders.
The VentureWell Accelerator offers a wide range of programs to further your innovation. Applications are open for the upcoming Winter 2023 E-Team Program. The deadline to apply is Wednesday, October 5.
About the E-Team Program
Through the E-Team Program, we have trained over 500 student teams and more than 1,400 student innovators. Our teams have raised $740M+ in follow-on funding and have launched 400+ ventures since taking part in our program.