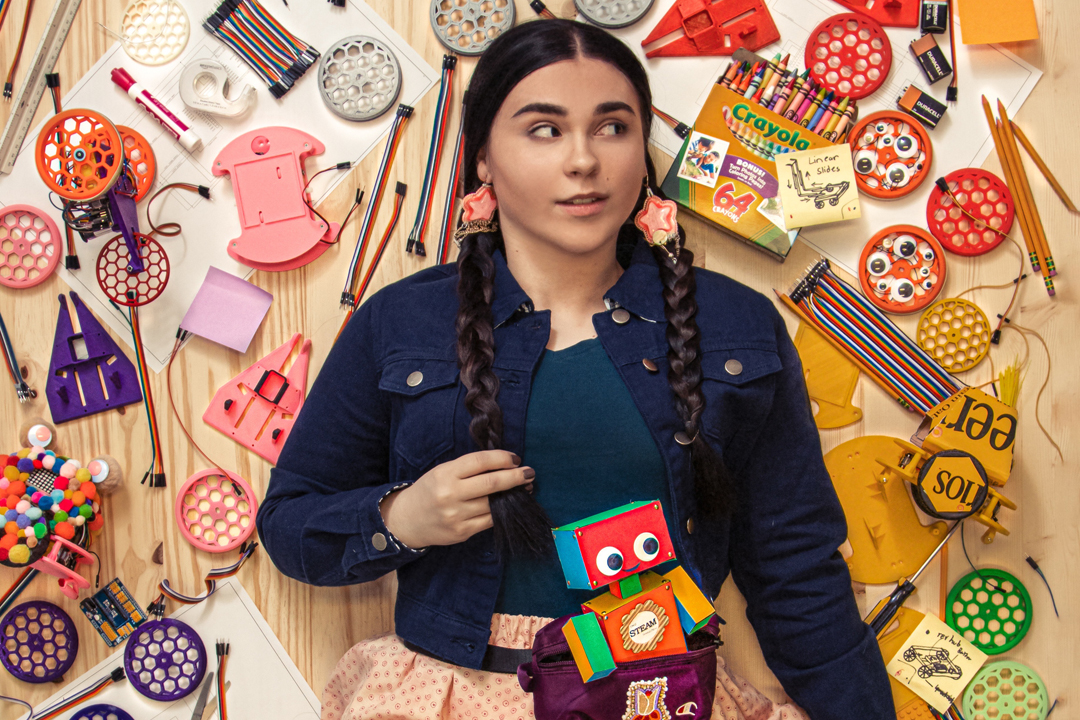 In honor of Earth Day, we're celebrating the winner of our 2022 Sustainable Practice Impact Award, Danielle Boyer, founder and CEO of The STEAM Connection. The award honors individuals, companies, or institutions that develop clean technologies, implement sustainable design practices, or provide exceptional educational opportunities to university students.
Boyer was selected for this year's award for her remarkable work increasing access to STEM and robotics education opportunities for minority students, particularly Indigenous girls. Through The STEAM Connection, previously known as Every Kid Gets A Robot, Boyer and her team design and manufacture culturally competent robotics resources and projects… and distribute them to students for free. From curriculum development to their robot manufacturing pipeline, environmental sustainability is woven into every part of The STEAM Connection's work.
Since founding The STEAM Connection in 2019, Boyer and her all-volunteer, youth- and minority-led team have sent robotics materials and curricula to hundreds of thousands of kids worldwide. As a young Indigenous (Ojibwe: Sault Ste Marie Tribe) woman, Boyer is driven by her passion to increase representation of Indigenous youth and girls in STEM through sustainable and inclusive educational opportunities.
Boyer's groundbreaking work has been recognized widely. She's been named one of PEOPLE Magazine's Girls Changing the World, a L'Oréal Paris Woman of Worth, a MIT Solve Indigenous Communities Fellow, and a Verizon Forward for Good Winner for her invention of biodegradable robotics components. Boyer was recently profiled in Teen Vogue alongside 10 other Indigenous youths making a difference in their communities.
We spoke to Danielle about her work building The STEAM Connection, the importance of environmental sustainability, and her vision for a diverse and innovative robotics future.
Can you tell me about The STEAM Connection and your role?
I became passionate about access to education by seeing the inequities impacting my community. I knew that I wanted to do something about it but I didn't know how to approach it. The most significant problems I saw were cost barriers and lack of representation in technical education; this added up into a system that was leaving my community behind. It was really upsetting to see so many kids unable to afford resources. I was homeschooled for most of my life, and when I got to public school, I joined a robotics team and saw the power of robots to help kids with education. From there I thought, "I should learn how to make these," but it was a really difficult experience and I was met with a lot of hostility, especially for being a woman in STEM. I founded The STEAM Connection when I was 18 to create a safe learning space for minority youths and girls. We've now reached over 400,000 students and our team is based all over the United States, which is super awesome.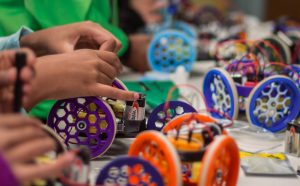 Can you tell us about the evolution of The STEAM Connection and your overarching goals?
The first thing we launched was Every Kid Gets A Robot, which is a robot that costs less than $20 and goes to kids for free. Right off the bat, I was trying to solve the accessibility problems and the lack of representative curriculum and materials. In our robots, we use recycled plastic and we reuse packaging. We'd been doing that for many years, and had sent out over 8,000 free kits. After taking part in the VentureWell Pioneer workshop as part of the Verizon and Clinton Global Initiative University (CGI U) Forward for Good Challenge, we knew it was time to go through a rebirth and replace the plastic in the robots with a biodegradable or plant-based material. We want to enable students to receive a mold in the mail and manufacture the robots from anywhere. We are also determined to continue growing beyond the need for plastic. We want to help our students engage in projects that teach important technical skills while also conserving the Earth.
How else has environmental sustainability factored into your goals for The STEAM Connection?
We built The STEAM Connection with sustainability in mind. Just as diversity is ingrained into the company, so is sustainability—that's just the nature of us working with so many Indigenous communities. Environmental sustainability and justice is deeply important to Indigenous communities. Being Indigenous myself, it was very important for us to consider the environmental impact of every decision that we were making and to continuously improve our solutions.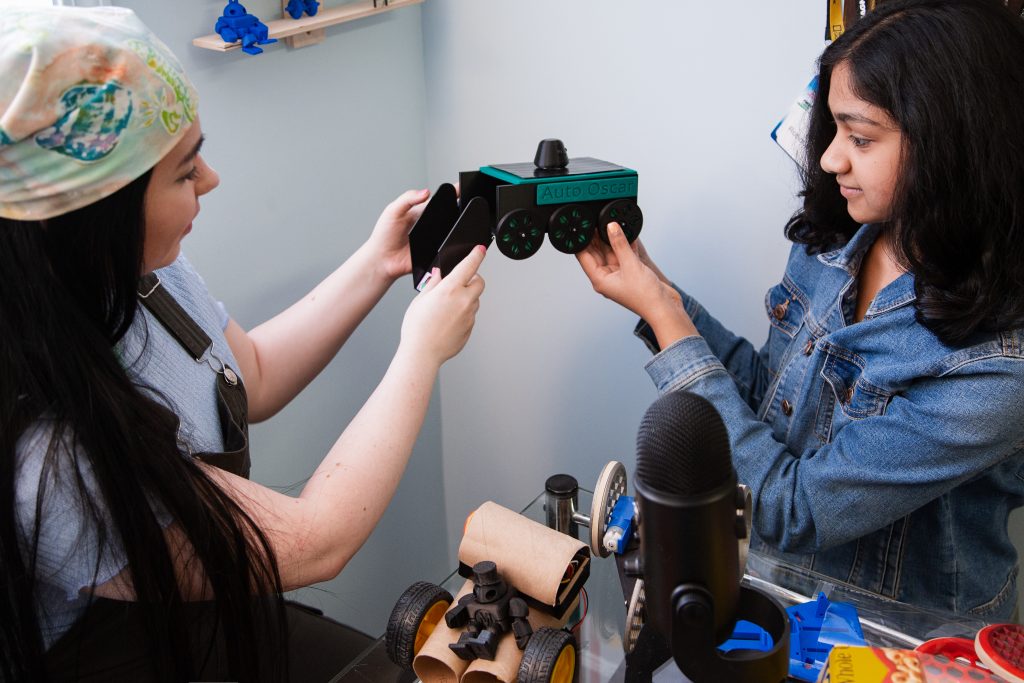 We keep improving and coming up with new ideas. We teach environmental classes, we've written environmental curriculum, and we've even invented environmentally conscious robots. One of my mentees, a 13-year-old girl named Vinaya Gunasekar, invented a robot called Auto Oscar that cleans recyclables off of school floors. We also have a podcast for kids called Hands-On Techie Talks, where we talk about using tech to help solve environmental problems. We approach sustainability in many different ways: our curriculum, our robots, how we're actually engaging with the students and in our own individual lives as well.
Did you face any challenges building and advancing The STEAM Connection, and how did you overcome them?
Our biggest challenge right now is time and resources. Most of us are busy students, so balancing all of our duties at The STEAM Connection has been difficult. Being so young, we're not always taken seriously. That can be hard for getting things like funding. Building up our community through the American Indian Science and Engineering Society has been helpful; they've created a really good space for us to network and to build our engineering tech community.
How has VentureWell played a role in The STEAM Connection's growth?
During our first part of the Pioneer workshop, we had the opportunity to participate in an affinity group for underrepresented students. I still talk with the people from that group! We check up on each other and discuss our projects. It has been really awesome building that community and being able to connect with other people in my age group who are also interested in tech.
We are such a technically-minded team. We knew we needed help with the business side of things. It's so important to be able to talk with trainers about that, and be able to ask the legal questions and the financial questions without feeling embarrassed. Don't be afraid to ask questions. You're not going to know everything—understanding that gives you more opportunity than if you did know everything.
Do you have any advice for future startups who want to go through VentureWell's E-Team Grant program?
My biggest tip for future participants is that you get out of it what you put into it. If you're going to commit to your customer discovery, commit to it. Have team meetings about your progress. Write down everything and meet with your team often. Prior to meeting with mentors, we always talk about our goals. What do we want to achieve out of this? What is the mentor's expertise? What do they have to offer to the conversation? How can we best utilize the time and resources they're offering? We meet prior to any meetings with our mentors, and then we meet after and talk about what we learned and how we can best implement it.
Reflecting back, what are your biggest takeaways for student entrepreneurs and are there any obstacles that they should be aware of?
Balancing your time is crucial. It can be so hard to juggle school, building a business, and developing your innovation. You really need to have very clear goals going into your work. I have plans for all my goals over the next six months. To best utilize your time, you need to strategize. The biggest pitfall you can fall into is attacking a problem without thinking about the long-term effects of the project, whether it's feasible or if you'll have enough time.
Invest in your support system, whether you have to create one from the ground up or whether you have to invest in one that already exists. Build that up because those are the people who are going to help you create your solution, work with you on customer discovery and design issues, attend and volunteer at your events, and help you problem solve. It's impossible to do everything on your own. You need to have people who have your back. When I started out, I thought I could do everything on my own and the truth was, I needed help. I specifically needed mentors—having and finding mentors has been the number one thing that has contributed to our success at The STEAM Connection.
What advice do you have for startups to maximize a mentorship relationship?
Develop a project-based mentorship model. One of our mentors, Dr. Joshuaa Allison-Burbank, is a speech language pathologist and a developmental scientist at John Hopkins University. His expertise was an unconventional addition to our work but his experience with kids was very helpful. We work together specifically on projects that overlap both of our interests, like book fundraisers for Indigenous youth. He's a book reviewer and a dad, so that's something he cared about, and we cared about getting more resources out with our robot kits. By partnering our individual goals, our relationship becomes a collaboration on a project rather than just asking for feedback. We actually want to collaborate with our mentors; we want to use their expertise.
The biggest project for that has been through robotics. Our latest robot, called SkoBots, is a wearable Indigenous language learning robot that sits on your shoulder and speaks languages. I designed it with two of my mentors, Dr. Allison-Burbank and Robert Maldonado, a mechanical engineer who works on 3D printing. We had a few Zoom meetings and we created a robot in two weeks.
Where do you see The STEAM Connection heading five years from now? Any big plans for this year?
Our biggest goal is to open up a STEAM Learning Center—a makerspace where students can utilize tools, build robots, and teach classes. We want to provide a physical location where kids can go to work on projects. This year we plan to expand SkoBots. This spring, I'm going to the White House with MTV to advocate for mental health resources and education for youth for the Mental Health Youth Action Forum. I'm also working on a documentary as well, and we're actually finishing shooting that this year, which is really exciting.
---
To hear more from Boyer, watch her 2022 Sustainable Practice Impact Award acceptance speech from OPEN 2022:
The E-Team Program offers the early funding and entrepreneurship training that student teams need to advance their innovative solutions to the world's biggest challenges. Learn more.
We want to recognize our partners Verizon and Clinton Global Initiative University for their support in finding and selecting The STEAM Connection to participate in our summer 2021 Pioneer workshop.
First image photo credit: American Indian Science and Engineering Society