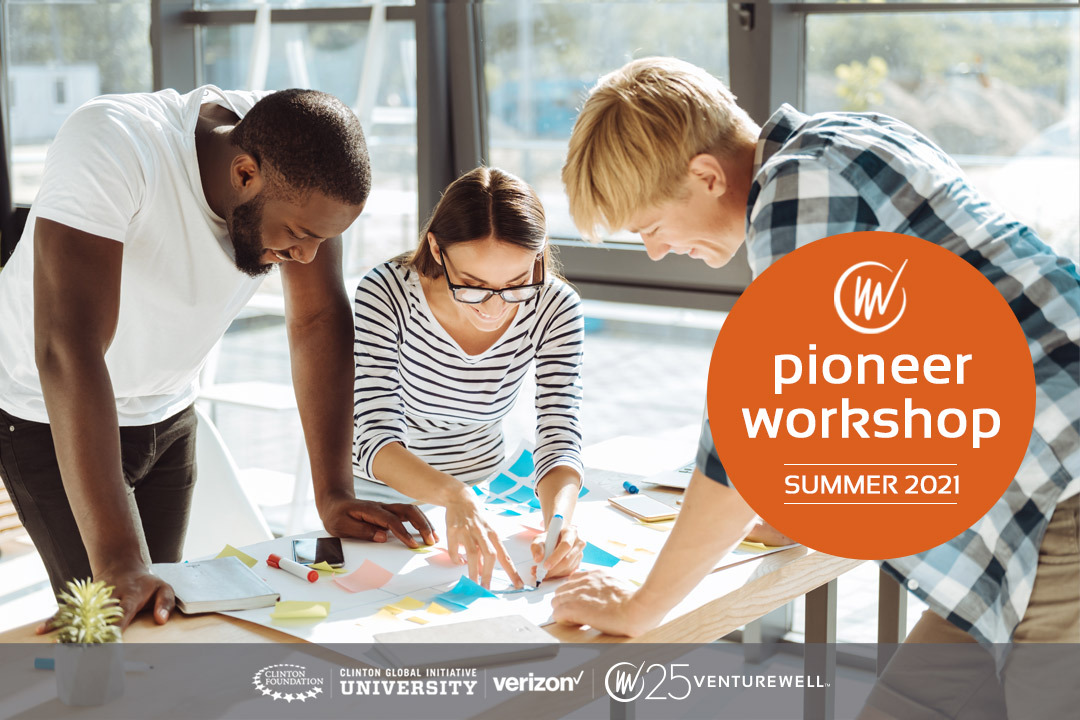 After receiving over $350K total in grant funding, selected teams will now take part in VentureWell's Early-Stage Innovator Training Program.
Thirteen teams developing inventions that address pressing societal needs in the key areas of immersive education technology, climate justice, and health equity in the United States will participate in the VentureWell Pioneer workshop as part of the Verizon and Clinton Global Initiative University (CGI U) Social Innovation Challenge. Teams hail from 23 institutions of higher education, including both US and international colleges and universities.
During the Pioneer workshop, these teams will receive in-depth, hands-on entrepreneurial training on essential topics like business model validation, intellectual property, and competitor analysis. Participants will also receive two months of intensive coaching and mentoring with VentureWell staff and members of the broader CGI U, Verizon, and VentureWell networks.
"We're excited to welcome the winning teams to take part in Pioneer, the first stage of our Early-Stage Innovator Training Program," said Cara Barnes, E-Team Program Officer at VentureWell. "Through Pioneer, teams will validate the market for their innovation through customer discovery, receive feedback in a safe environment from our expert coaches and mentors, and connect with and learn from fellow innovators solving big social challenges."
The selected teams, comprised of undergraduate and graduate students, as well as CGI U alumni, are creating innovations addressing a range of critical social challenges. From an educational robot, to a tool that monitor flood risks in disadvantaged communities, to a real-time language translation device—all aim to close the equity gap in the areas of education, environment and healthcare. Congratulations to the winning teams!
Read more to learn about the innovations:
---
Education Technology
A Global Voice for Autism
A Global Voice for Autism is developing a culturally-relevant mobile learning app for parents in minority communities that provides short videos, quizzes, and AI-powered feedback to help them support the education and development of their primary-school-aged children with autism.
Kazi!Kazi!
Kazi!Kazi! is designing a virtual reality educational tool that can be used with a variety of electronic devices to create interactive and immersive career simulations that provide economically disadvantaged students exposure to a wide variety of professions.
Peek AR
Peek AR is developing a system for use in classrooms that uses augmented reality to provide live captioning of speech for deaf and hearing-impaired students.
Squawk
Squawk is developing a language learning app that uses augmented reality technology to provide an immersive visual and auditory learning experience.
The STEAM Connection
The STEAM Connection is designing a low-cost 3D-printed educational robot made from durable plastic-free biodegradable materials.
Climate Justice
SANKOFA_precision
SANKOFA_precision is developing an online platform that uses precision agricultural technologies to help smallholder farms monitor soil and crop health, improving pest control and crop output.
SISYPHUS Global Systems
SISYPHUS Global Systems is developing an interactive decision support tool that uses AI and a climate justice framework to calculate the flood risk and mitigation options for individual properties.
Health Equity
LiRA
LiRA is developing an AI-powered lip-reading mobile app that can recognize the specific facial motions associated with speech and translate the video data into audio in real-time, improving communication options for voiceless individuals.
Macaw
Macaw is developing a translation app that uses geolocation, speech recognition and machine learning to pair medical professionals and patients with human translators in real-time.
Merakhi
Merakhi is developing a system that includes smart jewelry equipped with GPS and either audio recording or alarm capability and educational programming for students of all ages to combat sexual assault and harassment.
NextStep
NextStep is developing an immersive mental health mobile app that utilizes virtual reality technology to provide both synchronous and asynchronous resources and services for under-resourced communities.
Panthers Who Byte
Panthers Who Byte is developing an app to promote maternal health for low-income, minority women that connects with low-cost health monitoring devices to track their vitals during and after pregnancy and alerts their caregiver of anomalies, enabling immediate intervention when needed.
Vita Innovations
Vita Innovations is developing a reusable smart mask that monitors and displays patient vitals and prevents the spread of viral particles in emergency room settings.
About the Partners:
Clinton Global Initiative University
The Clinton Global Initiative University (CGI U) is the higher education program of the Clinton Foundation, activating the next generation of leaders through year-round programming that includes access to topic experts and change agents, mentorship networks, financial resources, and community events including the annual CGI U meeting.
Verizon
Citizen Verizon, Verizon's new responsible business plan, focuses on three key areas where Verizon has a deep legacy: digital inclusion, climate protection, and human prosperity. Through Citizen Verizon, Verizon is making a commitment to move the world forward through the power of action and technology.
---
About our Early-Stage Innovator Training Program:
The VentureWell Early-Stage Innovator (ESI) Training Program brings together the best in student science and tech innovators and entrepreneurs for an intensive workshop, where students will learn what it takes to launch and scale a venture from our experienced program team, expert mentors, guest speakers, and thought leaders in social impact entrepreneurship & innovation. Learn more about our ESI program here.