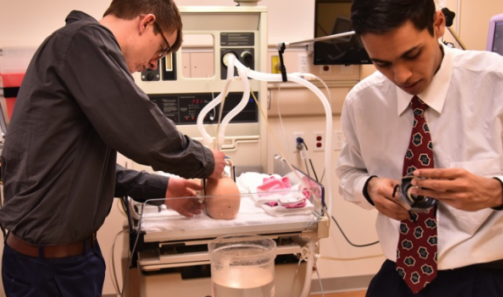 Stephen John enjoyed a remarkable childhood: he grew up in Nepal, the son of a physician and an engineer who worked in a mission hospital. He's now following in his parents' footsteps at the University of Michigan, devoting his career to bringing high-quality, low-cost medical care to people in low-resource settings.
He's already made plenty of progress toward that goal with an innovation he developed as an undergrad called NeoVent. It's a noninvasive positive pressure ventilation device for sick, premature infants in low-resource settings. Stephen and his partner on the NeoVent team, Joseph Barnett, received a VentureWell E-Team Program grant in 2015 and won first place in BMEStart, our national competition for undergraduate biomedical engineering students. We spoke to John to congratulate him on his team's success and to see what advice he might have for other student entrepreneurs.
First, a brief history of NeoVent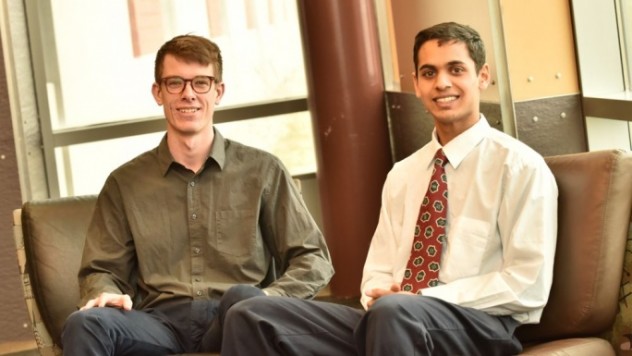 NeoVent began two years ago, when Stephen asked Eric Cheng, co-founder of Respiratory Therapists Without Borders, if he knew of a problem that needed an engineering solution. Mr. Cheng told him that over a million babies in the developing world were dying annually of respiratory distress. Ventilators for premature babies are common in the developed world but they are unaffordable in developing countries. A less-expensive device similar to the bubble CPAP machine was needed for sicker infants in low-resource areas that could deliver dual pressure ventilation. Stephen began designing in his basement, and soon brought on biomedical sciences student Joseph to help with the project.
NeoVent formally incorporated in spring 2015, and participated in E-Team Stage 1 training. Stephen spent the summer in Nepal and he is now working on setting up clinical trials there. The team is also getting quotes from injection molding companies for manufacturing.
Stephen's advice for aspiring student innovators
Early funding is critical
It's common for student entrepreneurs to get discouraged in the design phase. The resources to build prototypes, test, and refine them can seem out of reach. Early financial support not only has practical value, it also builds confidence. NeoVent received $25K from the E-Team Program, $10K as first place winners in the BMEStart competition, another $10K from winning the Lemelson-MIT undergraduate "Cure It" competition, another $10K from Western Michigan University, and $3.5K as U.S. winners of the James Dyson award. 
Network for support and advice
Stephen made use of his academic and personal connections to get input at every stage of the innovation process. He counts his professor of mechanical engineering at Western Michigan, Dr. Peter Gustafson, as a valuable advisor and sounding board for ideas. Eric Cheng remains affiliated with the NeoVent team in an advisory role. Now that Stephen has moved on to medical school with Joseph soon to follow, the team has recruited another engineering student, Hoa Le, to help out with the practical aspects of design. Stephen's dad, a pediatrician in Nepal, offers critical first-hand information from the field, as do neonatologists at the University of Michigan.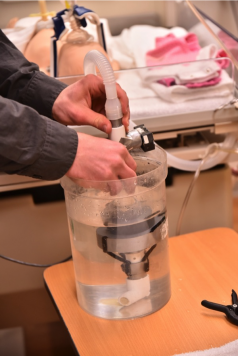 Make a difference by finding an interesting problem with scope
When Stephen found out that over 1 million neonates die each year of respiratory problems, he knew he had found a problem where he could make a difference. He faced many design challenges – three initial designs did not work, but the seriousness of the problem gave him tenacity. There is a much greater tendency to give up halfway if the problem with which you are grappling is not as significant. Stephen urges other aspiring student entrepreneurs to find a problem with significance, where you believe, "If we could solve this, we could help a lot of people or help a few people in a really meaningful, important way."
Look to the past
"There was a lot of really great, innovative thinking in the past…just because something is new doesn't mean it is better," says Stephen. The constraints of low-resource settings made the NeoVent team look to the past for design inspiration. Bubble CPAP has been around for 40 years. "It's not a cutting edge technology but it has stood the test of time, so simple and elegant."
Apply to VentureWell's E-Team Program!
As biology and engineering majors, the members of the NeoVent team were new to the business side of innovation. E-Team training guided them in designing their business model. The training helped the team "bridge the gap between having a working product that has the potential to do a lot of good and actually doing a lot of good with the product."
Generate many ideas
There are many ways to solve a problem. "Don't rule ideas out at the get-go; that's critical." Professor Gustafson had Stephen brainstorm myriad initial ideas as an exercise, which sparked the creativity that ultimately led to a successful prototype. 
Final piece of advice
"Go out and do it!"
Looking for more tips for student entrepreneurs? Check out these resources:
8 points to help startups write a winning grant application
customer interviews: tips, do's, and don'ts
navigating the rules and risks of startup crowdfunding
The E-Team program supports dedicated science- and engineering-based student teams from across the nation in bringing their high-impact innovation out of the lab and into the market.