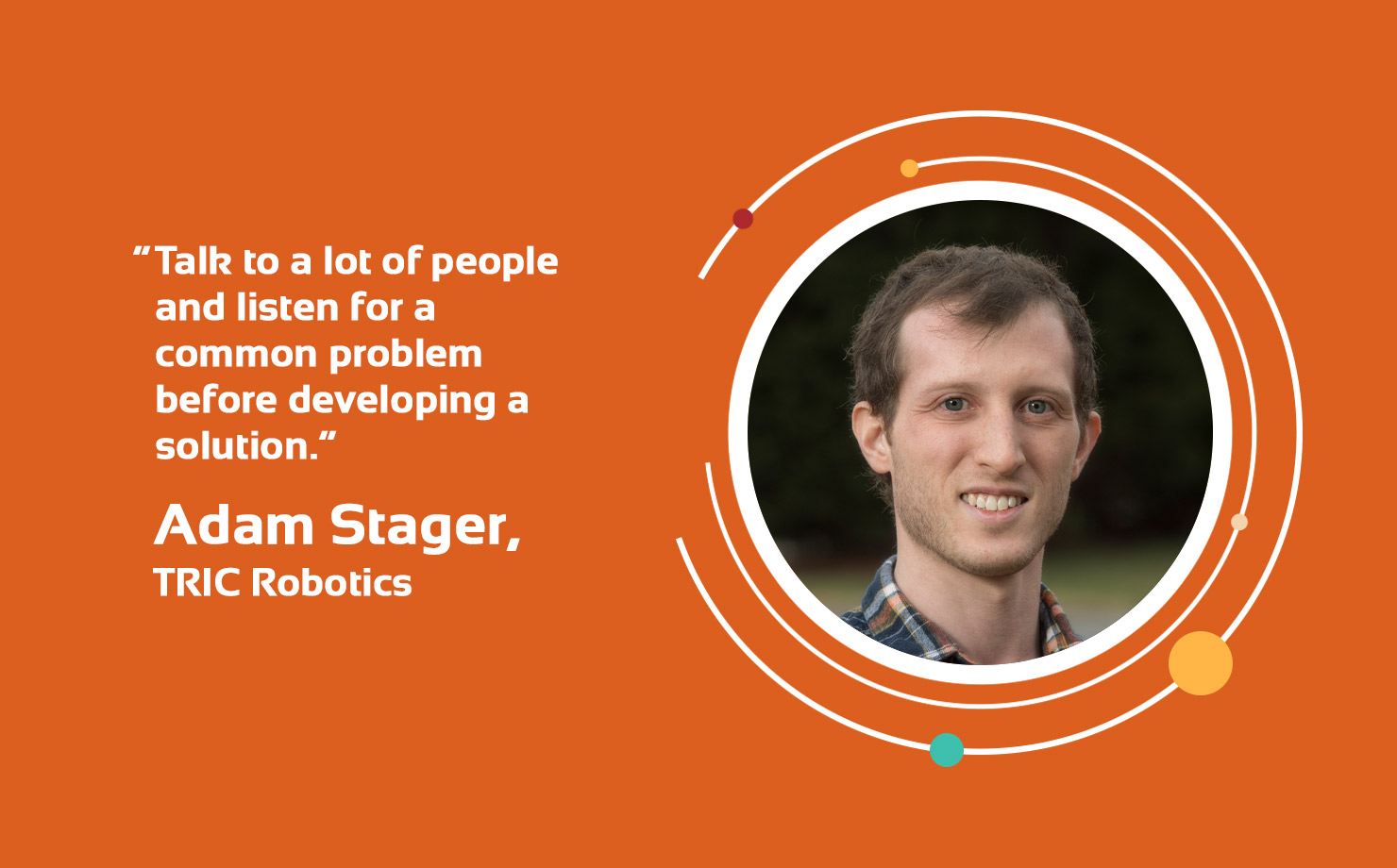 An innovator's journey from idea to market can be challenging and complicated—but also rewarding. Each month we explore how inventor-entrepreneurs in our network have evolved since they started their journey. Our goal is to share key learnings and best practices with early-stage science and technology inventors embarking on a path of innovation and entrepreneurship. Our latest spotlight is Adam Stager, founder and CEO of E-Team, TRIC Robotics. Farming strawberries requires human labor that is at risk from pesticide exposure. To reduce risk and save labor, TRIC Robotics' automatic solution uses ultraviolet-C light to prevent pathogen formation. Nightly autonomous treatment of the plants keeps workers safer and increases profitability with no disruption to harvest and field operations. The team came in first place in our virtualOPEN Minds Showcase.
what challenge did you seek to solve with your innovation and why?
Our goal is to make farming more sustainable with environmentally-conscious innovation. After seeing how much pesticides are used on farms, we thought that was the best place to start. Our technology, which couples UVC light and automation, is replacing pesticides, improving yield predictability, and reducing reliance on human labor.
what have you learned along your innovation and entrepreneurship journey?
It is all about the customer and their problems. As engineers, it is easy to develop solutions for problems that do not exist. If you want to run a company, you need customers who care enough about the problem to pay for the solution. The most important thing is to talk to a lot of people and listen for a common problem before developing a solution.
tell us how you've integrated environmentally-responsible practices into your innovation or process.
It is our goal to reduce or eliminate pesticides and heavy equipment on farms. Our specially-designed platform is battery powered and will use solar panels to recharge itself during the day. Since our treatment happens at night, it is much safer for pollinators, too.
how has support from VentureWell impacted your innovation and venture?
The VentureWell team has been extremely supportive in our development. Their network of resources have helped us build strategies around how we will deploy our technology. They've given us the tools that we as first-time founders need to transform our ideas into a profitable business. The mentoring has helped us think through challenges we have faced and come up with actionable solutions to speed up our progress.
what's next for you?
We are currently piloting our technology on three farms. Our next step is to acquire paying customers as we build our team. Also, farmers have helped us understand ways our platform can solve other problems, so we are developing several modular attachments that can help us create even more value. We are planning paid pilots in 2021, which will put us on track to scale our solution to farms across North America.
---
The E-Team program supports dedicated science- and engineering-based student teams from across the nation in bringing their high-impact innovation out of the lab and into the market.