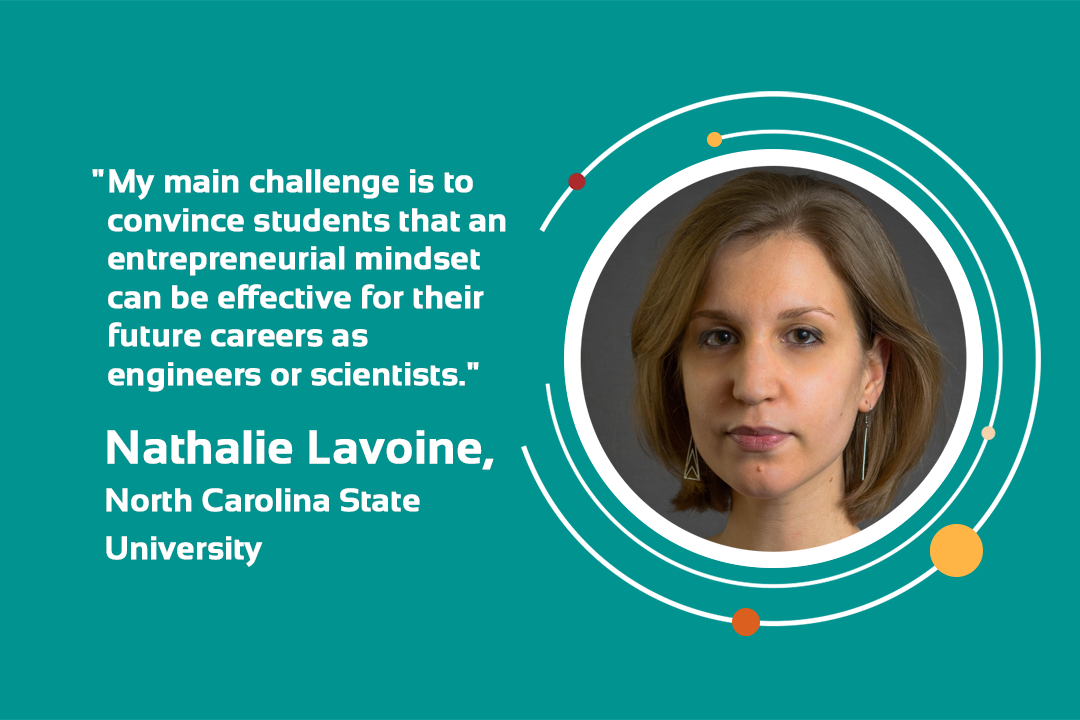 Our Faculty Spotlight series highlights educators within the VentureWell network who are doing transformative work—faculty members who are catalyzing change in higher education and inspiring students to impact the world through invention. This month's spotlight is Nathalie Lavoine, Assistant Professor in the Forest Biomaterials department at North Carolina State University (NCSU). Dr. Lavoine helps students develop the skills needed to design innovations for positive social impact and environmental sustainability. In the Fall of 2020, she received a Faculty Grant to incorporate entrepreneurial thinking and business competencies into NCSU's forest biomaterials and engineering programs, enabling students to pursue scalable solutions to real-world problems in greenhouse gas emissions, environmental pollution, and waste accumulation.
How did you become interested in teaching entrepreneurship?
It is important that the students consider the full picture when they solve engineering problems. Entrepreneurship is a very broad concept, which often scares my students. I do not teach entrepreneurship per se, but attempt to instill entrepreneurial thinking. Curiosity, connectivity, and value creation are keys. Entrepreneurship is not only about business, startup creation and finance—it also includes core values and concepts that are used every day by engineers and scientists. Engineers typically don't relate "our ways" of thinking and researching with entrepreneurship but I like the overlap because it makes teaching much more interesting and inspiring.
What is your favorite thing about teaching?
I love to interact with students and listen to their new ideas to solve a problem, to stimulate their creativity, and to see their excitement and motivation around prototyping and testing their ideas. Teaching is also a collaborative brainstorming process for me; when the students and I both get new ideas to solve problems, I know that my teaching has been fruitful.
Where would you like to see the field of entrepreneurship in five years?
I would like to see the field of entrepreneurship better incorporated into other fields. Entrepreneurs and teachers should broaden their education to reach a more diverse group of students, whether or not those students intend to become entrepreneurs.
What are the challenges you're tackling in your work today?
My main challenge is to convince students that an entrepreneurial mindset can be effective for their future careers as engineers or scientists. Gathering expertise from different fields is also a challenge; I aim to bridge gaps between different disciplines and help make connections, and this isn't always a straightforward process.
What's your most useful classroom activity or assignment?
I believe that resolving course problems with the students, simultaneously, is very helpful for them. I taught chemical engineering basics in Fall 2020, which involved lots of equations, heavy physics, and engineering concepts to understand, and real-life problems to solve. Step-by-step resolution of problems was very useful for them, as well as video resources that illustrated concepts very clearly as a supplement to the lectures.