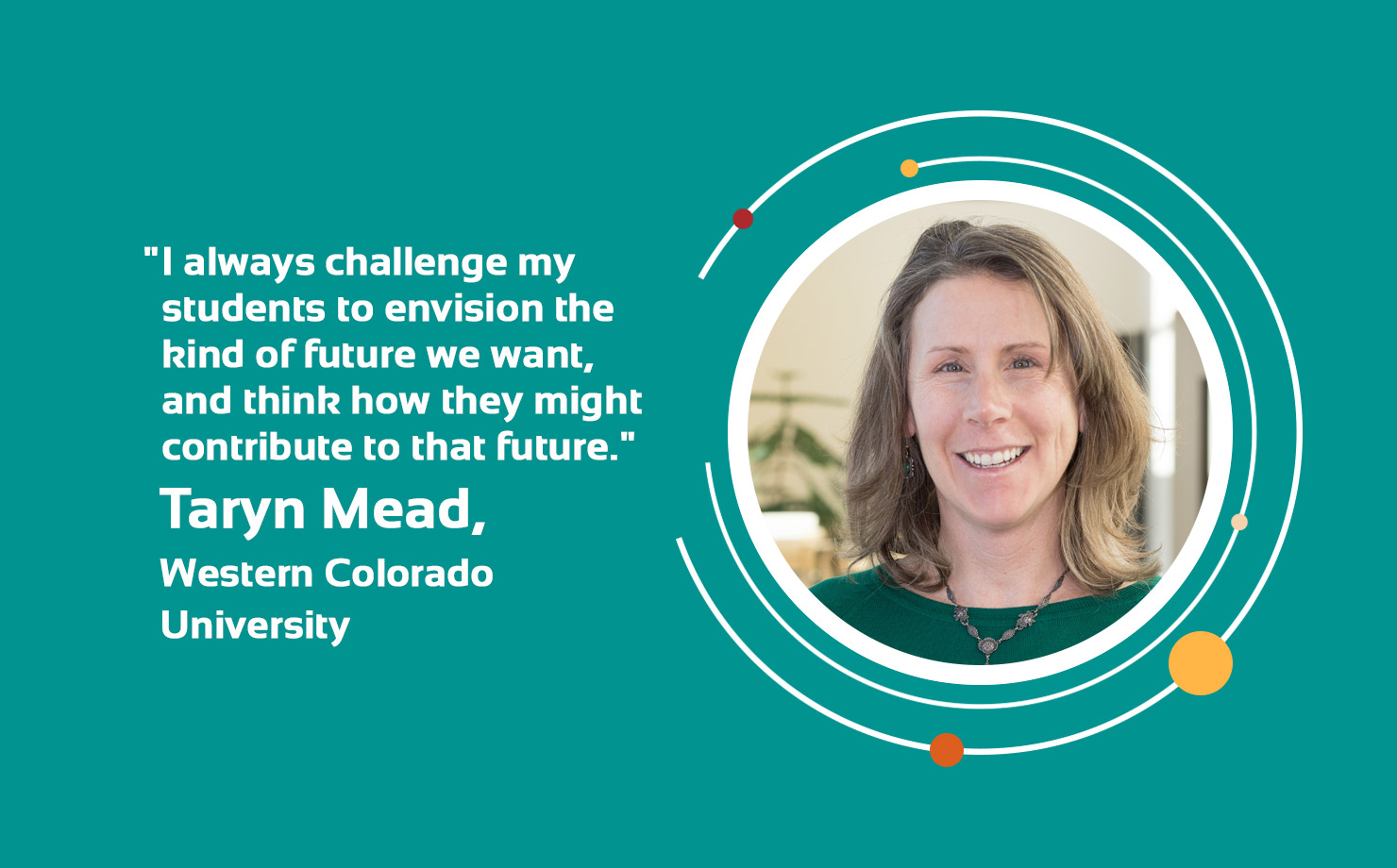 Our Faculty Spotlight series highlights educators within the VentureWell network who are doing good work—faculty members who are catalyzing change in higher education and inspiring students to impact the world through invention. This month's spotlight is Taryn Mead, Professor of Innovation and Creativity for Sustainability and Nature-Inspired Innovation at Western Colorado University. Mead is devoted to integrating sustainable design practices into entrepreneurship and innovation. She received a Faculty Grant in 2019 for a course that teaches students core entrepreneurship concepts through the lens of the circular economy, and prepares them to identify viable opportunities around environmental innovation using waste in rural communities.
how did you get interested in teaching entrepreneurship?
My early degrees were in biology and environmental studies so the entire idea of entrepreneurship was very foreign to me. However, after working in nonprofits and government agencies, I took a job as a "Biologist at the Design Table" with Biomimicry 3.8 and worked directly with architects, engineers, and designers mostly in the private sector to help them integrate biological insights into designs, cities, packages, and businesses. After my experience working in a startup consulting environment, I started my own business, Symbiosis, as a sustainability consultant.
I later received a PhD in innovation management, and went on to support the launch of a business accelerator program at the ICELab in Gunnison, CO. Today, I help Western Colorado University student entrepreneurs in both our Outdoor Industry MBA and Master's of Environmental Management launch businesses as an integral component to their graduate education process.
what is your favorite thing about teaching?
I'm particularly passionate about innovation and entrepreneurship to solve the problems of sustainable development so I really enjoy seeing students' sustainability-driven solutions come to life. It's fascinating to watch students who think they don't have anything to contribute—or feel like they are just studying to get a job—start to imagine themselves as business owners. I always challenge my students to envision the kind of future they want, and think how they might contribute to that future. Given the opportunity, they always deliver on a more promising future and that is incredibly rewarding for me as a facilitator.
where would you like to see the field of entrepreneurship in five years?
It seems obvious given this moment in a global pandemic that things are shifting in a big way, but I am excited about the opportunity before us to re-invent aspects of our systems of production and consumption to better reflect the circular economy at the national, regional, and local levels. Current and anticipated supply chain disruption provide the perfect opportunity to reconsider how we create business models that are more ecologically sound, socially equitable, and financially sustainable for all stakeholders.
This is an incredible moment for entrepreneurs and innovators to push out disruptive solutions that address 'the new normal' and the lasting effects of an economic downturn as the pandemic further impacts global commerce. While there is great loss and crisis in this moment, there is also an opportunity to learn from a reinvigorated nature and restructure our lives to regenerate socio-ecological systems with our daily behaviors. Today's entrepreneurs are major players in creating the next phase of industrialization with all of these factors at the forefront.
what are the challenges you're tackling in your work today?
My biggest challenges today are trying to figure out how to maintain the intimate, experiential teaching style that I prefer while navigating virtual education. All the ways that I was taught innovation and entrepreneurship are enabled by close personal working relationships and facilitation techniques that help people feel open and vulnerable to trying new things. This can be challenging in the virtual space and the emotional distractions that come with displacement for many of my students. I'm thinking very carefully about how to cultivate a culture of openness, curiosity, creativity, and collaboration in the classroom. Thanks to a grant I received from VentureWell, I have tremendous support from a group of colleagues and VentureWell staff as we all navigate this together.
what books on entrepreneurship and innovation have you been reading lately?
I've been reading about the circular economy and how it can be implemented in practical ways. Catherine Weetman's A Circular Economy Handbook for Business and Supply Chain is thorough and accessible for diverse audiences. I also come back to the basics for my students with the Business Model Canvas and Value Proposition Design from Alexander Osterwalder & Yves Pigneur and the folks at Strategyzer. They are great frameworks to introduce novice entrepreneurs to the considerations of starting a new business.
what's your most useful classroom activity or assignment?
In an upcoming circular economy course, I'm providing students with hands-on learning about environmental innovation. I will take the students to the local dump and recycling center to find materials that can be upcycled into novel innovations. The goal will be to identify and collect materials that can be transformed into a new source of raw material with minimal processing. With the support of some local makers, entrepreneurs, and inventors, the students will engage in product innovation with locally available resources in mind. I'm hoping that this exercise will instill a perspective that waste is a gold mine of opportunity.
---
Learn more about our Faculty Grants program and hear from past Faculty Grantees who are building innovation and entrepreneurship ecosystems on campus.