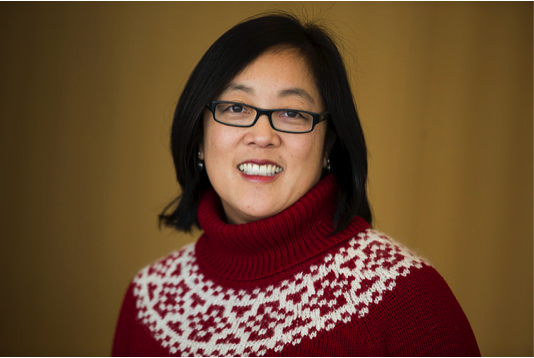 University of Michigan Educator Aileen Huang-Saad
Today, we debut a new series of conversations with entrepreneurship educators. Each month we will feature an individual within the VentureWell network who is creating positive impact in the innovation and entrepreneurship ecosystem and talk about what drives their work.
This month's faculty spotlight is Aileen Huang-Saad, Associate Professor of Practice in Entrepreneurship and Biomedical Engineering at the University of Michigan. Aileen has been involved in a number of VentureWell programs over the years, serving as PI or GA on E-Team projects including Elegus Technologies, Magnetic Ventures and NovaPatch. Aileen is a regular at Open, the VentureWell annual conference.
How did you get interested in teaching entrepreneurship?
When I first started teaching in biomedical engineering, I really just wanted to help students be more effective at transitioning into industry after graduation. I taught a graduate biomedical engineering design course, and each year I saw students take more and more ownership of the their ideas and pursue additional resources to continue working on their projects well beyond the requirements of the class. After researching why this might be, I found it could be attributed to the environment we created in the course. The active learning pedagogies, combined with the self-directed, project-based learning in the context of medical device commercialization, empowered the engineering students to become more entrepreneurial and less reliant on waiting for someone else to come help them push their ideas forward. I realized that we have the potential to increase the impact of new technologies and innovations by teaching engineering students entrepreneurial skills in an environment that cultivates self-ownership, adaptive learning and perseverance.
What is your favorite thing about teaching?
The students. Students today are the most inspiring individuals. They are so motivated to create change and impact that their enthusiasm only makes me more motivated to work hard and find ways to help them become more successful.
What is your least favorite thing about teaching?
There's never enough time. There is always more that could be done and learned, but the reality is that courses start and end.
Where would you like to see the field of entrepreneurship in five years?
This is a complicated question for me. First, it's important to know that I believe "entrepreneurship" is not just teaching students business skills. It's also teaching students how to take ownership, garner resources and execute. These skills are valuable to any organization: large and small companies, government and nonprofits.
Specifically with regard to engineering, in five years I'd like to see entrepreneurship more integrated with our overall approach to engineering education. I believe entrepreneurship should be part of the fabric of engineering education. Rather than solely thinking about entrepreneurship as an economic driver, we should view it as a means of helping our students grow and develop 21st century skills.
What traits make for great teachers, advisors or mentors?
I think it's really important for great teachers, advisors or mentors to be incredible listeners, reflective and adaptable. There may have been a time where teachers were largely responsible for knowledge transfer, but in today's digital age, knowledge is accessible with a click. As teachers, we should be observing and listening to our students, reflecting on what students are learning and adapting the learning environment to suit the student's needs. Our job is to help them synthesize the information they are absorbing and help the students critically examine what they are experiencing.
What books on innovation & entrepreneurship have you been reading lately?
Lately, I've been really interested in understanding how national policy is being influenced by the call for more entrepreneurship, so I've been reading a few of Scott Shane's books (Economic Development Through Entrepreneurship and A General Theory of Entrepreneurship: The Individual Opportunity Nexus) and Link and Link's Government as Entrepreneur.
What's your most useful classroom activity or assignment?
Last Lecture Reflections/If I knew. Each term, I end the class with the "If I knew" assignment. Students are asked to fill out a simple PowerPoint template that asks the following questions:
When I signed up to take this class, I was expecting…
This is what I got out of the class…
If I had only known…
This is what I would change
Before class, I go through all of the student responses and aggregate the feedback into the themes. I then present the summary to the students for the last class and we discuss their reflections. This summary presentation is then used to iterate on the course for the following year and is assigned as the first reading for the next cohort of students as their first assignment. This sets the stage for the next class.