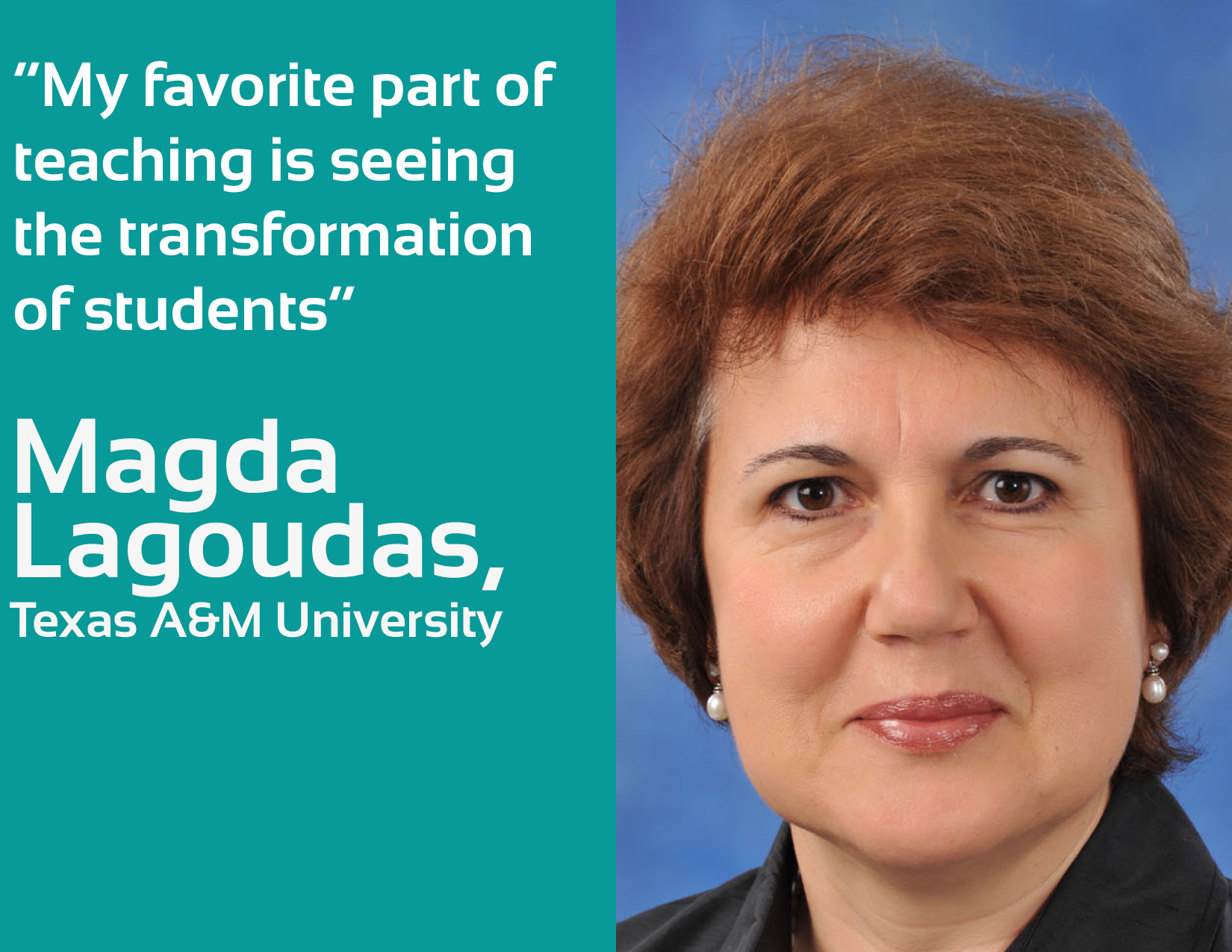 This week we continue our series on educators within the VentureWell network—faculty that are challenging norms in higher education and inspiring students to impact the world through invention.
This month's faculty spotlight is Magda Lagoudas, Executive Director of Industry/Nonprofit Partnerships and Instructional Associate Professor at Texas A&M University. Magda has been involved in a number of VentureWell programs over the years, including Pathways in Innovation, and regularly attends our annual conference, Open.
How did you get interested in teaching entrepreneurship?
My interest derives from experience. I came from industry to Texas A&M University in 1992 wanting to use my experience to improve educational outcomes for students. Since then, I've had the opportunity to do just that, developing programs and courses to promote multidisciplinary collaborations among undergraduates, including the Space Engineering Institute, AggiE Challenge, U-Ignite, Engineering Project Showcase, and programs such as Pop Up Classes for the Engineering Innovation Center.
I was also lucky to be invited to participate in the inaugural cohort of the Pathways to Innovation program. As the Team Lead, I've had the opportunity to learn a lot, collaborate with colleagues across the country, and was fortunate to have the support from our Deans to pursue more programs and courses that promote I&E.
What is your favorite thing about teaching?
My favorite part is seeing the transformation of students. Our students are smart, innovative and interested in making a positive impact on the world. Providing them opportunities to work on real world projects, collaborate in teams, interact with sponsors, and take a project from an idea to an engineering design or prototype is what I enjoy the most. This fall, I had nine teams working on projects ranging from rain water harvesting for the local food bank to using solar power for irrigation in Africa. I'm excited about the positive impact these students could make!
What is your least favorite thing about teaching?
Not enough time! My courses engage students in project-based learning, which requires much more time from faculty than conventional courses. At the end of the class, I always wish I had more time to invest in each team.
Where would you like to see the field of entrepreneurship in five years?
While engineering institutions across the nation are investing resources to develop makerspaces, programs and courses for entrepreneurship, I believe the engineering education community in collaboration with industry needs to define a common set of entrepreneurial knowledge and skills that we believe are important to all engineering graduates. When we have such a well-defined set, then it will be easier to weave entrepreneurial knowledge and skills into traditional engineering courses.
Overall, I hope all major engineering schools will be able to provide incoming freshman with well-defined pathways to pursue entrepreneurship as part of their engineering curriculum from day one.
What traits make for great teachers, advisors or mentors?
Good teachers provide the environment for students to learn new skills, practice them, and then reflect on them. A good teacher helps his or her students to become lifelong learners, seek opportunities to acquire new knowledge, learn from challenges, and be able to communicate their skills and passions effectively.
What books on entrepreneurship and innovation have you been reading lately?
Since I'm teaching several new courses, I've been focused lately on ideation and creativity for engineers. In the past few months, I've read Introduction to Creativity and Innovation for Engineers, Strategies for Creative Problem Solving, and Enterprise Innovation: from Creativity to Engineering.
What's your most useful classroom activity or assignment?
One of my favorite activities is to ask students to complete the Business Model Canvas for their personal success. It's an interesting way to introduce entrepreneurship at a personal level before we talk about launching startups.