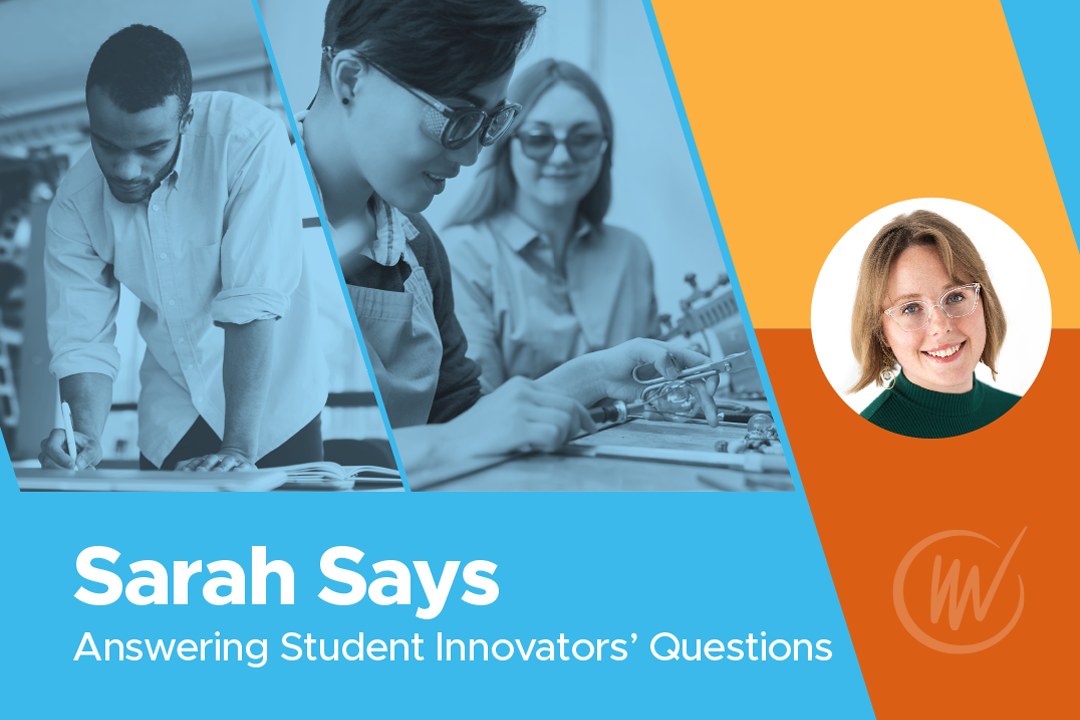 Welcome to Sarah Says, a series by VentureWell Program Officer Sarah Wharmby. Sarah will address commonly asked questions raised in our E-Team workshops, Pioneer and Propel. Read Sarah's second article, on choosing the best method of customer discovery, here.
Throughout each stage of my career, I've looked to my colleagues for guidance on a variety of challenges I've faced. But it can be difficult knowing where to start when choosing your very first mentor.
In my work as a VentureWell program officer, I often hear from participants in our E-Team Program that making industry-specific connections is the most valuable part of their workshop experience. The professionals they meet know exactly what student innovators are facing, because they faced it too. It can help build confidence to be validated by someone you look up to, and you'll learn more from what they have to share.
For many early-stage innovators, it might feel like having a mentor is a one-time exchange. That isn't the case! Mentorship is an ongoing process, and it should involve many advisors, not just one mentor.
Here are a few things to keep in mind when searching for your next mentorship opportunity.
Three Reasons Why Having a Mentor Is Important
In my experience, having a mentor can be beneficial to your personal and professional development.
Learn from your mentor's mistakes. It's not all about success. A good mentor will share their failures with you, too—giving you an opportunity to learn and use that knowledge for the future. This is great for risk assessment and stress-testing, and so can save you a lot of time (and potentially money).
Get motivation to keep pushing. Not only will you get the chance to workshop your ideas with an experienced mentor; you'll also receive tailored, honest feedback. This can challenge you to hone your skills as a founder—from embracing flexibility to developing tenacity.
Access an expanded network. Mentors can also connect you with others in their network. These introductions can help you discover new financial partners, employees, even other mentors.
Identifying Mentors Who Match Your Needs
There's no such thing as a perfect mentor, but there are a few ways you can find one specific to your needs.
Take your time. Don't swipe right on every potential mentor! Do research on their background, experience, and accomplishments to help determine your compatibility. Someone with experience in your field can offer specialized advice to help you problem-solve.
Find someone you're comfortable with. Since you'll be sharing your challenges with this person, it's important that you feel comfortable with how they provide advice and feedback. Just remember that everyone has a different style!
Consider different perspectives. Finding a mentor with a different background, lived experience, or worldview from yours can get you out of your comfort zone. Find someone who challenges your ideas and answers—and even your self-talk. Now is the time to "kick the tires" on your plans. Doing that with a seasoned mentor is invaluable.
…But similarities are good, too. Selecting a mentor from a cultural background or identity you share can provide value, too. You'll learn how they navigated the industry and addressed challenges specific to their personal experiences—and how you can do the same.
Reminder: Ask more than one person to be your mentor. It's always good to have variety, especially for different challenges you're facing.
Finding a Mentor Through Your Existing Network
You might not realize a lot of mentorship opportunities are closer than you think. Research is your friend—you're bound to uncover several avenues you didn't know about before.
On your campus. As a student, you have access to a wealth of resources through your entrepreneurship or career center, student-run organizations, pitch competitions, and alumni network. If you're not sure where to start, ask a trusted faculty member. E-Team 3D-OPS' mentor at the University of California-Davis Venture Catalyst accelerator introduced the team to VentureWell. They've since participated in Pioneer, Propel, and the Innovator Stipend Program sponsored by Qualcomm to further develop a technique that 3D-prints artificial tissue simulating spider silk for use in hand surgeries.
In your community. Did you know there are many local resources you can take advantage of, too? Research co-working spaces, accelerator programs, and mentorship opportunities like the American-Made Network—for which VentureWell serves as a Power Connector—for more ways to connect with other professionals in the industry.
Through your network. It's not just about who you're connected with on LinkedIn, but who their connections are. You can ask a friend or colleague for a warm introduction to a potential mentor. Put yourself out there—you never know who might end up being a great mentorship fit.
Through entrepreneurship support organizations like VentureWell. We're here for you, too! There's a valuable and extensive network of opportunities and events where you could meet your next mentor. We also offer mentorship opportunities through our programs, where innovators are paired with investor-mentors specific to their industry.
Bonus: Being a Great Mentee
We often think of mentorship as a one-way street. But what's in it for the mentor? To ensure your mentor gets the most out of the exchange, keep these in mind:
Be self-aware. Before you meet up with your new mentor, take a moment to write down some of your professional strengths and weaknesses. Are you confident in front of potential customers, but lose your cool in mock boardroom sessions? These are great points to bring up with your mentor! It will also show you're thinking like a founder by considering all the areas in which you need to grow.
Have a plan. Set realistic goals up front. Make bullet points of what you'd like to accomplish during each meeting with your mentor, and be sure to bring questions. Whether you want to brush up on your networking skills or need guidance on how to navigate customer discovery, creating a plan will help keep you both on track as you progress.
Provide updates. When you reach out to your mentor, include context in your message. What milestones have you reached? Do you have specific challenges they can help you navigate? By being clear in your exchanges and asks, you'll show that you respect your mentor's time and energy in their investment.
There's a lot to consider when looking for a mentor. As long as you're clear about what you need, do your research (I found this NPR article particularly helpful), and come to the table prepared, you'll be able to leverage your mentor's advice like a seasoned founder.
Every day, I help guide students through the process of finding and cultivating mentorship opportunities in my work with VentureWell's E-Team Program. We connect early-stage innovators with investors and strategic partners who often become points of contact long after our training program concludes. It's a great way to discover mentors who are specific to your industry. Check out the program page and submit an application for the next cohort here:

Good luck—and enjoy the process!
---
Sarah Wharmby supports VentureWell's early-stage entrepreneurship programs, providing training for innovators in the Pioneer and Propel stages of the VentureWell Accelerator program. Sarah has managed educational programs in both the nonprofit and higher education sectors; she has worked closely with social enterprises and social entrepreneurs, as well as student founders.
About the E-Team Program
The E-Team Program and ASPIRE, part of the VentureWell Accelerator, support dedicated science- and engineering-based student teams from across the nation in bringing their high-impact innovation out of the lab and into the market.
Through the E-Team Program, we have trained over 500 student teams and more than 1,400 student innovators. Our teams have raised $740+ million in follow-on funding and have launched 500+ ventures since taking part in our program.
Are you part of an energy or mobility startup in Michigan that is looking to validate its business model while preparing for funding in the next phase of your business? We invite you to apply to the Ascend Energy & Mobility Accelerator, powered by VentureWell, TechTown Detroit, and DOE's EPIC Prize! Learn more.