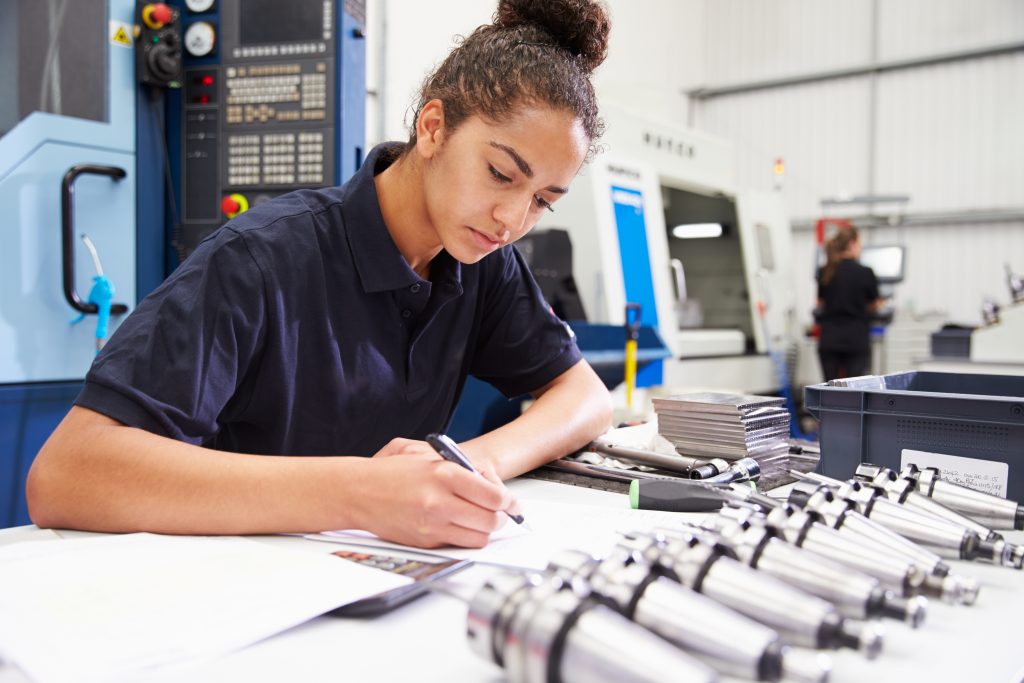 The glass ceiling for women within innovation and entrepreneurship (I&E) is still present, but it is beginning to splinter. Female innovators and entrepreneurs are on the rise, dozens of incubators support women-led startups, and studies confirm that companies with more female leaders are the most profitable. That's the good news.
The not-so-good news: it's 2017, and the number of women finding success in the I&E ecosystem remains low. The percentage of women working in science and engineering barely nudges up into the thirties—lower if you're a woman of color. In the startup arena, only 17% of startups this year have a female founder. In 2016, investors poured $94 billion into male-only founder teams, but just $10 million to companies with a female founder.
Research confirms these inequalities. A 2014 study published by researchers from Harvard, MIT, and the Wharton School showed that, even if the pitches and businesses are identical, investors are much more likely fund a startup founded by a man.
There's a very real social and economic cost to this exclusion: fewer bright and bold minds are creating the inventions and businesses that will help society. In honor of Women's Entrepreneurship Day, we had conversations with four of those minds—all female powerhouses in the I&E ecosystem—to learn about their experience in I&E, find out how they chipped away at the glass ceiling, and what work still remains so that it shatters for good. We appreciate the candid, insightful, and diverse perspectives provided by the following women:
Dr. Nathalie Duval-Couetil, associate professor in the Department of Technology Leadership and Innovation at Purdue University, where she developed and launched the Certificate in Entrepreneurship and Innovation Program.
Annamaria Konya Tannon, chief evangelist for innovation, entrepreneurship, and invention for George Washington University's School of Engineering and Applied Science. She is also the founder and CEO of Equita Accelerator, one of the first accelerators for female entrepreneurs in San Francisco.
Dr. Shayn Peirce-Cottler, professor of biomedical engineering at the at the University of Virginia. Her research focuses on how blood vessels grow and remodel in response to diseases, such as diabetes and cancer.

Ayse Zamboglu, angel investor and mentor to startups in life sciences, healthcare, and digital health. A chemist by training, Ayse has extensive medical device and pharmaceutical industry experience at startups.
Tell us about your experience as a woman in the I&E space.
Duval-Couetil: The push for more entrepreneurial activity at our university has created an environment that is even more male dominated at a decision-making level. Attempts have been made to encourage women's involvement in entrepreneurial activity, however, it is often done in a gendered way and has little impact on the power structure. Women tend to be in support roles and are often excluded from important decisions. If you look at credentials, productivity and pay, you would probably find a considerable gender gap. As a woman leader, there is always tension associated with communicating or complaining about it because you don't want everything to be about gender.
Konya Tannon: You can be a skilled engineer, but if you don't have the soft skills, you won't often succeed. I had the experience of being in my 20s, being blonde, being a woman in a room of mostly men. Every time, people would speak over me. If I objected to that, I would come across as "bitchy" and again no one would really hear me. I had to learn effective soft skills to help me navigate that world. I include soft skills training in the Equita accelerator program that focuses on gender, culture, and age.
Peirce-Cottler: For the early parts of my career in biomedical engineering, I didn't feel like a minority at all. When it comes to faculty, however, there are far fewer women than men at nearly every level, but especially at the level of full professor. The numbers are disturbingly low—less than 5% of all full professors in engineering are female, and it's impossible not to feel this as a woman at this level. But, I don't let this negatively affect me or my work—or my perception of how much I am valued in my profession. I just try to encourage more female students to consider pursuing careers where they can innovate—in academia or elsewhere. Women can be great innovators, and that's the bottom line.

Zamboglu: Angel investors invest in teams and people, so it becomes extremely important how they are introduced or connected to the entrepreneurs.  They want to work with people that they know, or that they share something with—whether it's Yale or Stanford alumni, or they want an MIT team. So when you look at the number of female graduates in science or technology from those schools, they are already lower. It carries on and on through the stages of this I&E industry.
Why do you think it's important to have a population of inventor-entrepreneurs that accurately reflects the demographics of our society?
Duval-Couetil: It's essential to have the emphasis on high-growth companies, but in the past decade, entrepreneurship has lost too much of the discourse around small business. If you want vibrant communities, if you want people to be able to feed their families, that can happen in a lot of different ways beyond creating a tech startup. One of the challenges is that when women are creating startups they often revolve around products that are gendered. It often has to do with food, preparing meals, kids, fashion, or cosmetics. This isn't a bad thing, but it's a real challenge to diversify the types of businesses in which women are involved.
Konya Tannon: Having more female designers and innovators makes sense from a business perspective. Around 80 percent of products women use and buy are designed by men, including women's clothing, underwear, and feminine products. Gender neutral products are often designed by men with men in mind. In the majority of households, the CFOs are the women. More women need to be involved with designing products. They understand how those products are really being used.
Peirce-Cottler: When it comes to problem solving, it's important to have diversity of experiences, thoughts, and approaches to problem solving. You have to bring together people who are trained differently and who think differently from one another. I tell my biomedical engineering students: if you're going to solve a really important problem, you should go meet some electrical engineers and chemical engineers, and go talk with an architect or an artist, too. And, don't forget to talk to the law student, because you're also going to need them on your team. The really complex problems won't be solved by individuals; they are more likely to be solved by teams of diverse individuals who can leverage their unique perspectives and expertise.

Zamboglu: Let me give you an example. A colleague of mine had a great idea for an ovulation prediction device. She filed her provisional patent, but then for personal reasons chose not to pursue it despite the real potential it presented. Four years later, I'm sitting in a meeting with a group of male investors and entrepreneurs working on the same women's health issue, coming up with a solution that doesn't even compare to the innovation she developed. They are trying to decide if it's going to be comfortable wearing that device for two weeks to predict when you're ovulating. We need women's perspectives—especially when inventing products for women.
In terms of equality between men and women in I&E, what progress have you seen and what work still remains?
Duval-Couetil: You make one step forward and then five steps back. You look at the recent news reports of women in Silicon Valley and the vibrancy of the "bro" culture and realize how difficult it is to change behavior. There really is no incentive to change unless there is an accountability mechanism where you can show a real cost or consequence to excluding women. Through education, we can make a huge difference by not reinforcing masculine norms in our programming and teaching. We were able to increase the participation of women in our entrepreneurship program by 50% in one year through very deliberate policies and practices. The trouble is that if you don't actively manage this on an ongoing basis, you will revert right back to the norms.
Konya Tannon: Progress has certainly been made but there are miles yet to go. Engineering schools across the country and tech startups are not yet gender balanced. We have to confront equal opportunity and equal pay. As a guide to a better approach, one George Washington University alumni practices "blind hiring." When he hired a woman recently, he told her the salary for the position and she started to cry. It was double her previous salary. He is close to gender balance on his engineering team. Now, that is a practice which didn't require a bill to be passed or a special skill other than willingness to give equal opportunity regardless of gender and solely on merit.
Peirce-Cottler:  This is an important question and one that we should all continuously be asking. I think today's women owe a great deal to the women (and men) in the generations before us who fought for equality in the workplace. I feel particularly indebted to the female role models in my life, like my own mom, who have worked their way to leadership positions and shown other women that it is possible to achieve success, despite the various obstacles that stand in their way. There are still far fewer women in the I&E industry, and I think the I&E industry can only stand to benefit from initiatives that promote inclusion and enhance diverse perspectives.  
Zamboglu: A nonprofit, Code.org, just announced that the number of girls who took a computer science exam has increased dramatically in the past ten years. That's a great sign.
What's your advice for women entering I&E?
Duval-Couetil: Women often want to be very confident about activities they pursue before they get into them. Their outlook for participating in entrepreneurship often is longer term than men. I think we need to say to women, 'You don't have to know every single thing. You don't have to be a perfectionist and understand everything before you launch into these things.' I also think it's really important to provide examples, role models, and talk more about the varied entrepreneurial models that exist.
Konya Tannon: Be persistent, find a mentor, and follow your dreams. Listen, listen more, and ask questions. Use design thinking throughout your process; empathize, observe, ideate, and prototype early, test and reiterate. Bottom line, be passionate and go for it!
Peirce-Cottler: When I'm in a room of all (or mostly) men, I don't focus on that fact. Instead, I think about the fact that each person in the room has their own unique background, expertise, and perspective. My input is no more or less important than anyone else's. This realization allows me to engage in the conversations and just focus on trying to contribute a valuable insight that moves the conversation forward. Also, don't be afraid of failure. Sometimes you have to take risks and often taking risks is the only way to learn. Learning and innovating are inextricably connected, and if you stop doing one you will stop doing the other.
Zamboglu: I've heard hundreds of pitches, and you can tell if the entrepreneurs are really invested in their ideas, no matter if they are women or men. However, even if you're invested in your idea and are prepared for your pitch, you might still experience a gender bias. You might even get grilled from the judges or investors.  But after you address them well, and people buy into your idea or venture, the gender bias will usually dissipate.
It's clear that women are having a profound impact in the I&E ecosystem, which will continue to expand. But as these four pioneers pointed out: much work remains for women to have the opportunities to make an impact—whether they're starting their own ventures, are joining tech companies in Silicon Valley, or are teaching others in the highest echelons of academia.
All four women said mentorship was invaluable, and they pointed to a number of resources dedicated to supporting women in technology and innovation—from nonprofits working toward inclusivity in the tech world to firms that teach women how to negotiate for themselves to angel investor groups that fund female-led startups. "Put yourself out there and take advantage of these resources," Zamboglu said. "And don't think that you are already losing the game without even starting to play it, just because you are a female."

Women's Entrepreneurship Day is celebrated in 144 countries on November 19. Watch this video to learn more about the initiative.