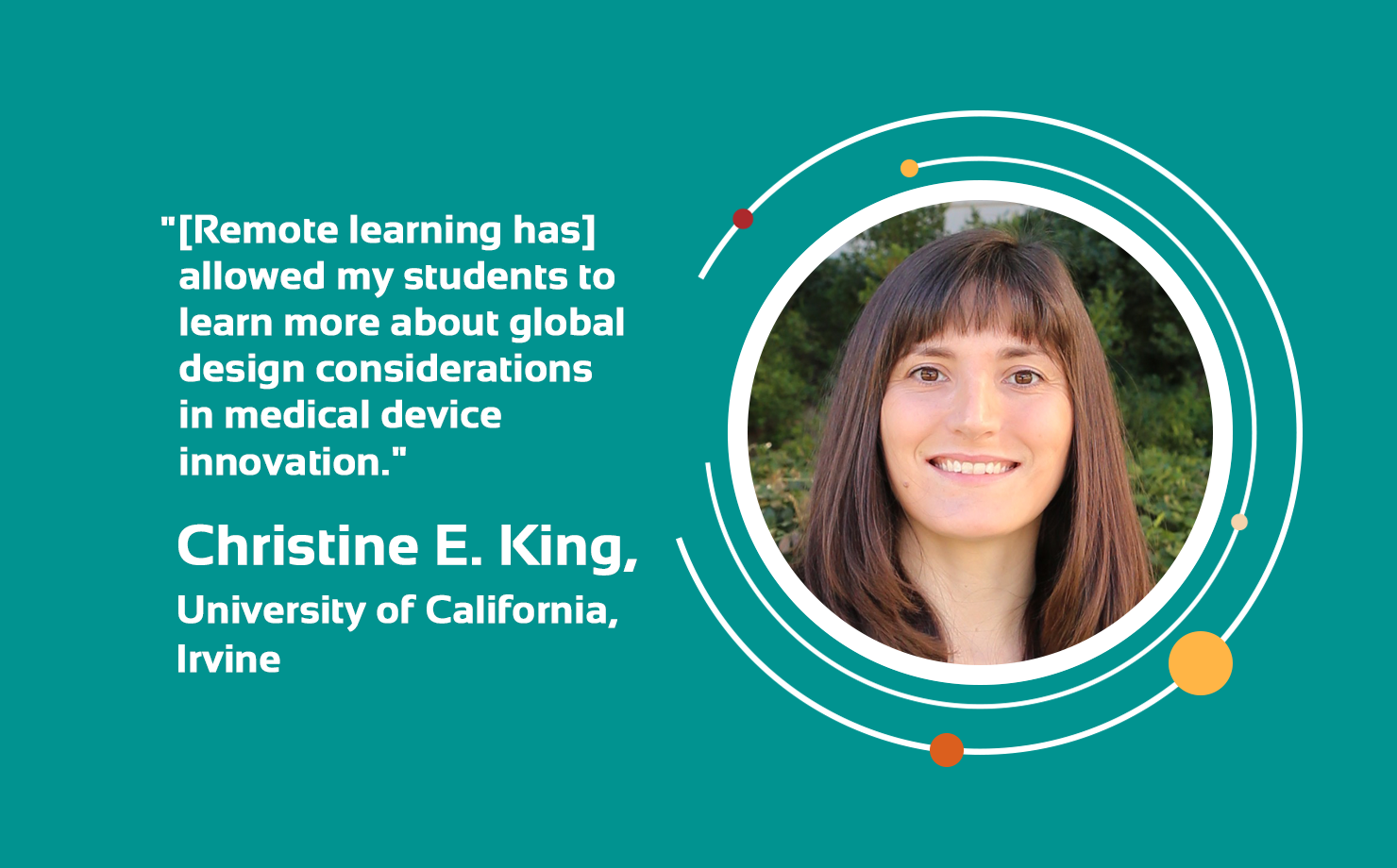 Our Faculty Spotlight series highlights educators within the VentureWell network who are doing good work—faculty members who are catalyzing change in higher education and inspiring students to impact the world through invention. This month's spotlight is Christine E. King, Associate Professor of Teaching at University of California, Irvine. King works to provide students in the Biomedical Engineering department with the skills and tools to develop innovations in the medical device industry. She received a Faculty Grant in the Fall of 2019 to develop a virtual reality immersion course that helps engineering students create solutions to real-world healthcare challenges.
how did you get interested in teaching entrepreneurship?
I became interested in entrepreneurship while studying wireless health and clinical trial design at UCLA. I noticed that many technologies would fail due to a lack of human-centered design and understanding of customer needs. I joined University of California, Irvine as an Assistant Professor of Teaching to perform engineering education research and improve students' 21st century skills in teamwork, medical device innovation, and unmet clinical needs evaluation.
what is your favorite thing about teaching?
The relationships I develop with students throughout their undergraduate career. I get to watch them grow as novice engineers and designers into innovative leaders in the medical device industry.
where would you like to see the field of entrepreneurship in five years?
I would like to see the field of entrepreneurship better incorporate human centric design so that engineers can develop innovative products that accommodate user needs.
what are the challenges you're tackling in your work today?
A common challenge in my work is access to facilities and equipment, or data in order to perform validation testing on my students' innovations. Due to large class sizes and limited access to medical centers, students do not receive the same hands-on and live experiences that they need in order to understand how to innovate medical devices and whether their innovations meet the needs of the customer.
how have you pivoted your courses or teaching style during the pandemic?
During the pandemic, since we became even further limited by access to facilities and fabrication, we have created alternative methods for meeting unmet needs. This includes using low-cost 3D printers mailed directly to student homes for device development, and virtual simulations to show proof of concept validation testing.
Since all classes and meetings are remote, students now have access to companies and experts that they would otherwise not be able to work with due to their location. For instance, we have a team of students collaborating with a growing startup company in Singapore. These experiences have allowed my students to learn more about global design considerations in medical device innovation, and have opened up doors that would otherwise not be possible if we were in person.
what books on entrepreneurship and innovation have you been reading lately, and how have they been insightful to you?
My favorite book and resource for medical device design is the BioDesign book developed by Stanford University. They are constantly improving their online resources and activities; they too have noticed a lack of understanding for unmet clinical needs and team development, as team dynamics has notably been a major reason that startup companies fail.
what's your most useful classroom activity or assignment?
During the spring quarter, I teach the students how to design websites and we train them how to perform two-minute pitches. I love watching the students get excited about their project, and learn how to understand the big picture. These pitches are then presented at our final symposium to industry judges, which we now do remotely. We provide the winning team with funding and resources to start their company. I love watching these companies form, as I get to see students create their own American dream and we make it become a reality. Each year, even during the pandemic, we have 1 to 3 student teams form companies and continue to develop their venture beyond their degree. It creates such an exciting environment to teach in, as what we show them becomes applied immediately into their careers.
---
VentureWell Faculty Grants provide up to $30,000 to help fund and support faculty with innovative ideas to create new or transform existing courses and programs to help students develop novel, STEM-based inventions and gain the necessary entrepreneurial skills needed to bring these ideas to market.