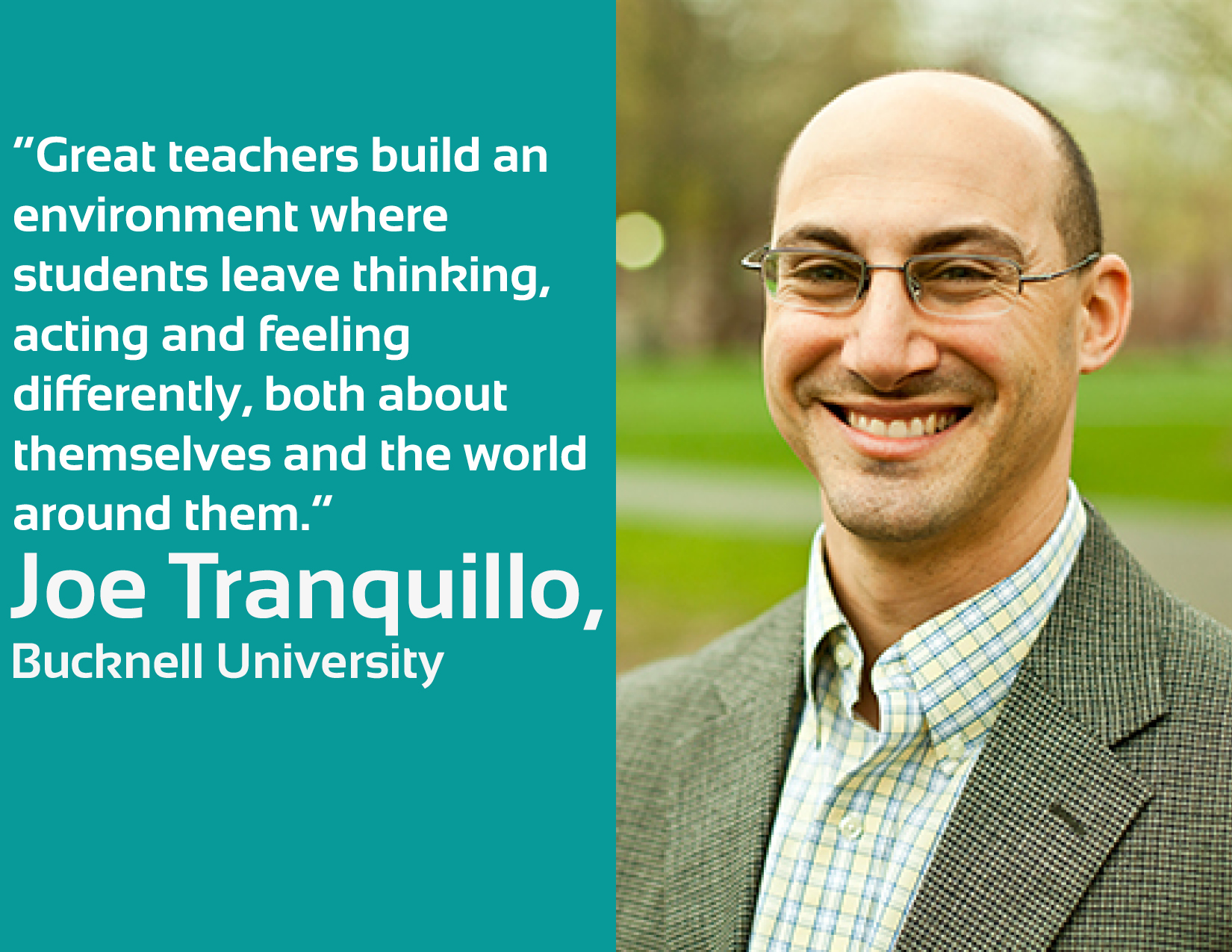 ­This week we continue our series highlighting educators within the VentureWell network that are doing good work—faculty members that are challenging norms in higher education and inspiring students to impact the world through invention.
This month's faculty spotlight is Joe Tranquillo, Associate Professor of Biomedical and Electrical Engineering at Bucknell University. Joe is a charter member of our Pathways in Innovation program and a regular attendee at Open, our annual conference. Don't miss Joe's panel, Entrepreneurship and Sustainability, taking place March 25 at our upcoming conference in Washington, D.C.
How did you get interested in teaching entrepreneurship?
I helped start the Biomedical Engineering program at Bucknell. After tenure, which was largely earned for traditional research and teaching, I had my first sabbatical at Stanford. I will always remember my first day. Tom Byers was hosting a group of entrepreneurs at the Stanford Technology Ventures Program office. Each introduced themselves as entrepreneurs. When it came to me I said, "I'm not an entrepreneur, I'm a professor on sabbatical". Tom jumped on me right away and started explaining parts of my CV (which I didn't realize he even had) and how the things I had done were entrepreneurial. That was my first day, and the next year was a wonderful lesson in the power of the entrepreneurial mindset. But I still didn't know how to teach entrepreneurial concepts. That is where KEEN came in—a partnership of universities with the shared mission of graduating engineers with an entrepreneurial mindset. And I have been very fortunate to have the support of the VentureWell network, going back to when they were known as NCIIA. Interacting with others who had been doing this for a long time has been an incredible inspiration.
What is your favorite thing about teaching?
There are simply too many things to name, but to pick one, it is when a student teaches me something. When that happens, I let the student and the class know. It builds community, shows them I'm a life-long learner too and want to hear more of their insights. After that, the class becomes much more of a two-way conversation; the environment is primed for everyone to learn. And almost always there is a moment when I (and I suspect the students too) can see the change.
What is your least favorite thing about teaching?
Every job comes with its drudgery, and for me that is grading. We are required to give grades, yet I've always found them to be a poor measure of the true capabilities of a student. With that said, I have found ways to create more open-ended assignments that prompt students to show off what they can do. There are certainly benefits to the student. But the benefit to me is that I am grading a range of solutions or responses, rather than the same old thing over and over again, year after year.
Where would you like to see the field of entrepreneurship in five years?
In the context of engineering education, I would love to see faculty who teach engineering to be teaching elements of the entrepreneurial mindset without calling it that. This is the true measure of diffusion of ideas into a field, when it becomes simply good practice and it doesn't matter what we call it. I see signs that this is already happening!
What traits make for great teachers, advisors or mentors?
Good teachers are effective at helping all of their students reach the learning objectives of the course. Great teachers go further. They build an environment where students leave thinking, acting and feeling differently, both about themselves and the world around them. I think this requires a teacher to listen, step into their students' world from time to time, show what genuine curiosity looks like, and be honest and self-introspective. The same goes for being a great advisor or mentor.
What books on entrepreneurship and innovation have you been reading lately?
Right now I am reading The Inevitable: Understanding the 12 Technological Forces That Will Shape Our Future by Kevin Kelly. So far what I have enjoyed is that Kelly will take a trend that has arisen in one arena and then explore how it will penetrate other areas of technology and society. For example, he points out a trend in music where an artist (alongside the music business) has previously orchestrate everything from the writing and mixing of the songs to the play order on the album. Cassette tapes allowed for mixes to be made of songs, and MP3s allowed for mixes to be shared more widely, not to mention sampling of songs within other songs. Now we have streaming services and playlist gurus who create mixes that others want to listen to. Kelly's point is that this same kind of blurring of the artist/creator and consumer will eventually be adopted by other media, e.g., news media, literature, art, and possibly even the design of our consumer products.
What's your most useful classroom activity or assignment?
I'm not sure what my most useful assignment really is, but I can relate one that I think is fun. In some classes I teach, I will (unannounced) hand out blindfolds and ask everyone to put them on. Then they pair up. Their task is to leave the second floor of the engineering building, navigate the campus, find the library, stand in line at the café and order a coffee (I pay). The pair only gets to take off their blindfold when they get their coffee (or tea). Afterward we deconstruct this activity. There are lots of insights about diversity, the disabled, and how other people treat you when you are wearing a blindfold. The most important insight, however, is that we as educators talk a lot about knowing your customer. Sometimes the only way to really understand a customer is to live in their world. After this activity the challenge is to find ways to become (or simulate) how to be your customer. Students seem to remember this activity for a very long time!