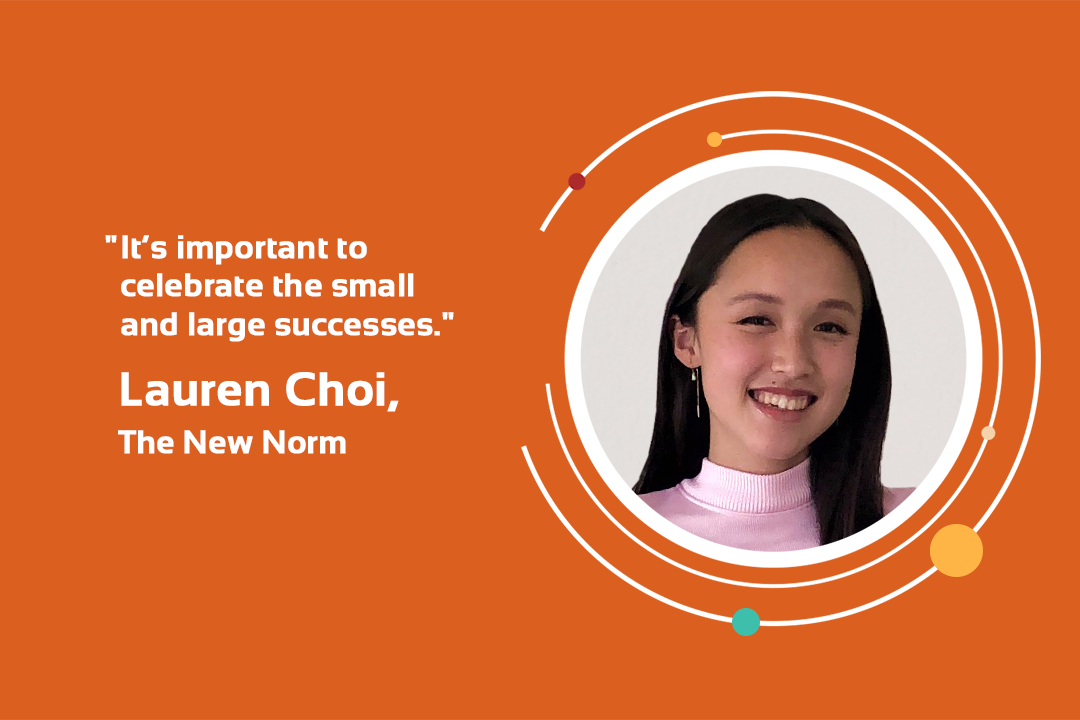 An innovator's journey from idea to market can be challenging and complicated—but also rewarding. Each month we explore how inventor-entrepreneurs in our network have evolved since they started their journey. Our goal is to share key learnings and best practices with early-stage science and technology inventors embarking on a path of innovation and entrepreneurship. Our latest spotlight is with Lauren Choi, CEO of E-Team, The New Norm. Though recycling programs have a remarkable positive impact on environmental sustainability, billions of pounds of every-day plastic products cannot be recycled, ending up in landfills or the ocean. On another note, pollution from the global fashion industry wreaks havoc on the environment. Blending fashion manufacturing and plastic recycling, The New Norm's scalable innovation solves two problems at once and advances the circular economy: by upcycling Solo cups, which cannot be recycled in the US, they've created a wearable fabric that can be used in fashion production.
What challenge did you seek to solve with your innovation and why?
The major barrier to our present-day recycling infrastructure is the staggering amount of different plastic types entering the recycling stream. Most plastics labeled with the typical triangle-logo indicating their recyclability actually cannot be recycled at scale. Additionally, the fashion industry is now the second most polluting industry; the textiles industry alone produces 1.2+ billion tons of CO2 annually.
The New Norm aims to solve a problem at the intersection of two industries that if left unaddressed will be devastating for our world. We offer a solution that makes use of plastics that are not accepted by our existing recycling infrastructure by transforming plastic into sustainable, wearable fabric. Our first trial successfully incorporated the Solo cup, which can't be recycled, into a fiber that can be manufactured on industrial machinery. The materials we make are naturally dyed by their recycled inputs, eliminating one of the most polluting steps in the fabric manufacturing process. We've also begun applying our technology to other types of recyclable plastics including recycled ocean plastics.
What have you learned along your innovation and entrepreneurship journey?
As an entrepreneur, you must be ready to face problems, pivot, and stay fast on your feet, which takes a lot of flexibility, diligence, and creativity. It's very easy to get lost solving problems and overcoming obstacles. One thing I realized when going through the VentureWell program was how important it was to take a step back and look at the big picture. It's important to celebrate the small and large successes. It's important to remember why you wanted to tackle a problem and why you felt so passionately about something because it grounds you and keeps you focused on the real mission.
Tell us how you've integrated environmentally-responsible practices into your innovation or process.
Sustainability is our number one priority. It dictates everything we do—what recycled materials we pursue, what suppliers we work with, and how we manufacture our product. Every material collected has been certified by third party organizations like Global Recycled Standard, Zero Plastic Oceans, and Oceanworks.
By using recycled plastics, our yarns and fabrics have a significantly smaller carbon footprint than those made from virgin materials. We have also begun to offer sustainable manufacturing to our customers. Garment knitting is a process that requires no cut-and-sew process, wasting far less material—one could think of it as 3D-printing clothing. We've been helping apparel companies design products that not only use sustainable materials but are made in the most sustainable way possible.
How has support from VentureWell impacted your innovation and venture?
VentureWell was incredibly helpful. I believe we participated at just the right time. We participated in the Pioneer workshop when we were trying to figure out our business model, how to conduct customer interviews, and develop our product. It helped lay the foundation for the months to come. The timing of the Propel workshop was also perfect—we were much further along in our product development and R&D. The topics covered were relevant and the exercises we did with advisors, speakers, and cohort members were valuable. The advisors understood our vision well and provided useful guidance. I felt a lot of support from the fellow cohort members, many of whom were in similar stages to The New Norm. It was comforting to share experiences, get advice, and hear about the obstacles everyone faced.
What's next for you?
We are at a very exciting stage. We have partnered with manufacturers, suppliers, and apparel companies that are passionate about creating sustainable products, and our first pilot product will launch this fall. Our goal is to continue scaling and collaborate with more apparel companies.
---
The E-Team Grant program supports dedicated science- and engineering-based student teams from across the nation in bringing their high-impact innovation out of the lab and into the market.
What does it take to get from idea to impact? Our new case study offers a deep dive into one innovator's entrepreneurship journey, highlighting the nuanced experience, lessons learned, and major development milestones.