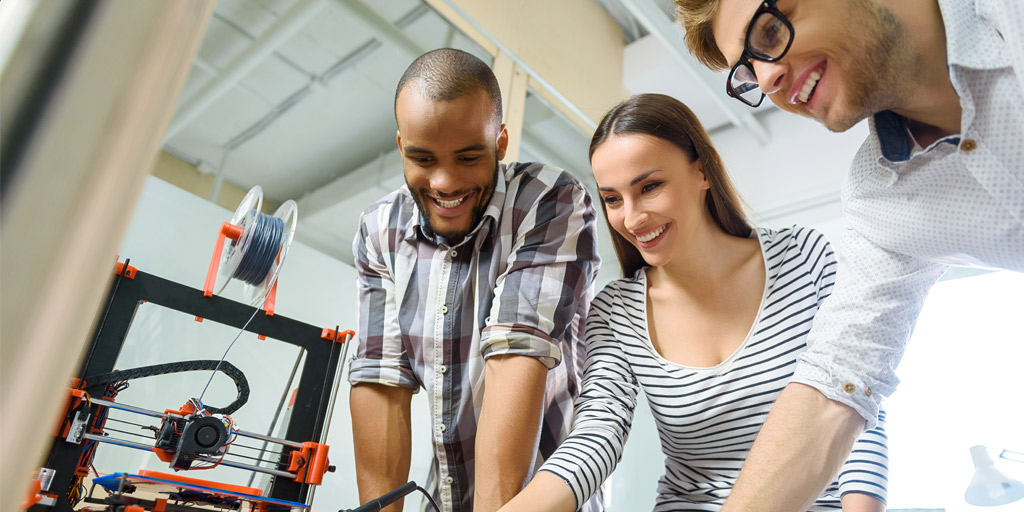 In launching his high-tech sensor company, Sensatek, CEO Reamonn Soto had to overcome the engineering challenges of developing wireless transmitters that could withstand the extreme conditions inside gas turbines. But the former Marine with a master's in aeronautics says what really tested him was navigating the world of intellectual property. The process left him wishing he had found legal partners who understood his business and could have guided him through the patent system. "It's going to save you a lot of heartache and pain, and a lot of money," he advises. "And I have the scars to prove it."
Soto's ultimate success in that arena is all the more noteworthy given current demographic and socio-economic trends in the U.S. patent system. According to research presented at our recent webinar, Advancing Equity in Innovation: Universities, Entrepreneurs, and the Underrepresentation of Diverse Inventors in the Patent System, Black inventors file for patents at one third the rate of white inventors. (Hispanic inventors file for patents at less than half the rate of Black inventors, while Asian inventors file at twice the rate of white inventors.) Similar patent disparities exist for women, who in 2019 accounted for just 22 percent of U.S. patents, and especially for the less affluent: families in the top 1 percent of income are 10 times more likely to produce patent holders than families in the lower half.
"Closing the patent gap would offer meaningful benefits for individuals and society as a whole," points out Holly Fechner, a partner at the law firm Covington & Burling and executive director of the Invent Together campaign, which aims to rectify the gender-, race- and income- disparities in invention and patenting. "Increasing the number of women, people of color, and low-income individuals who patent would help close wage gaps. It would increase our gross domestic product. And it would lead to exciting, new, and different invention."
quantifying the disparities
The extent of the U.S. patent gap was recently documented by Alex Bell, a post-doctoral scholar at the California Policy Lab at UCLA. He and his team cross-referenced records from the U.S. Patent Office, which currently does not collect demographic information, with U.S. tax records and school district test scores to determine patent holders' race and gender, where they grew up, their family income, where they went to college, and even how well they did in math in third grade (a strong predictor of success as an innovator, he notes).
Their 2018 study, Who Gets to Be an Inventor in America?, found that patent holders in the U.S. today are overwhelmingly white, male, and wealthy. In explaining why this might be, Bell offers two hypotheses: that the pattern reflects differences in talents early in childhood, or that barriers are discouraging otherwise talented children from becoming innovators, what researchers call the Lost Einstein phenomenon. When the team took into account third-grade math scores, the second explanation emerged as more likely.
---
"There are a lot of children who seem like they have the talents to innovate, but are not innovating seemingly because they come from lower-income backgrounds. That's a story of many Lost Einsteins."

Alex Bell, post-doctoral scholar at the California Policy Lab at UCLA
---
A similar patent gap exists for women inventors, who continue to be underrepresented in patent applications despite efforts to broaden the engagement of young women in STEM fields. Jennifer Gottwald, director of licensing at Wisconsin Alumni Research Foundation, notes that at the current rates, women will not achieve patent parity with men—meaning being listed as an inventor on half the patent applications—until between 2072 and 2080. She adds, "We can't wait that long."
Bell also found patent disparities correlated to race and gender, and delving deeper, found a strong correlation between future innovators and where they were raised. The specificity of that connection was striking, he noted. "We actually see that kids who are growing up in, say, the Bay Area, where there are a lot of computer and communications inventors, are more likely to invent in the communications sphere," he says. "Likewise, kids who are growing up near the Mayo Clinic are much more likely to invent in terms of medical and medical device patents." Similarly, he adds, "girls who grow up in neighborhoods that have more adult female inventors are more likely to invent," but, notably, the correlation does not hold for girls growing up around inventors who are male.
While the underlying cause of this pattern is still "an open question," Bell says, the lost opportunity for society is clear. "If we could somehow remove these disparities and get all kids to innovate at the same rate as white boys from higher income backgrounds," he says, "we would see as many as four times as many inventors as we do today."
finding solutions
How can these disparities be remedied? One important first step is quantifying the scope of the gaps, a process now underway at many university technology transfer offices, says Gottwald. "More and more offices are measuring their invention disclosures and their patenting, and gender, and are starting to look at other underrepresented groups as well," she says. The country's recent focus on social justice issues, she added, has encouraged the process. "As a society, we're able to open up more and say, yes, we all do have unconscious bias, yes, we're all working in systems that have been set up for certain groups that may not be as accessible to other groups. We're more able to talk about it now."
Our own research has identified a number of best practices to support university students and faculty trying to navigate the world of intellectual property, notes Senior Evaluation Analyst Lauren Gase, and co-author of the report, Strengthening University-Based Systems to Support the Development of Intellectual Property (IP) Strategies: Insights from Faculty, Administrators, and Students. Faculty and innovators interviewed in focus groups emphasized that educating students about intellectual property and patents is key, as is helping them form connections with partners and resources outside the university, such as attorneys and law firms, alumni working as attorneys or in startups, and neighboring universities with law schools.
---
"IP processes are expensive and confusing, and these linkages are really critical in creating a supportive environment and making it easy for students and faculty to locate the types of support that are available."

Lauren Gase, PhD, Senior Evaluation Analyst at VentureWell
---
Fechner of Invent Together adds that lawmakers are also trying to address the patent gap, introducing a bill in Congress called the Idea Act that would ask the U.S. patent office to collect demographic data on applicants on a voluntary basis, allowing researchers to "identify these patent gaps, follow them closely, and then take action." In addition, she says, a number of companies are now analyzing their own internal processes to identify barriers that might be preventing their workforce from inventing and patenting, aided by the Gender Diversity in Innovation toolkit put out by the Intellectual Property Owners Association. "We hope to see improvements," she says. "The more we can identify best practices in both universities and companies, and spread them to other places, the better off we'll be."
And the U.S. Patent Office itself is taking on the problem, launching this year the National Council for Expanding American Innovation, which is charged with "strategizing new ways to expand American innovation by tapping into the strength of our nation's diversity and increasing the opportunities for all Americans to participate in innovation." The initiative is being spearheaded by the Patent Office's director, Andrei Iancu, who agrees that the stakes are indeed high. "To maintain our technological edge," he says, "the United States must seek to broaden our innovation ecosystem demographically, geographically, and economically."
Through this type of concerted action by academia, businesses, and government institutions, advocates hope to dismantle the barriers to invention faced by underrepresented groups and bring about a dramatic expansion of the country's pool of innovators.
Watch the recording of Advancing Equity in Innovation: Universities, Entrepreneurs, and the Underrepresentation of Diverse Inventors in the Patent System.
We'd like to thank Qualcomm and Invent Together for their support and collaboration on the Advancing Equity in Innovation webinar.