Six years ago, Brandon Martin was inspired to start his own company when he saw a story on ESPN about Donovan Hill, a 13-year-old who became paralyzed while playing football. That story hit home for him, a longtime athlete and fan of the sport he and his brother Jalen had grown up playing.
So Brandon doodled an idea on a piece of paper. The notes to himself were straightforward: His new product needed to be durable, lightweight, and accessible, which meant including a display with large numbers. Color was important, too, though he hadn't settled on which one he wanted yet. His invention was still in the planning stages. "This is what I envisioned our product to look like," Brandon explained. "Some days I think about how far we have come—and we are still dream-chasing."
Together with the help of co-founder and advisor Marcus Graham, Brandon launched Reaction Technologies, bringing to life that initial prototype he designed: a small device that wrapped around a player's chest, reinforcing the proper "heads up" technique to build situational awareness and minimize head, neck, and spinal head injuries.
In 2021, Brandon and Jalen participated in Aspire, VentureWell's intensive training program specifically designed to support startups at the investor engagement stage. "Aspire provided a safe space to ask questions and get real feedback," Brandon told us. "Being able to talk to the mentors was 100% the greatest thing for us, because as a first-time entrepreneur, you only know what you know." He also spoke highly of the networking opportunities with fellow founders in his cohort. "It was not always easy—but they pushed us, and everybody there wanted to learn. To this day, we still check in with them all."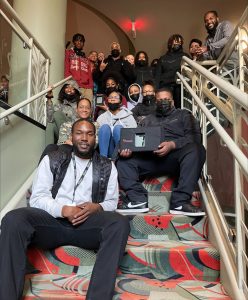 He's since worked with teams like the Barracuda Youth Football and Mount Clemens High School (pictured above) in Mount Clemens, Michigan, employing his product directly into his coaching techniques for a full-circle look at how his product is performing. "This is truly a family venture," Brandon explained to us. "I'm from Austin, Texas, and we have used my nephews—my sister has triplets—as test dummies all the way throughout this process. My family has been really supportive of helping me get to where we want to be."
It's that passion for youth education and empowerment that has driven Brandon to seek out more opportunities to connect with kids in contact sports. He's generous with his spare time, traveling to places like Detroit, Michigan, to share his story with students from the FATE Program at Jalen Rose Leadership Academy. They presented Brandon with potential marketing strategies for his business, and he offered them insights into the rewards and pitfalls of pursuing entrepreneurship. Brandon found it to be a rewarding experience. "Our goal is to be on the front lines of safety and performance of athletes, but hopefully we can inspire people along the way too."
"Through the ups and downs of building a business, we have received a lot of support from people who believe in our mission and believe in us."
They have come a long way—attending the National Association of Basketball Coaches (NABC) conference in New Orleans, Louisiana, where Brandon got the chance to represent Reaction Technologies, meeting with coaches from all over the country to promote his innovation. "We got to rub shoulders with some of the biggest names in college basketball," Brandon said. "We still have a lot of work to do, but our goal remains the same: To be on the front lines of making the game of football safer at all levels, while enhancing athletes' abilities in multiple sports."
He expressed his gratitude to everyone who has been rooting for him and his startup from the beginning. "Through the ups and downs of building a business, we have received a lot of support from people who believe in our mission and believe in us," Brandon said.
We sat down with him recently to further discuss his journey as an entrepreneur and how participating in our Aspire program accelerated the growth of his startup:
About the Aspire Program
Aspire has had a great impact on seed-stage startups since its inception in 2015. Across 170+ startups, teams have raised over $330M in funding, with a 78% venture persistence rate. Aspire startups that are also E-Team Program grantees are eligible to receive matching investment from VentureWell.
Boost investor-engagement for your healthtech innovation with Aspire Medtech. Apply now!